If you're at all worried that a laptop mightn't survive the backpack of one of your kids, Lenovo's decision to make a military grade computer for under $700 might grab some attention. Now, is it any good?
Features
Windows and Macs may get most of the attention, but Lenovo is showing that a Chromebook can steal the show in the ThinkPad 11e, a machine that takes the DNA of the durable ThinkPads and makes it a little more education friendly by bringing Chrome to the table.
This machine is called the ThinkPad 11e, and it takes that basic black design the Lenovo (and former IBM) ThinkPad computers have had for ages and shrinks it down for a different group of people.
As such, you'll find an 11.6 inch touch-capable display here running the high definition (HD) resolution of 1366×768, a combination that results in a pixel clarity of 135 pixels per inch. Lenovo has included a hinge on this computer capable of making the screen fold back against the computer, making it a 180 degree hinge.
In the main part of the computer, you'll find all the juicy innards which make a computer tick, with Intel's Celeron N2930 processor, a quad-core chip clocked at 1.83GHz that is paired with 2GB RAM and 16GB storage. A full-size SD card slot is included here, providing a way of expanding on the included storage.
Google's Chrome operating system is found here, a departure from the installations of Windows or Android typically found on Lenovo computers, with this operating system based around the experience of using the Google Chrome web browser. Programs are run inside the Chrome browser as tabs or windows, and while it helps to be online to use a Chromebook, it is not a requirement, and you can write documents or use local files like music and pictures without having access to an online connection.
A camera is included with the ThinkPad 11e, a 720p HD camera found just above the 11.6 inch display.
Wired connection options in the ThinkPad 11e include support for one USB 2.0, one USB 2.0, a 3.5mm headset jack, the aforementioned SD card slot, an HDMI, and Lenovo's proprietary charge port, while wireless connectivity options are handled through 802.11a/b/g/n/ac WiFi, with support for Bluetooth 4.0 also used here.
The battery is built into the Lenovo ThinkPad 11e, and is rated up to eight hours (4-cell, 35Wh).
Performance
When picking a computer for the little ones, you don't always have to choose between Windows and Mac, and if they're just going to be writing and surfing the web,
There are other options, of course, and one of these is Chrome, an operating system devised by Google based on the Chrome web browser that many people use around the world.
As such, it won't run apps made for Windows or Mac, and instead runs apps that are like little webpages made for the same browser you can load on your regular Mac or PC. Many of these extra apps are made in a way that you have to be online and connected to the web to use, but if you're not, a Chromebook can still be used.
Office applications such as Google Docs — complete with spreadsheet editing, document writing, and presentation making — can be run from a Chromebook without being connected, and there's even some space for you to store music and movies if you feel you want to use it for entertainment,
Chromebooks also come with the added bonus of not attracting too many viruses because, again, it's a web browser, so this feature makes it suitable for people who aren't too familiar with computers and security, and who spend a lot of time online, whether it be through reading and writing email, going to websites, social networking, and even playing the odd game here and there (because titles like "Angry Birds" and "Minecraft" all exist for Chrome OS, too).
So there's more out there than just Windows and Mac, and Lenovo's ThinkPad 11e takes that "more" and packs it into a machine that is designed and built to resemble a typical ThinkPad, those black marvellously made machines Lenovo (and at one point IBM) were known for making.
The design of this computer is very specific, and we are reminded of the heritage IBM made for the ThinkPad, simply because this is unmistakably in that style.
Black chassis, black keyboard, and a build that says "I can survive your life", which is important, especially where education is concerned.
But more than just a ThinkPad, this is a MILSPEC ThinkPad. If that looks like just another acronym, what it means is the ThinkPad 11e is more rugged than your typical computer, with the ability to withstand drops, falls, and the possibility that someone might throw it at someone else (though try not to do that, not just because it's silly, but also because the 1.4 kilogram laptop will really hurt if it hits you).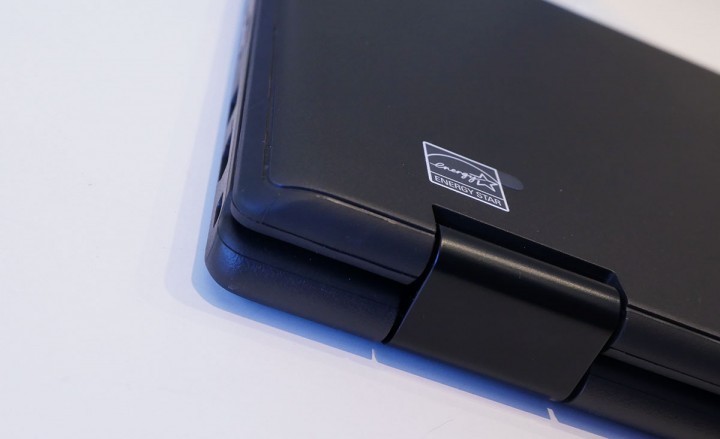 Lenovo makes this machine rugged by throwing in a rubber bumper into the design that takes the brunt of forces, while a thicker plastic body reinforced with glass-fibre is noticeable too, with larger bezels around the LCD to protect the screen from crashes, strengthened hinges and brackets, and a keyboard that apparently has been anchored in place to stop kits from trying to pry the plastic letters off their points.
In fact, whenever a company tells us that a machine is MILSPEC tested, we'll drop the machine to see how it handles, and here in ThinkPad 11e, we found a survivor with no problems. We even stood on the machine for a moment to see if it could handle our weight, which we wouldn't recommend, though this one did survive.
One downside to this impressive ruggedisation is the weight, which is noticeable because it's one solid brick. While most small computers try to keep the load down, Lenovo's ThinkPad 11e feels the full 1.4 kilograms, which is heavy for such a small computer, one with an 11 inch screen. Most of this is reinforced rubber pieces and a chassis that can take a beating, but the weight is definitely noticeable.
But hey, that's one of the things you get for having a rugged computer.