Battery life is also pretty solid. Lenovo suggests as much as 10 hours are possible from this laptop, but we found closer to 8 in our tests, which isn't bad altogether, with several periods of standby used throughout this.
That's not too shabby at all, especially when you can still only get 5 to 6 hours from other computers out there, many of which sit in the same Ultrabook category that the Lenovo X1 Carbon competes in.
And hey, there's even a fingerprint reader which works quite well with Windows 8 to take your fingerprint and let you unlock your computer without having to type in any passwords.
In a public location, the fingerprint reader could make things a little easier, since you shouldn't have to worry about typing in that long precious string of characters to get on with your work.
For the most part, it works very well, and we had more successes with using it than we had misses, which is a positive.
There are some things missing from the package, such as a 360 degree hinge, a feature the Yoga Pro 3 received, but yet is missing from the design of the X1 Carbon. This means you won't be able to flip the screen all the way around and turn this laptop into a tablet at a moment's notice. Shame, shame, we suspect some customers would have liked that as an option.
There's also no Near-Field Communication (NFC), even though there is Bluetooth and a finger-print sensor. We guess Lenovo went for the details it was sure people would use, compared to the ones that only really matter if you're on a phone. No NFC is no real big worry, but if it is a must have, you won't be getting your fill on the ThinkPad X1 Carbon.
No SD card slot is another surprise, because a machine as well built and designed as this thing should probably have a way of getting files off cameras or smartphones, but there is neither an SD card nor the much smaller microSD slot here.
Oh, and there's one other thing worth mentioning, because you'll notice it, often, just like we did: fingerprints.
Handle the computer and you'll see them, with the top lid showcasing your fingerprint for the world to see in a way you won't expect a matte black paint job to reveal, which we'll admit surprised us.
Unlike previous matte black ThinkPads that seemed to disguise fingerprints quite well, this one shows them on the surface, so make sure to wipe down that laptop on a regular basis.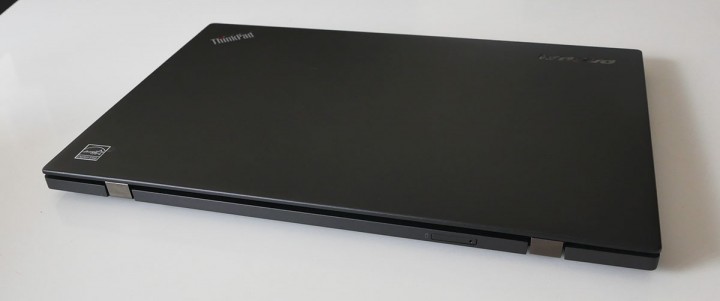 Conclusion
We were hoping our first Ultrabook of 2015 would be a good one, and what we were delivered wasn't just something good, but something great.
It's hard not to be impressed by what's on offer, and Lenovo has left very little out of the package. Sure, there's no SD card slot, an omission we're surprised by, and the screen could be bright, plus there's no NFC either, though that one isn't likely to get anyone caring.
If you can live without worrying about those things and are happy to pay the price, Lenovo's X1 Carbon is one of the better Ultrabooks we've seen, and a great way to start the year off.
Built very well, so much that it's military spec (MILSPEC); Excellent screen that isn't overly glossy (and yet isn't totally matte); Great battery life; Superb keyboard; Two types of mouse offered, with the TrackPoint pointing stick in the middle of the keyboard and the regular trackpad down below at the base of the keyboard, both of which compliment the touchscreen (technically a third mouse); Optional built-in 4G LTE modem;
While it doesn't look like it should be, the X1 Carbon is a fingerprint magnet; Touchpad needs better gesture support; Screen could be a little brighter; No SD card slot;