We haven't seen much in the way of tablets from Lenovo for some time, but the company has something new up its sleeve, with a set of moves that few tablets can do with an accessory in the form of the Yoga tablet.
Features
Designed to take on the competition with a unique form factor, Lenovo's Yoga is more than just another flat 10 inch touchscreen slate with access to the web. Lenovo hopes to impress with an idea that lets your tablet do more than occupy a book sized space on your desk.
We'll talk about the unique design of this tablet later on, but first to the specs, and it's all pretty standard fare here, as Lenovo includes a quad-core 1.2GHz processor paired with 1GB RAM and 16GB storage, though the latter of these is expandable through a microSD slot under the stand flap. Android 4.2 "Jelly Bean" is the operating system of choice here, though it's not stock, and Lenovo does run its own overlay over the top.
Wireless communications standards are precisely that — standard — with 802.11b/g/n WiFi, Bluetooth 4.0, and GPS, with no Near-Field Communication or 802.11ac present. Interestingly, we are told that Miracast is supported via an optional dongle.
All of this sits under a 10.1 inch screen boasting the high-definition resolution of 1280×800, which provides 149 pixels per inch of clarity.
You can still rely on wired ports, and for that there's a single microUSB port on the left most side, while the 3.5mm headset jack is in the right hand circle of the hinge.
Cameras seem to be a normal thing for tablets, and you'll find a 5 megapixel rear on the back of the tablet and the hinge, while the front camera is a 1.6 megapixel shooter.
The battery isn't removable, and sits inside the hinge, boasting 9000mAh of juice.
Performance
Lenovo hasn't been in the tablet game for some time, and the last time we saw something from the company, it was a two-pronged attack with one device for business people, and another for the more casual user.
Times appear to have changed, and while Lenovo still makes machines for business-people, its latest tablet is made for everyone. Called the Yoga, it's meant for casual anywhere use thanks to a stand that can make the tablet stand up or lie tilted, or even just ignored and held in the hand.
We'll give credit where credit is due, and in the Yoga, Lenovo has actually made an Android tablet look and feel excellent.
There's an aluminium chassis that truly provides some strength, making this tablet feel more substantial than some of the plastic bodied tablets that grace our desk on a regular basis.
The inclusion of a stand is also a neat touch, and means you have two ways to prop the tablet up, whether it's left standing, or lying slightly down so you can type on it like the touchscreen computer that it is.
But while we'll give credit to Lenovo for using this design in its Yoga tablet, we also have to give credit to Apple, because that is clearly where the inspiration for the design of the Yoga came from.
Sit the Yoga next to either an Apple wireless keyboard or trackpad and you'll see exactly what we mean, complete with the thin metal edges meeting at the circular base, with an almost identical power symbol.
In a tablet, Apple's peripheral design actually works, and Lenovo has done some good work here, even though the design isn't totally belonging to this company.
Playing with the tablet, though, it's not the totally modern design on the inside that it appears to be on the outside, with a decent performance from the processor, even though it's paired with the minimum RAM you'd expect on a tablet, and with only 1GB here, it's 1GB less than the 2GB sweet spot that Android generally prefers.
This can impact the performance, and we noticed some lag between running applications, even if the benchmark didn't do all that badly.
Lenovo's stand is also supported in the software, and if you pull the right menu down and press the "Sound & Visual" section, you can pick between the three modes: tilt, stand, or hold (hand held) modes. We're not sure quite what the big deal about these are, though, as they just seem to change the colour of the screen, changing saturation for no reason.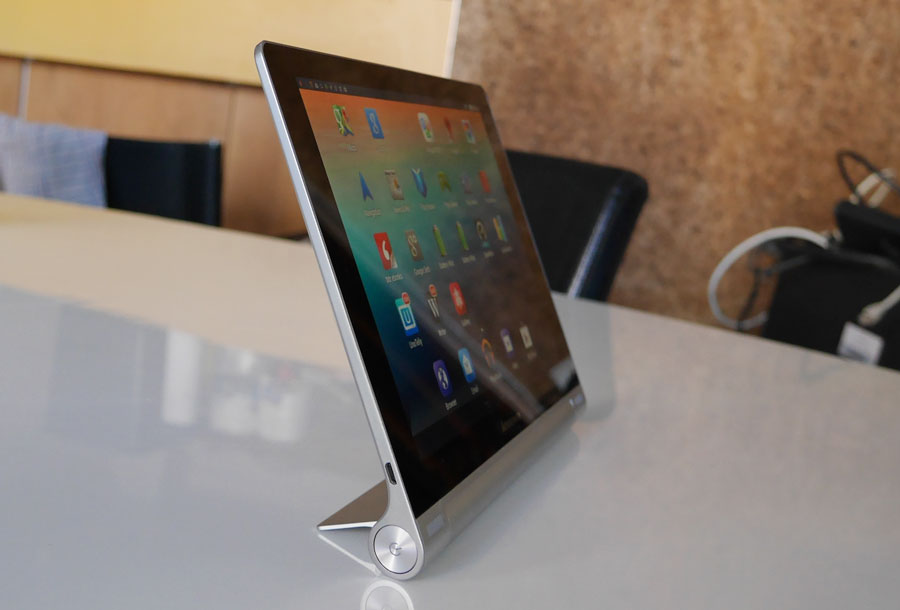 Lenovo's choice of screen isn't a huge winner, either.
We're still not a fan of any manufacturer that pushes HD screens on a public that expects better and Retina grade displays, and yet that is precisely what Lenovo has supplied. It's strange, because the viewing angles on this panel are great, but the on-screen is text is often blurry, and just lacks any clarity we've come to expect.
Part of this issue seems to stem from the Android overlay Lenovo has opted for, which merges the Android app menu with the home screens, making it closer to the way an iPad menu looks, and similar to what we've seen in Huawei's Mate phablets. This interface seems odd not just because of strange font which appear blurry, but also because the names get cut off artificially as if a forcefield has suddenly been erected on the outside of the icons.
We also have to subtract some points for an accessory, which is optional but will provide a marginally better typing experience for Yoga owners. We say marginally because the Yoga tablet has an unnecessarily cramped keyboard with smaller keys thanks to the extra couple of centimetres side space that Lenovo decided to implement.
We're not surprised or even bothered that the Lenovo keyboard cover has a thin keyboard with not much travel, though. It's a keyboard cover, so you can't expect the same typing experience as your desktop keyboard.
Where things go wrong, however, are at the recharge plug, and while Lenovo could have gone with a microUSB port, the company has instead decided on something proprietary, which not only seems like a waste of the international microUSB standard, but also a pain in the proverbial for anyone going anywhere.
There is one positive for the Lenovo Yoga, and that seems to be on battery life, providing a few days of use in our tests.
Solid heavy users will see less than that, but if you're an infrequent tablet owner, this is one of the devices you'll get use out of all week.
Conclusion
While it's not Lenovo's first effort, there are both things to admire and be confused at in Yoga tablet. We're particularly fond of the battery life, and the design which isn't just solid, but also includes a stand.
But then there's the sub-par screen, and the ho-hum performance, and with a recommended retail price of $399, that's all a little hard to swallow, especially as it's competing with comparatively well spec'd devices from Samsung and Asus.
Unfortunately, there isn't a really compelling reason to choose the Yoga over its competitors, and unless the design and included stand truly captivate you, there are better options out there.
Includes a built-in stand; Metal body; Expandable memory; Decent battery life;
Low grade screen; Performance is pretty underwhelming; Lenovo's Android overlay is a little awkward; Stand software doesn't do much; Optional keyboard case isn't just cramped for no reason, but also relies on a proprietary charge port;