The tablet market is a very crowded one, but Lenovo hopes to differentiate itself from the competition with a neat and useful design, durable materials, and a great screen. Could this be your next tablet?
Features
It seems like everyone has a tablet these days, and Lenovo is no different.
As the name suggests, the Yoga Tablet 2 is Lenovo's second attempt at an Android tablet in the Yoga design, though in fairness, Lenovo has been making Android tablets for a while, even going back to a model made under the "ThinkPad" brand back in 2011.
This time, though, it's a machine made for work and play, as Lenovo updates the first Yoga Android tablet with better specs, a better screen, and a feeling that this time maybe, just maybe, it will produce something to properly take on the big guys.
This starts with the screen, which is still 10.1 inches, but has been updated to support a higher resolution, up from 1280×800 on the original and now sitting at Full HD's 1920×1200. The screen is an In-Plane Switching display, too, meaning it should support solid viewing angles, and being a tablet, of course it supports touch.
Underneath the display you'll find the innards that make this thing tick, with Intel's Atom Z3745 processor clocked at 1.33GHz, 2GB RAM, and 16GB storage, though this last part can be expanded via a microSD slot found in the tablet, also. Android 4.4 "KitKat" runs on this tablet, though we suspect an update to 5.0 "Lollipop" is in the works.
Cameras are also here, with an 8 megapixel rear camera and a 1.6 megapixel front-facing camera if you feel you need one, while connectivity has you relying on 802.11b/g/n WiFi and Bluetooth 4.0, with no Near-Field Communication found here, either.
Audio includes two front facing speakers, however, positioned at the base of the unit on the hinge.
And that's a part we feel we need to mention, because the Yoga 2 incorporates a special hinge that hides a stand in the back of the tablet. The hinge can be used to stand the tablet up in a variety of ways, including upright, lying down, and even hanging up, since that stand has a small window cut out that can help the tablet attach to hooks.
Buttons can't be found in abundance, however; it's a tablet after all, which means touchscreen connectivity is what's on offer. As such, you'll find a large power button on the left side of the hinge, while the volume rocker, the only other physical button, exists on the left edge of the tablet.
Ports are few in number on this device, too, with a microUSB charge port on the left side of the tablet, a 3.5mm headset jack on the right side at the hinge, and a microSD expansion slot for adding more storage located under the stand.
The battery is built into the Yoga Tablet 2, not removable, and is rated at 9600mAh.
Performance
If there's one thing you can't accuse Lenovo of, it's borrowing designs, and while some companies have fought over who created the basic slate first, Lenovo's idea takes the tablet somewhere else.
Instead of your basic flat piece of hardware, the Lenovo Yoga Tablet 2 incorporates a curve on the side as the edge almost folds in on itself, a design that we saw in the first Yoga, and now makes an appearance here.
What does a curved edge do for a tablet?
A few things, actually, because it not only allows the Yoga 2 to differentiate itself easily in design, it also means there's a grip to hold like a folded over magazine, and it means Lenovo can incorporate a stand in the design with a piece of metal that uses a hinge in that curved spine.
A stand of this sort can do a few things, too. You can make the Yoga 2 tablet stand up, almost like a picture frame, making it useful for watching movies or viewing pictures.
It can stay in that position and lie down, giving the tablet an angle for you to write on, almost like it was a real keyboard, even though it's all on screen.
The stand can also be pulled out further to reveal a small hole cut out of the metal stand, of which can make the tablet easy to hang up in the kitchen or wall if you have a hook, or possible the back of a car.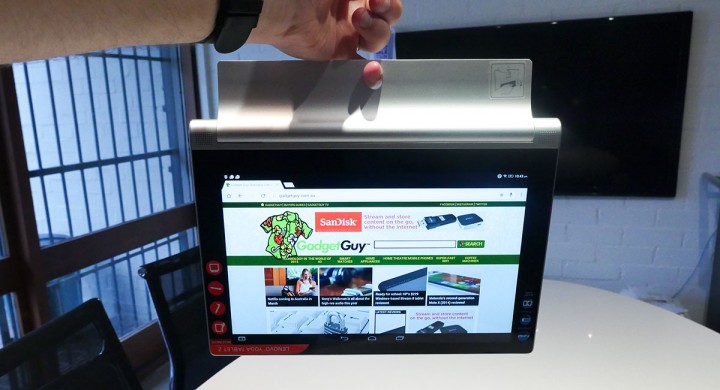 In essence, the curved spine (technically cylindrical, actually) hides extra features while also making the form-factor closer to something that else you've used, like the folded over magazine, which is something Sony once did in a tablet design it didn't continue with.