LG has a reputation for producing premium monitors for Apple and Windows PCs and laptops. The LG 32-inch 4K Ultrafine LG 32UL950-W is no exception – it is as good as you can get but is capable of even more.
While the LG 32-inch 4K Ultrafine LG 32UL950-W price (RRP$2599) might put it in the prosumer category it really is for office users or Joe and Jane Average that want the best monitor they can get – one that has HDR600/HDR10, rich saturated colours from nano IPS (other brands call this QLED), good gaming specs, and Thunderbolt3 connectivity for ease of use etc.
Review – LG 32-inch 4K Ultrafine LG 32UL950-W
Australian website
RRP $2599 (Street pricing $1499 plus delivery, so we will base our value ratings on this)
Out of the box
32-inch panel
Metallic finish stand base (screw on)
Stand vertical (clips onto the screen) 100 x100 VESA mount capable
Cables: Display Port, HDMI, Thunderbolt, USB-C
Power brick
First impression
It is a 32-inch flat panel which is about as large as we feel comfortable with on a typical desktop. Any larger we prefer a curved screen for a little more immersion.
It has an elegant white rear panel that complements a faux silver metallic, half halo, stand. GadgetGuy has a few LG monitors with this plastic 'back', and we can safely report that they have not 'yellowed' even after two years use.
A six-axis joystick controls the on-screen menu (and there is the ability to download PC/Mac software for true on-screen control).
Out-of-the-box the images lean towards cold blue, but you can easily select 6500K colour temperature that makes things slightly warmer. And there are plenty of controls for a prosumer to play with to get colours close to perfect for sRGB, Adobe RGB, DCI-P3 or Rec.709.
Bezels are small and lend this monitor to dual screen use. You can flip it from landscape to portrait although it lacks a stand cable management system so you will see the cables. The stand is relatively stable and occupies 22cm depth and a 70cm width.
Brief specifications: LG 32-inch, 4K Ultrafine LG 32UL950W
Screen: 4K, 3840 x 2160@60Hz, 16:9, 140ppi, flat panel Nano IPS (QLED) 178° viewing angle
Colour Gamut: 98% DCI-P3, 135% sRGB, Wide colour gamut
Calibration: No factory calibration but device/software compatible
HDR: VESA DisplayHDR600 and HDR10
Brightness: 450/750 typical/peak
Contrast: 1300:1
Response: 5ms GTG, RADEON FreeSync (works with NVIDIA's Adaptive Sync driver)
Colour depth: 10-bit (8-bit+FRC dithering) over 1 billion colours
Menu: six-axis joystick or PC/Mac on-screen setup
Bezels: Narrow 1cm- great for dual screen use
Thunderbolt 3: 40Gbps in and out for dual 4K daisy chain and 60W upstream charging
Ports: HDMI 2.0, Display Port 1.4, 2 x Thunderbolt 3 (1x in with PD, 1x out 60W PD), 2 x USB-A 3.0 3.0)
Audio: Headphone Out, Speaker 5W x 2
Power: 19.5V/10.8A (210W) – Idle .3W, typical 70W, Maximum 200W
Size/stand: 718mm X 231mm X 488mm (Down) x 7.1kg plus 110mm height adjustment and tilt -5/+20° (no swivel) – VESA 100 x 100 wall mount
TESTS
Calibration
LG's website claims 'Colour Calibrated for accuracy'
Out of the box Delta-E is 3.87 (OK), but with adjustments to Colour temperature to 6500K and other settings, it can get as low as .4 (0 is perfect). This requires a CalMAN or similar test sensor and software.
Given the price, we would expect perfect factory calibration, but at least you can calibrate it with third-party tools.
Similarly, the 98% DCI-P3 claim is accurate but only after proper calibration. Out of the box its closer to 70% (which is almost 100% sRGB or 85% Adobe RGB).
Nano IPS
You may have heard a lot about QLED (Quantum Dot) that use nanoparticles to produce more vibrant colours. LG's Nano IPS is similar in concept but different in execution. Neither of these are OLED technology – we won't go there today.
With QLED the Quantum Dot Enhancement Film containing different size RGB particles is sandwiched between a Blue LED backlight and the panel.
With Nano IPS, a layer of <2nm nanoparticles is applied to the standard W-LED backlight. These absorb certain unnecessary wavelengths of light like yellow and orange for more accurate red shades.
According to LG, this gives similar results to QLED, produces vivid, bright and saturated colours and allows borderless panels (just the bottom is edge-lit).
Contrast
Claim 1300:1 but closer to 1200:1 (uniformity compensation enabled).
Brightness
Claim 450/750 typical/peak. We measured 405nits typical with a 100% screen fill in Standard Dynamic Range (SDR) and 440nits with HDR content. This is fine for office lighting conditions.
Its VESA HDR600 certification requires it reaches 600 nits peak luminance on small areas of the screen and at least 350 nits for the duration.
Local dimming – '101'
First, let's not confuse this 101 with TVs – it is about smaller monitor panels.
'Local dimming' is a prolific marketing term, and people confuse that for the vastly better and expensive 'Full Array Local Dimming' (FALD).
Edge-lit local dimming divides the screen into zones, typically as few as eight to sixteen. The light from the bottom edge LED lighting gets to these via a fibreoptic mesh. The monitor processor and graphics card GPU can then brighten the lighter areas of an image while darkening the darker areas to give an HDR effect (video experts call that HDRn't).
With FALD, the screen has far more zones (hundreds to thousands), each with a LED backlight behind it. These are 'direct-lit' as opposed to 'edge-lit'. FALD is the only technology that can achieve 1000+nits. You can use it with Nano IPS, and QLED overlays and these monitors are generally twice the price. They are also thicker and heavier.
This monitor is edge-lit with local dimming zones (we suspect eight) that sees some bloom on fast moving objects as they cross zones. Uniformity mode improves grey scale reproduction, and it works well. Black uniformity is not as good, but you can play with a black stabiliser setting if using HDMI input.
Viewing angle and colour shift
178° vertical and horizontal off-axis is a theoretical maximum. The reality is that premium edge-lit IPS (and this is) can handle 80° horizontal axis and 60° vertical axis without noticeable colour change.
Uniformity of colour and brightness
We did not notice any light wash or bloom from the lower edge – just a fairly the typical uniform IPS glow in a dark room. This is a first-rate screen with uniform colours within the viewing confines of desktop use.
10-bit colour – over 1 billion colours
It is an 8-bit+FRC (frame rate control) to upscale 8-bit to 10-bit. It has an excellent colour gradient, and in colour bar tests have no row or column pixel bleed.
Reflectivity
Anti-glare 3H (3 Haze) means great reflection control in an office environment (400-600 lumens).
PWM (Pulse width modulation)
It is a 60Hz (50Hz in Australia) refresh rate supporting both Radeon FreeSync and NVIDIA Adaptive Sync.
PWM dims the backlight, and minor flickering is evident at lower brightness. This is a panel that is best at high brightness. If you suffer from PWM flicker, then look for a non-IPS screen.
Response times
Claimed 8ms GTG. While this is a figure that gamers want, office use is closer to 15ms in 'Normal' settings. In most cases, the adaptive free sync effectiveness is really dependent on the video card.
Build
Solid, screw on base and clip-on stand. Optional Vesa wall bracket
Menu
You can access most settings via the On-screen software or the six-axis joystick.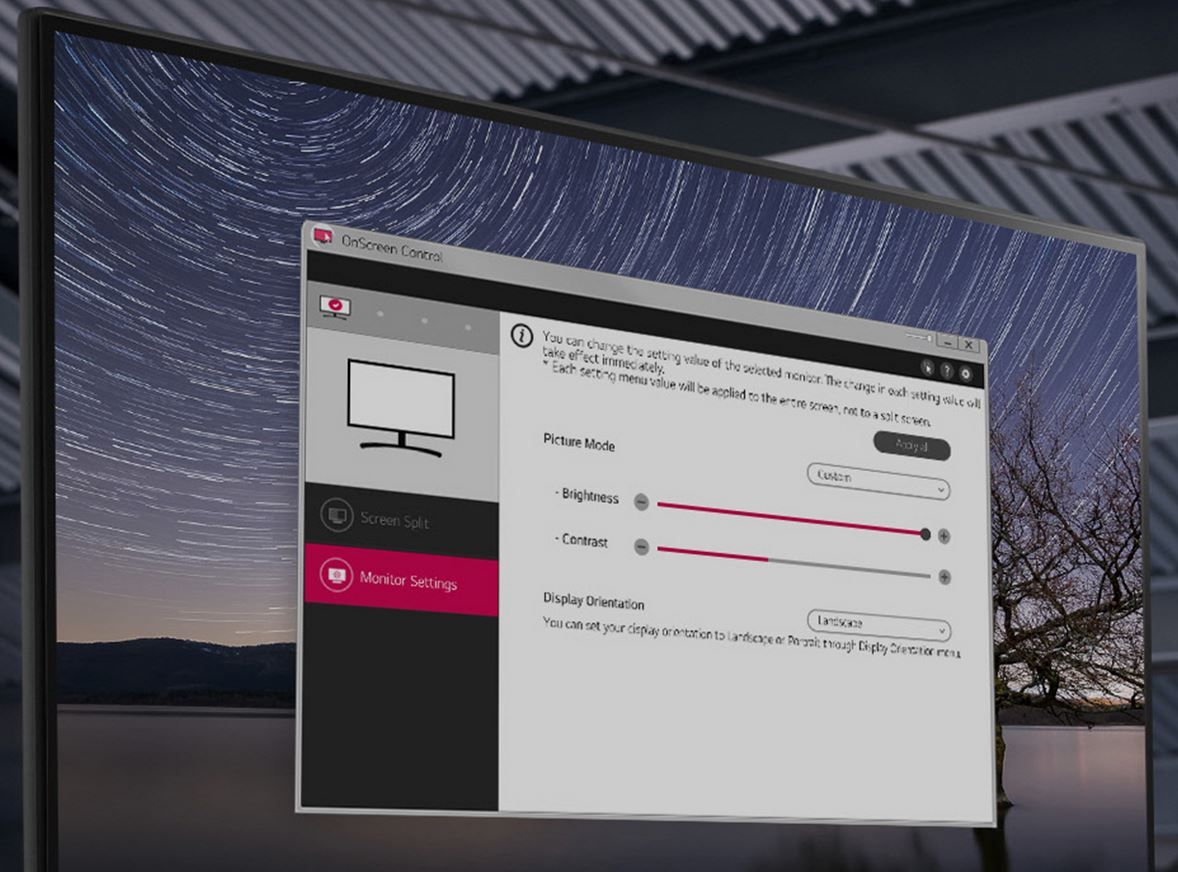 Picture mode SDR: Vivid, HDR effect, Reader, Cinema, sRGB, DCI-P3, Games (FPS, RTS,), EBU, REC.709, SMPTE-C, Colourblind (R/G compensation), Calibrate 1 and 2. We found Vivid had the most pleasing saturated colours but are less accurate. Professionals will select sRGB (web colours) or DCI-P3 (movie colours).
Picture Mode HDR (content metadata dictates colours): Vivid, Standard, Cinema and Game (FPS/RTS). HDR mode does depend on content, video card and Windows/Mac support.
Colour mode: Gamma, Colour temperature, RGB, Six Colour (R,G,B,C,Y,M – tone and saturation). Set this to 6500K.
Super Resolution+: High, Middle, Low and Off. We found 'off' is the best setting, as higher levels tend to induce motion blur.
Black Level: Only works on HDMI signals so not applicable to Thunderbolt 3 signals as tested
Uniformity: Works in Custom, sRGB and Adobe RGB and ensures uniformity of colours but reduces brightness. Leave it off.
Games: Response time, FreeSync, Black Stabiliser (like a faux HDR)
Modes: PIP and PBP
Software (URL here).
On-screen control requires Windows or Mac OnScreen Control Software. It is effective and in Windows, mouse driven.
Dual control (PBP or PIP) may require Dual Control software for Windows and Mac.
True Colour Pro for calibration is for Windows and Mac and requires a compatible hardware sensor like a CalMAN or Spyder. You can also use most third-party calibration software.
Sound
2 x 5W 2.0 speakers. Maximum volume is 75dB, and the sound is mid-centric for clearer voice (virtually no bass and limited treble). If you intend watching movies use a BT speaker or even a 2.1 soundbar.
Thunderbolt 3
Our tests uses
Direct Thunderbolt 3 connection to our Lenovo Yoga 930 reference laptop
Via the Kensington Thunderbolt 3 dual 4K SD5200DT dock
Both setups work fine. The direct connection did result in about 10% slower downstream data rates from our reference Samsung X5 external SSD drive than when both run from the Kensington dock. Still, the LG downstream Thunderbolt 3 port is fine to support another 4K@60Hz monitor.
You can also drive it at 4K@60Hz with a USB-C 5Gbps port so it will work with older PC laptops and Macs.
Stand
You can adjust up to 110mm in height and rotate 90° for portrait mode.
GadgetGuy's take – LG 32-inch 4K Ultrafine LG 32UL950-W is capable of greatness
LG makes excellent quality monitors – you cannot go wrong. Perhaps that is why it supplies so many other computer companies with its panels.
If viewing SDR content (100% of home and office use) it has good peak brightness and a genuinely outstanding colour gamut. It is perfect under office lighting levels.
If viewing HDR content or playing HDR games, it displays a wide colour gamut but lacks a little in the brightness department, so keep it out of gaming caves!
Best use
For Joe and Jane Average, it is a terrific 4K monitor that, out-of-the-box is all they could want for home or office use. It is almost perfect with rich nano IPS colour good for 4K SDR content. But even at street pricing of around $1499, there are many competitors from BenQ, Philips and others that may not technically be as good as LG but knock it around on price.
An office worker will appreciate the Ultrafine 4K display that is easy on the eye.
Casual gamers should like it for its good response time, but if they are serious, they are going to buy a FALD back-lit gaming monitor and pay twice as much.
A creative will love it for its DCI-P3 and wide colour gamut coverage. But a professional user will note that it needs third-party calibration to achieve greatness. For the price perhaps this should have been factory calibrated. And such a user would realise the limitations of edge-lit local dimming, HDR600 and 450 nits. It is not a monitor for watching real 4K HDR content on – still it does that better than most other 4K monitors.
GadgetGuy loves it because the image is excellent, it has dual Thunderbolt 3 connectivity with a downstream 60W/Alt DP port – a real bonus for daisy-chaining two monitors or adding another Thunderbolt or USB-C device.
GadgetGuy Val Quinn has just finished reviewing the 34-inch 5K 34WK95U Ultrawide monitor here.
As to be expected with LG premium panels it performs similarly. It is better calibrated out of the box (Delta-E 2.11 and can get to .36) but only has one Thunderbolt 3 port. It has a recommended price of $3199, and astute shoppers will find it for close to $1549 plus freight. Note that if you intend to run 5K, you need a graphics card that can handle it.
Rich saturated colours are adjustable to 98% DCI-P3 or 135% sRGB
Two Thunderbolt 3 ports (for daisy chaining a second screen)
Portrait or landscape mode
LG Build, quality and warranty
60W Thunderbolt 3 downstream power is too low for larger MacBooks and Windows laptops
Out of the box, you need further calibration to achieve close to perfection
RRP is way over street price - shop around