Finally!
A year after several makers showed off their enormous 84 inch Ultra HDTVs, models are appearing which are practical, and even affordable to those who place a high priority on their viewing pleasures.
So here's the LG 65LA9700, a 164cm TV offering 4K resolution – the full 3,840 by 2,160 pixels – selling for $7,499.
Aside from what 4K can do for regular viewing, this TV also fixes the one drawback of 3D in LG TVs: reduced resolution.
Features
If 65 inches, or 163.9cm according to the official measurements, isn't big enough already, LG has made it look even bigger by wrapping around the picture a very thin bezel.
It measures just 10mm at the top and sides, and even at the bottom it's only 16mm wide. The panel maxes out at 55mm deep, but that's only at the bottom. Most of it is 35mm deep.
So where do the speakers go?
In a bar that whirs down from the bottom of the TV by about 35mm when it's switched on. This has four small forwards firing drivers. There's also a rear-mounted woofer on the body of the TV. If you switch the sound to external speakers then it whirs back up into the TV.
All that makes for an extremely neat looking unit.
The Nano full LED backlighting offers 144 separately mapped areas for light control in different parts of the screen.
One of the TV's three HDMI inputs supports the Audio Return Channel, so a modern home theatre system can handle all the TV's sound without the need for additional connections. But there are also optical digital and analogue audio outputs. You can also plug in a component or composite video based device.
But of course modern media inputs are also supported, including streaming video from your network and the Internet via WiFi or Ethernet.
There are three USB sockets, one of them of the USB 3.0 standard for higher performance data transfers. Obviously you can play back media files using these, and you can plug in a hard disk drive for recording and time-shifting live TV.
You don't need them for a Skype camera, though, because a slide-up camera is provided at the top of the TV.
The TV comes with two redesigned remote controls. The standard IR one is smaller in size than previous LG models, although it still seems to have the full complement of keys.
The Magic remote is now finished in white, and looks much classier for it. This works mostly via RF (the 'On' key is infrared) and amongst other things controls an on screen pointer.
This particular implementation was the best yet. It didn't take much of a shake to get the arrow to appear, and it seemed surprisingly steady on screen, while highly responsive to hand movements.
The TV's responsiveness is in part due to a powerful twin core CPU.
Performance
On first plug-in the 65LA9700 has a step by step guide that walks you through the setup, during which it tunes in your digital TV stations, lets you set up a network connection, does a touch of motion control setup and offers a tutorial on using the Magic remote.
All that worked very smoothly. I used WiFi for the network.
First things first: this is after all a TV.
Initially the picture with free-to-air digital TV seemed a little harsh and noisy, and what should have been smooth gradients of light on close-ups of human faces tended to be a little paint-by-the-numbers-like.
The cause of this was the sharpness control, which was set to half way. Turning this down softened the picture a trifle, but made it much smoother and more natural.
That done, watching free to air digital TV was remarkably good, given the tendency of such a large screen to make the slightest picture defects in the source all too obvious.
While acceptable on the SDTV stations, flipping over to natively shot HDTV, even American football on One HD, really brought the TV to life.
And Blu-ray was a step better.
Nah, only kidding. It was a lot better.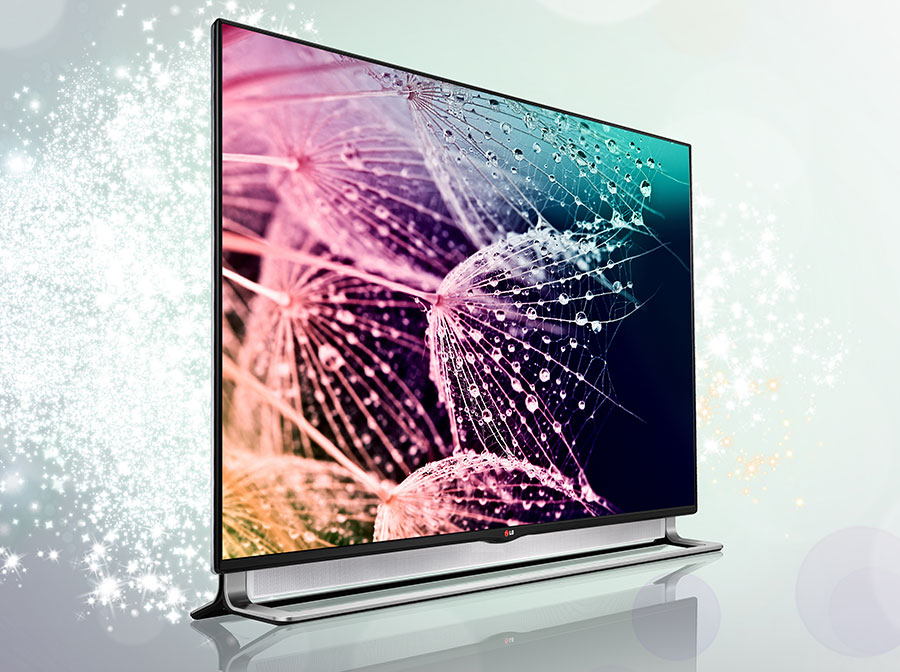 Being naturally of high quality, it actually benefitted from just a little application of the sharpness control. This tightened up the focus without creating visible noise or artefacts.
What was particularly good was the motion smoothing. LG's previous efforts have only been adequate, but in this TV it was really good, especially on Blu-ray, allowing fine detail to be seen during movement without any visible artefacts being produced.
The 3D was great, though. It has the virtues of passive 3D: virtually eliminating ghosting.
But was without normal loss of resolution in passive 3D because, of course, this TV has twice as many horizontal lines.