The LG A9 Kompressor late 2020 range is the successor to the very successful LG A9 Aeroscience range first seen here in 2019.
At first glance the Kompressor looks pretty much the same as the Aeroscience – coincidentally we have one of these to compare it with. The subtle differences are in battery life, noise levels, dust bin capacity and the fact that it can use all the LG A9 cleaning tools/accessories we invested in make it quite desirable.
I can but dream of the Kompressor, as the 2019 LG A9 Master has many, many, good, serviceable years left in it. And because it has user-replaceable batteries, I can see it getting to 2030!
Review: LG A9 Kompressor late 2020 range
As LG likes to do there are accessory 'bundles' of the LG A9 Kompressor – all have the same vacuum section. The website is here and a little hint, look for A9K models. You can compare up to three models to see the bundles.
CORE $1099 -standard accessories
PRO $1199 – With Power Drive Mop
AQUA $1199 -with Power Drive Mop
ULTRA $1299 – with Power Drive Mop and all standard accessories
Warranty is 2-years parts and labour (ACL compliant) on the vacuum and 12-months on the battery. The motor has a total of 10-year parts guarantee.
As LG is sold widely through major retailers and online stores, you may find the A9K models for 10-15% less. And you may bag a bargain on the older A9 models too.
How do you review a vacuum?
First, read the manual – no, you don't have to, but it helps if you are swapping to a stick vac.
Stick vacs have come and long way over the past few years. The LG A9 was one of the first to do 'whole-of-home' for an average Aussie abode. There is no doubt that it can replace unwieldy, corded, canister vacs.
We have been doing vacuum reviews for many years and use a 300m2 three-bedroom home as the test bed. It comprises about 30% long and dense shag pile carpet, 30% bamboo hardwood floor, 30% sisal ribbed carpet and 10% ceramic tiled bathrooms.
We use the vacuum for four weeks recording the amount of detritus collected, charge times, noise, convenience, maintenance and overall quality.
LG A9 Kompressor late 2020 – in the box (review unit is the Pro)
A9 Kompressor
Telescopic wand
Power Drive Mop
Hard Floor Power Drive
Multi-Surface Power Drive
Crevice Tool
Combination Tool
Hand dirt tool
Powered Mattress 'Thumper'
Two batteries
Spare washable pre-filter and accessories
Charge stand/cradle/power adapter
The 'Ultra' ads an extendable, flexible hose (wand) that is invaluable and a couple of extra tools. It is the one we would buy.
Charge stand/cradle/power adapter
It comes with an upright charging stand that can convert to a wall-mounted or floor cradle. The power adapter plugs into the stand – you cannot charge the A9 without the stand.
Battery
The biggest change over the Aeroscience is the increase from a 2000mAh battery to 2400mAh.
That allows LG to claim a 60-minute life (per battery) on normal mode with non-powered accessories. It is kind of like those 'Litres per 100 Kilometres' stickers on cars – you will never reach that.
In our test, 70% of the time (hard floor and sisal carpet) we use 'normal' (68W) with a power drive head, and it gets 35-40 minutes per battery.
The other 30% is a thick shag pile feature rug that you could lose a small dog in. It needs Power mode (120W), and you get 10 minutes.
If you ever need Turbo mode (370W), expect about 5 minutes. Turbo can go up to 590W depending on the floor surface.
Overall, we measured a 10% battery life increase. That is enough to do the whole home whereas we had to swap batteries with the A9 Aeroscience.
Charge time with the 29.4V/1A plug charger is 3.5-4 hours. The cradle can charge both batteries at once. There is no issue with leaving the A9 in the charger all the time – it ensures batteries remain topped up.
Battery replacements are under $200 each, and you should get a good five years from them.
Kompressor – it not what you think
We usually associate the word with high powered engines. No, it's a simple red lever that compresses the contents on the .44 litre dustbin to about half that. It enables longer vacuuming without emptying. And it works. Where we empty the A9 Aeroscience twice – this is once.
Use
It weighs 2.7kg including the telescopic wand (takes the total length to 1.12m) and a power drive head. Overall, it's quite well balanced, but all the weight is on the wrist.
That is fine unless you have arthritis in the wrist, elbow, or fingers. How do it know this? My well-aged mum bought one, and it is just a bit much for her. However, her cleaner loves it, saying it is the best vacuum she has ever used (and she uses many).
Swapping the batteries is easy for most, but it isn't if you have lost any finger dexterity.
Dust efficiency
After cleaning the home, we run the older A9 Aeroscience over the area to see how much more detritus it collects. Understandably this was almost nil. We should have used the old A9 first and then the A9 Kompressor after, but my wife refuses to vacuum twice!
This is marginally more efficient than the Aeroscience which was very good in the first place.
As a hand-held cleaner
It weighs 1.65kg with the brush attachment – it feels quite light. Again, all the weight is in front of your hand.
But it needs the flexible hose tube attachment and brushes for proper dusting and in-car use.
Edge clean
The power drive heads can clean within a few millimetres of the edge (side) of the brush and 25mm from the front. If you are mindful, you will not need to use the crevice tool afterwards.
Hard floor cleaning
The micro-fibre power drive is excellent at picking up dust and grit, leaving a very slight sheen on tiles and timber floors. Don't use it on the carpet as the friction reduces manoeuvrability.
Carpet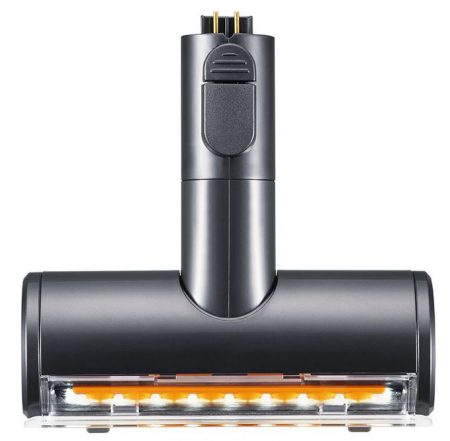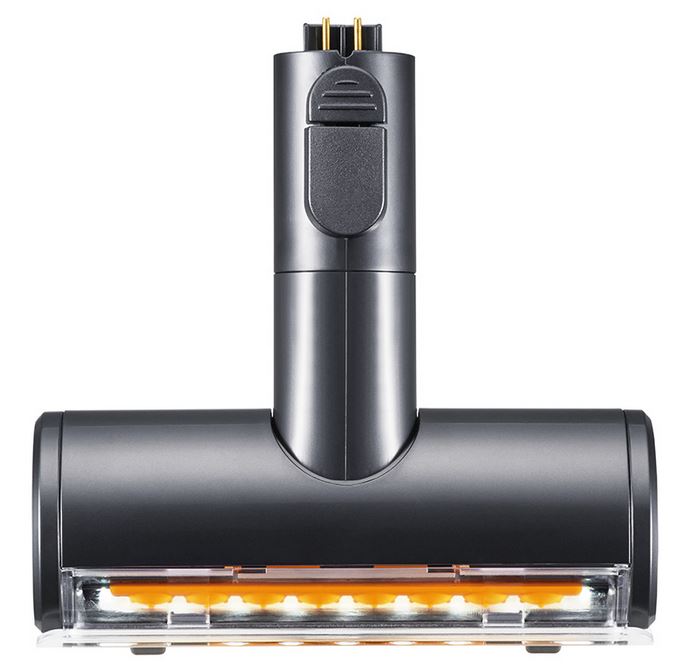 The hard brush power drive is excellent on carpet offering little resistance when pushed over the floor. You can use this on both hard and carpet surfaces.
Mattress thumper
So-called but it is perfect for fabric upholstery as well. It gets out dust you never knew was there. Perfect for pet bedding too.
Noise (dB)- quieter
Normal 62. Power 67 and Turbo 75. It is quieter than the Aeroscience at 70/75/80dB.
Wi-Fi – you don't need it
The on-handle display covers battery life, filter clean time, clogged object etc.
It can use Wi-Fi to access the LG ThinQ app. It can tell you clean dates and times and can help diagnose if there are issues.
Maintenance – a very strong point
This is, without doubt, the easiest to thoroughly clean. And like all vacuums, it works best if you clean it regularly.
The entire filtration system – metal filter, pre-filter and fine dust HEPA filter are washable. The HEPA filter may need occasional replacement – it is an LG spare part for about $80.
Then there are the power drives. Each has a lock slot at the end that removes the power drive from the shaft. These are not washable, but it makes it easy to remove long hairs and detritus that you don't normally see.
LG A9 Kompressor late 2020 – power Drive Mop
Mini-review – 8/10
This removes a lot of drudgery from mopping. It is the same Power Drive Mop we reviewed in 2019 with the A9 Ultimate. But the spoiler is that it is more for regular maintenance mopping of a previously well-mopped surface rather than removing scuffs, dirt and grease.
The concept is simple – it is just like using a Power Drive head, but it has two rotation pads. Had we bought one back in 2019 our floors would be cleaner today.
The Mop head does not have a vacuum function despite appearing to have one. From the manual
You can only use the mop mode without the dust suction function. Press the — button once while pressing the + button once to turn off the dust suction function.
You must vacuum before you use the Mop head.
It has two pair of round soft frilly edge pads (standard).
Wet a pair, wring out excess water, place/centre on the Velcro mop head rotating disks
Detach the water container and fill with water – it takes 200ml and appears quite drip-proof. BTW – 200 ml lasts for about 200m2.
Reattach to the mop head
Attach to the A9
Set it for either a 6-or-8-second spray delay (this adjusts the water volume – 6 seconds is more frequent) or turn it off for a light polish only.
Adjust the A9 telescopic wand for comfort to avoid stooping
Press power, disable the vacuum function, et voila!
To summarise from this and our previous test
Pads quickly get dirty so stop and hand rinse them every 15-20m2 or so (as you would a mop). If you don't, you are just moving dirty water, and it leaves marks
The supplied pads are for light mopping. They don't remove heavy grime or scuffs. There used to be a harder pad for that
Unlike vacuuming you need to mop 'backwards' to avoid walking on freshly cleaned and damp floors
If you have heavy scuffs or food marks, use a plastic scourer to remove them first.
Battery life 15-20 minutes
And apply more elbow-grease to the downward motion than you do with a vacuum.
If you have an A9 already the Mop Head is about $250. Replacement standard pads are approx. $30 a pair or $50 for two pair. Pads should last at least a year if hand-washed.
Controversy: 'Do not put liquid other than water and hot water in the water tank' – it can void the Mop's warranty.
Choice found that water was cheaper and as effective as most floor cleaners. In theory, this is correct. In practice water, and most floor cleaners do not cut grime.
And we agree. Let's just say that you cannot use any heavy, gel, cream, soapy, waxy, oil-based liquids (eucalyptus, lemon, citrus, or coconut oil extracts), petroleum (like Metho), alcohol, or traditional floor cleaners in the mop reservoir.
Some robomop makers suggest a few drops of vinegar (up to 10ml in 200ml) but not for porous or unsealed surfaces like timber, granite, marble and stone floors. iRobot has a Jet Hard Floor Cleaning solution that we found more effective than water when testing that device.
If you use a solution, do so at your risk. Our advice – first thoroughly mop and prepare your floors and use the LG as a maintenance mop.
GadgetGuy's take
LG A9 Kompressor late 2020 is almost in a class of its own – a stick vacuum that is powerful enough to replace a corded one. And on some models, a mop attachment will suit most user's maintenance needs.
The original A9 Master gets 4.7/5. Our other favourites are the Dyson V11 Outsize 4.7/10 (it is just a little too large for most) and Dyson V11 standard 4.9/5 (close to perfect).
The A9 Kompressor is quieter, has a longer battery life and the dust bin compaction is a great idea. It scores 4.8/5 – nearly perfect.
Over the past four weeks, we concluded that the Dyson V11 and LG A9 Kompressor are neck and neck! However, LG is the only one with a Power Drive Mop and for most that is the deal maker.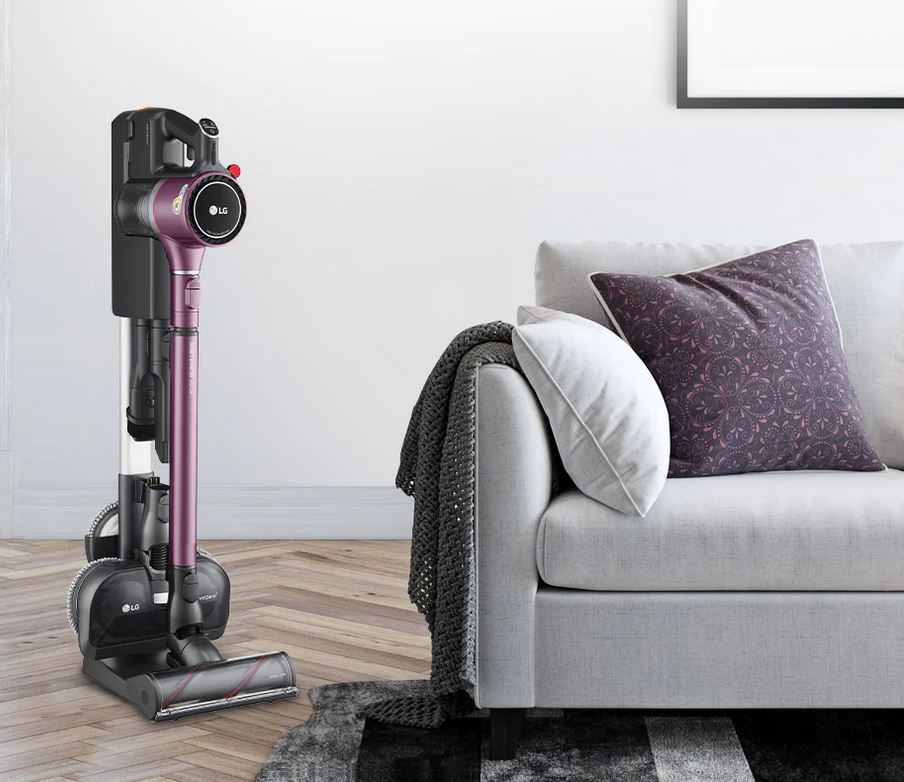 LG A9 Kompressor robot vacuum late 2020 range – faster, quieter, longer (review)
Positives
Well made, a keeper with replaceable batteries
Minor improvements over the AS9 model - greab a bargin there if you can
Does the whole of an average Aussie's abode on one battery - one to spare
The Power Drive Mop attachment may be your deal maker
Negatives
None really - you could argue that its expensive but it has lasting quality