LG's A9Master2X CordZero is an extremely powerful, cordless handstick vacuum. But that description does not do it justice as it can replace your old canister vacuum and do a whole-of-house clean with far less effort.

LG's top-of-the-range A9Master2X at A$999 uses the same motor/vacuum unit as its three lower-cost siblings – the only difference is the accessories and number of batteries.
It is LG's answer to 'whole-of-home' cleaning eliminating the need for a separate 'bulky, old, corded canister.' GadgetGuy agrees – given the right home this does it all.
But before we get into the review there are a truckload of A9 versions to chose from.
Essentially these all use the A9 vacuum body and are variously optioned.
Single $699
PetNBed $699
Multi $749
Essential $799
PetNBed2x $834
Multi2X $884
Master2X $999 (subject of this review)
Advanced $1099 (2019 model just released)
Ultimate Drive Mop $1199 (2019 model)
Take the prices with a grain of salt – GoodGuys (among others) have the A9Master2X for $749 and I noticed the Ultimate Drive Mop already at $1099. It pays to shop around because at $749 it wins over the Dyson V10 Animal+ at $999 – by quite a margin.
Review: LG A9Master2X CordZero
LG Australian Website – click here
In the box
First, don't even think about repacking the unit and its accessories back in the box – it is a marvel of origami how it all got in there in there in the first place.
It contains
The vacuum A9Master2X
Carpet power head (motorised hard brush – voltage supplied by the battery)
Hard floor powered head (motorised power soft brush – ditto)
Bedding punch powered head (vibrating)
Combination short bristle brush tool
Crevice tool
2 x batteries 25.5V/2,000mAh
Charger 29.4V/1A
Charging station (floor standing/wall/or compact mountable)
Negotiate for a deal on the total care kit with
Flexible Crevice Tool
Multi-Angle Tool
Hard Dirt Tool
Mattress Tool
Flexible Extension Hose
These are all quite useful – especially the soft brushes and flexible tube – and it's a shame they are an option.
The first impression
Well made – the unit and accessories look like they will last the distance.
I tested it in a largish 65m2 one-bedroom (tight pile carpet), bathroom (ceramic tiles), kitchen (tiles) and lounge (carpet) apartment – and GadgetGuy's often unkempt offices.
Battery 25.5V/2,000mAh
LG's marketing says the dual power pack gives you up to 80 minutes run-time.
The idea of replaceable power packs is appealing. In fact, it should be mandatory for all stick vacuums. Batteries are recharged when (A) inserted in the vacuum and placed on the mount or (B) inserted into the mount. Both can trickle charge at once.
Initial charge time from zero to 100% per battery is just under four hours. You will need to have both charged as run-time depends on the amount of suction you want. Three LCD bars on the handle show remaining battery life.
The small print reveals that 80 minutes use (2 x 40) on the normal mode (25W) without the power nozzle. If you use a power nozzle, it claims 60 minutes (2 x 30). The vacuum defaults to normal mode which is fine for most cleaning.
Activate Power mode (80W) by pressing '+'. In this mode with a powerhead expect 10-15 minutes per battery.
Activate Turbo mode (140W) by pressing the '+' button held down for three seconds. In this mode with a powerhead expect 5 minutes per battery.
Turbo was excessive for regular cleaning but was handy on-demand. Power mode was mandatory on carpet, and normal mode was fine on hard surfaces.
Batteries should last 500 or so full discharges and are 'user-replaceable' even if they cost $100 or more each.
How does it feel to use?
The unit itself only weighs 1.55kg. Add the telescopic wand at 346g, and either the hard floor brush (844g) or carpet brush (793g) and you have a total weight of about 2.7kg.
LG use the term 'opti-balanced' handle, but when you hold it, you feel 2.7kg pulling down with nothing other than your wrist to support it. There is no cantilever effect with weight distributed over or behind your wrist.
The telescopic wand is great to adjust to your height to avoid stooping.
For short cleans – a few rooms – it is OK, but for more extended use it could be tiresome.
As a hand cleaner
It weighs 1.65kg with the brush attachment – it feels quite light. Again all the weight is in front of your hand.
But it really needs the bonus flexible tube and brushes for proper dusting and in-car use.
Edge Cleaning
The powerheads can clean within a few millimetres of the edge (side) of the brush and about 25mm from the front. If you remember this orientation, you will not need to use the crevice tool afterwards.
Hard floor cleaning
The microfibre fabric powerhead was excellent at picking up dust and grit leaving a very slight sheen on tiles and timber floors. Don't use it on the carpet as the friction reduces maneuverability.
Carpet
The hard brush powerhead was excellent on carpet offering little resistance when pushed over the floor. This is the more useful powerhead for use on all surfaces.
Upholstery
The bonus brushes set provides lots of tools for removal of pet hair from leather or fabric etc.
Bed thumping
It vibrates and removes hair and dust-mite dander efficiently.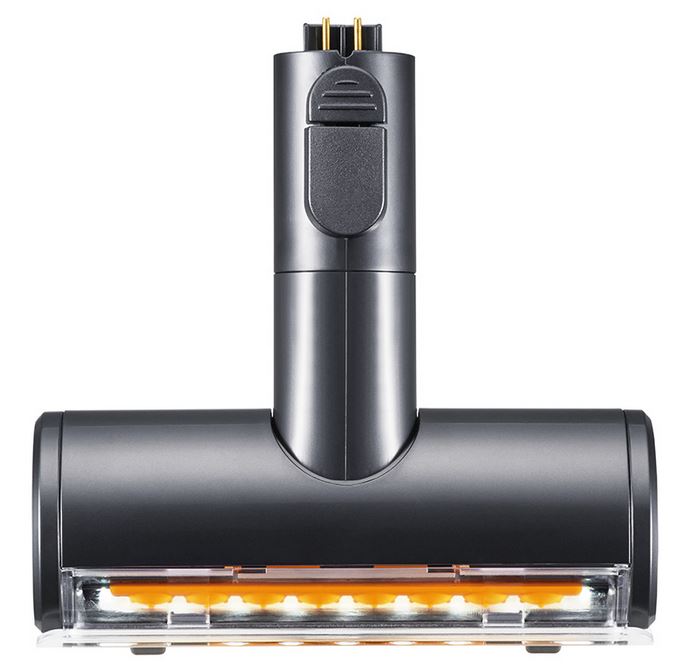 Noise levels
LG claim 82dB without a nozzle. Our measurements were 70db on Normal, 75dB on Power and 80dB on Turbo.
The unit has a distinct, not unpleasant, whine on Turbo.
Dust collection
We purposely left the floors 'dirty', but after a thorough vacuum, the debris in the canister appeared barely 25% full. But when we opened the trapdoor the debris inside the cyclonic metal filter was considerable – only the 'coarser' stuff shows up in the canister. It is very efficient – more than you expect a stick to be.

Maintenance
The .44 litre dustbin empties by opening a bottom flap. It appears sturdy enough and should not open if accidentally knocked.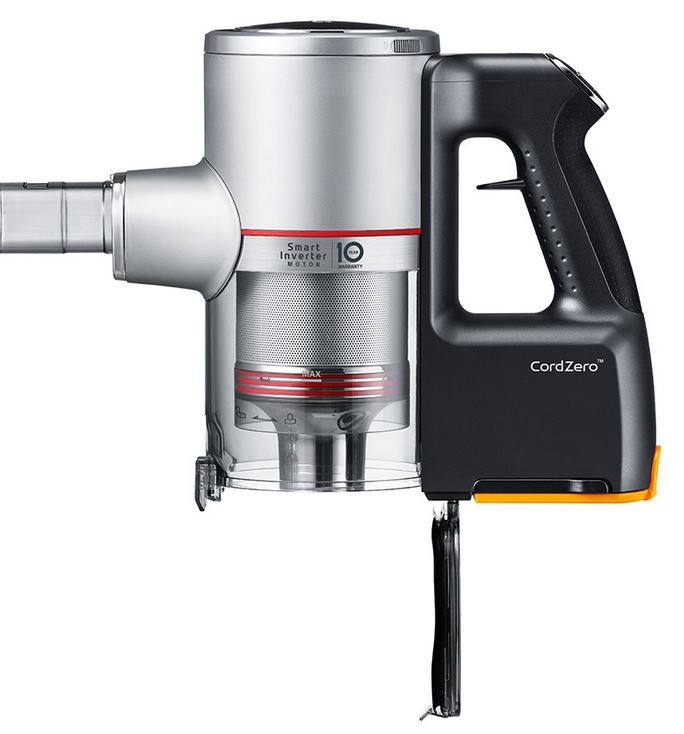 The crevice tool is then used to remove the cyclonic mesh filter. Clean it under running water and dry before reuse.
The brush tool is used to remove fine dust from inside the dustbin.
Yes, its fiddly and your hands will come in contact with dust (wear gloves), but it is necessary to keep it clean to maintain full suction.
Cleaning the filters is necessary as well. The HEPA exhaust filter (in the cap of the vacuum) should be brushed/tapped, but after a few uses, it will likely need washing and drying. Washing HEPA filters will shorten their life so buy a few spares.
The fabric pre-filter (two supplied) requires washing after each use. These are more durable than the HEPA filter. All up LG states that its 5 stage filtration will capture 97.5% of dust particles.
OK, if you are lazy clean the whole shebang once a month (assuming you use it weekly) but look out for signs of suction loss and empty the dustbin with each use.
A sure sign of neglect will be if an odour, musty or dusty smell occurs during use.
Both the hard and soft floor power brushes require occasional removal of hair and lint. A five-cent piece or flat blade screwdriver is used to remove the cover cap on one end, and the brush slides out for easier cleaning. Do not wash these unless necessary.
You cannot remove or wash the bedding punch.
Storage
Because the mount is an integral part of the charger, you have three options.
Floor mount – it fits the telescopic head and the wand in an upright position
Wall mount – screw to a wall
Compact mode – remove the floor mount and just store the vacuum
It would have been nice to simply plug the charger into the vacuum.
Warranty
Two years on the vacuum and parts, 12 months on batteries and up to 10 years parts warranty on the motor.
GadgetGuys's take – LG A9Master2X CordZero handstick
The LG A9Master2X is a direct competitor for Dyson's V10 Absolute (GadgetGuy review here). It is on a par with Dyson for power and has an edge with two batteries.

It has lots of potential, but the bonus brush/wand kit is a necessity, especially the flexible extension hose that makes this a more useful hand cleaner.
Both look very similar at the outset – brushes, vacuum power, even style etc.

The LG already has about 45% of the international market since its launch in Korea last July. For sheer volume it will outsell Dyson.

We don't usually comment on price – you pay what you are prepared to pay. Dual batteries are a winner and a significant part of the cost.
Pros
LG quality – it should last several years
Removable batteries – better than a built-in battery and offers the best flexibility

The extendable wand allows for 'no stoop.'
Cons
Weight is forward of the hand – it can get a little tiresome after a while so clean a few rooms at a time.

Would have been nice to be able to directly plug the charger into vacuum as well as the mounts
Price
$999 but try to bag a bagless bargain!
Rating: LG A9Master2X
It is almost in a class of its own – a stick vacuum that is powerful enough to replace a corded one.
Overall: 4.7 out of 5
Features: 5 out of 5 – if you count the bonus brush pack
Value for money: 5 out of 5 – Dual batteries are a huge plus.
Performance: 4 out of 5 – better than a 2400W corded vacuum but limited battery time
Ease of Use: 5 out of 5 – Convenient for short use, will do whole-of-home
Design: 4.5 out of 5 – It is hard to call a vacuum attractive. All weight is on the hand which is fine when vacuuming floors but not so much on vertical surfaces
Very powerful stick for whole of home cleaning
Dual battery gives it a distincy edge for larger area cleaning
LG quality
Please include the optional bonus pack - its needed