LG came to IFA 2022 with a focus on lifestyle products, showing off the MoodUP fridge with LED panels, a unique shoe storage solution, and new air purifying technology for the home.
Stylish and functional appliances are a recent theme for LG, having just launched the colourful LG Objet refrigerator and freezer collection. It appears the recently announced additions at the IFA consumer electronics conference continue the company's trend of making products with more than simply performance in mind.
Set the mood with MoodUP fridges
Shown at IFA 2022, the LG MoodUP is a refrigerator set with coloured LED panels you can change via an app. Naturally, it keeps your food cold, but the fridge also doubles as a kitchen entertainment hub. With the LG ThinQ app, you can choose from 22 colours for the upper door, and 19 colours for the bottom door. The lighting serves a functional purpose, too: blinking if the door is open too long, and glowing brighter at night to help you navigate the dark. It even greets you with a blink when you approach.
Beyond the kitchen light show, the LG MoodUP fridge also houses a Bluetooth speaker you can stream music to. When playing music, the LED panels sync and change colours along with the tunes. It's still early days for the unique fridge, so expect further details on pricing and availability at a later date.
LG now wants to… look after your shoes?
Aimed at sneaker enthusiasts, LG revealed a couple of storage and cleaning solutions for your shoe collection. Starting with a method of showing off your kicks, the LG Styler ShoeCase is a display box with transparent panels made to keep shoes safe from humidity and UV light. Moreover, it has an interior rotating turntable to flaunt your footwear from all angles, and you can stack four ShoeCases on top of one another.
Meanwhile, its companion, the Styler ShoeCare is like a dedicated washing machine for shoes. Suited for various materials including leather, suede, and sports fabrics, it uses TrueSteam technology to refresh shoes. It has multiple settings, and its standard course can refresh up to four pairs in just over 30 minutes. Plus you can clean two different types of shoes simultaneously thanks to the Styler ShoeCare's Dual Care System.
For the hardcore sneakerheads, LG's ThinQ app allows for remote monitoring and control across the ShoeCase and ShoeCare devices. It sounds niche, but there's clearly a market for it.
PuriCare Objet Aero: a hybrid between furniture and air purifier
Rounding out LG's major lifestyle showcases at IFA 2022 is the PuriCare Objet Collection Aero Furniture. Similar to the company's fridges, function and form is a feature. Available in three colours (Crème Rose, Crème Yellow, and Crème Grey) and two tabletop shapes (Round and Track), the PuriCare Objet range provides 360-degree air purification in a small piece of furniture.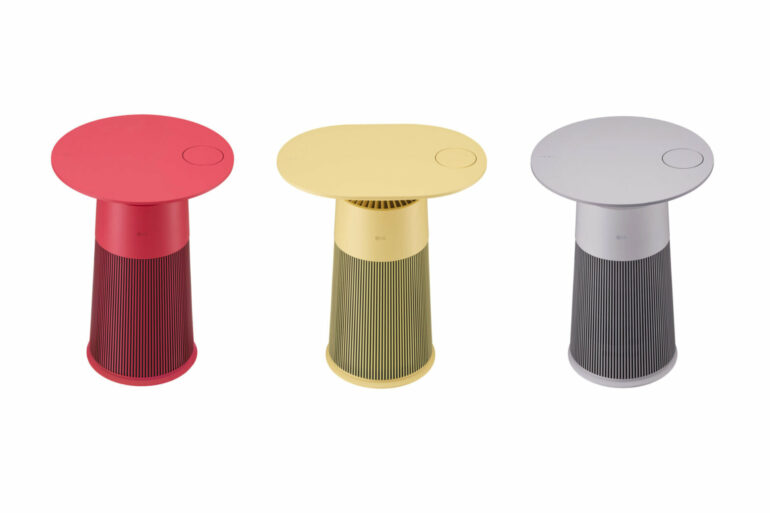 More than just a decorative piece with air purification capabilities, the device also houses wireless charging technology for smartphones and wireless earbuds. It supports fast charging for both Samsung (9-10W), and Apple (7.5W) devices, so you can rest your phone on the furniture and get a top-up. Additionally, you can choose from eight different colours of mood lighting via the ThinQ app.
For the PuriCare Objet range's air purification, it improves indoor air quality through a multi-stage filtration process. This uses LG's Ultra-fine Filter, Dust Collector Filter and Deodorisation Filter, in addition to UVnano technology which helps keep the device's fan blades clean as well.
Although hard details are scant on LG's future lifestyle range, it likely signals a change for home appliances in general. From the niche to the multifaceted, the company's message is clear: If it doesn't serve multiple purposes, it doesn't belong in the home.