We didn't test the benchmarks, but performance-wise, there weren't many slowdowns to report of, which doesn't surprise us terribly since the chip used is spot on with what HTC used in the One and what Samsung featured in the Galaxy S4 smartphones.
Battery life was measured through use over a few days, and we found roughly two days of life when used for several hours each, while standby time stayed working over the course of several days.
We're also quite happy to see that LG isn't using proprietary ports here, and will let you charge the G Pad 8.3 with a standard microUSB cable, so anyone with an Android phone (or Windows Phone, for that matter) will be able to charge the tablet easily.
Overall, LG's G Pad is a good return for a brand that's never really played much in tablets.
Oh sure, there was a 3D tablet in the past, but Australians didn't see much of that, so really, this feels like LG's first solid entry in the tablet market.
That said, it doesn't get everything right, missing out on some of the features even its G2 smartphone nailed.
One of those is the remote control, a feature we're fans of since it means you can throw away the universal remote and just have a tablet do all the leg-work for you.
Unfortunately, the G Pad has less remote control functionality than its cousin, the LG G2 smartphone. In that handset, there was an abundance of TV manufacturers, and even the capability to control air conditioning units.
The G Pad is a direct contrast to this, which can't control AC units, and has very few TV brands to speak of. Unlike other smartphone handsets, it doesn't even appear to have the ability to learn from the remotes of brands it doesn't recognise, which is disappointing if you don't have a name brand the G Pad thinks you should.
It's likely LG will fix this with a patch or update later on, but it just seems strange to us that the G Pad has similar but not as impressive functionality as the smartphone with a near identical operating system and overlay.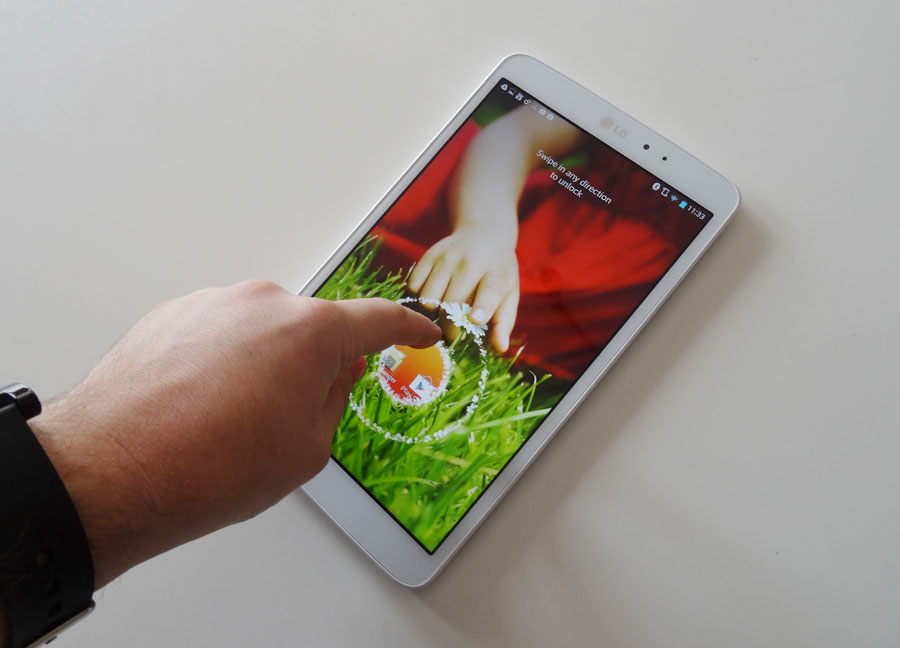 Another downer comes from the G Pad's QPair application, which creates a direct connection with another Android smartphone and allows you to see messages as they come in from the phone, or pick up calls if you're connected to the web.
Ultimately, the idea is a good one, but the implementation leaves a little to be desired.
For starters, you need to have the app installed, and it's not available for iPhone users. Tough luck if you like the feel of the G Pad tablet and want to link the two devices up, because there's no connection system here. If you have an Android smartphone, you can download the app and link it easily, though, so yay for Android users.
But regardless of what you link up, you can't browse through prior messages on the tablet, just the ones that have come in at the time. Likewise, you need to be connected to the internet on the tablet to pick up phone calls.
It's an interesting idea, but since the phone and the tablet have to be kept in close proximity, we're not sure why you'd use the tablet to read or write an SMS when you could just use the phone in the first place, keeping that with you.
Conclusion
In many ways, the LG G Pad is exactly what Samsung's 8 inch Galaxy Tab should have been, with a big beautiful screen and feeling like it was engineered to survive the rigours of life with more than just plastic on the back. It's not totally the iPad killer that it could be, but then it also doesn't need to be, and is a comfortable portable tablet for more than just movies, but also work too.
It would be nice to see a software update take care of some of the incompatibilities, such as the lack of TV remote support, and the air conditioner control that this phone just doesn't have even if its G2 smartphone brother does, but all up, it's not a bad device.
The G Pad's real competition is Google's Nexus 7 and Amazon's Kindle, and at least from a technical point, it stands up fairly well to these players. The only real downside will likely come from its overlay, which like the in the G2, is made for the person who loves to customise and tweak.
Ultimately, we suggest putting the G Pad in your hands before you make your mind up on anything, as its combination of plastic and cool metal on the back certainly makes the G Pad have a more premium experience than other Android tablets out there.
Charged by the microUSB standard and not something proprietary; Very versatile overlay to Android, making it a tablet tweaker's dream, just like the LG G2 smartphone; Comfortable in the hands with not just plastic, but also metal incorporated in the design; Storage is expandable;
LG's QPair phone linking solution works with any Android phone via the app, but it doesn't do enough; Remote control functionality isn't anywhere near as extensive as what appears on LG smartphones;