LG's 2015 flagship is here boasting a large Quad HD display in a smallish body, a camera with manual controls, and a leather back. Can the G4 tackle the juggernauts that are Samsung's Galaxy and Apple's iPhone?
Features
LG's fourth flagship phone is the G4, also known as the LG-H815, a continuation of the work LG has made with last year's G3. This year, the handset appears to be evolutionary, taking a design from last year and evolving aspects of it, starting with the insides which are totally different.
Gone is the quad-core Qualcomm Snapdragon 801 processor, replaced with a six-core Snapdragon 808, reliant on a setup of one dual-core chip clock at 1.8GHz and another set of four cores clocked at 1.4GHz.
This works with 3GB RAM and comes with the very latest released version of Android "Lollipop", version 5.1, running on 32GB of built-in storage, with room to move via a microSD slot.
Wireless connectivity is offered through the standard flagship fare, with 802.11a/b/g/n and 802.11ac connections, 4G LTE rated at Category 6 (300Mbps down, 50Mbps up max), Bluetooth 4.1 with A2DP and LE, apt-X connectivity, GPS with A-GPS, Near-Field Communication (NFC), and infrared for remote control functionality.
Wired has far less, which is to be expected these days, with only 3.5mm jack and microUSB the only ways of connecting cables.
Cameras can also be found here, with a 16 megapixel camera on the back taking advantage of laser autofocus and optical image stabilisation, as well as a flash, with 4K UHD video capture capable from this camera, also.
The front of the smartphone also features a camera, this one set to 8 megapixels.
All of this sits under and around (in the case of the front-facing camera) the display, which is set to 5.5 inches and supports the Quad HD resolution of 2560×1440, offering up roughly 538 pixels per inch. Corning's scratch-resistant Gorilla Glass 3 protects this display, with the whole screen being gently curved up the vertical edge of the display.
Few buttons are found here, with no soft buttons on the bezel of the handset and just virtual buttons on the display, though physical buttons can be found on the back, with a power button flanked by volume up and volume down above and below the power button, all of this below the camera.
Ports are also equally limited, with only a microUSB port and 3.5mm headset jack on the very bottom of the phone.
The back of the phone is removable, however, revealing a microSD slot and microSIM slot, as well as the battery, which is replaceable and is rated at 3000mAh.
The backs of the phone are replaceable, too, and arrive in either leather-wrapped plastic, or just plastic by itself.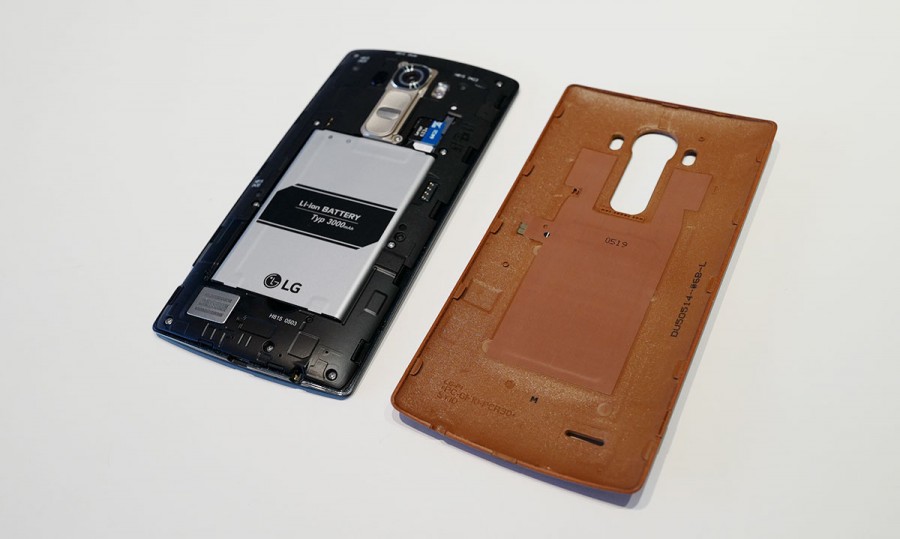 Performance
If you can believe it, we're up to LG's fourth incarnation of a major Android flagship smartphone, with the G4 now well and truly here.
For this iteration, LG has updated the design, improved the screen, replaced the camera, and made something a little more premium, and we've already listed the specs in the features above, so let's just get stuck into the phone, because it's far more interesting in the flesh than on paper.
In the hands, the design of the phone isn't so much a departure from the work LG set out in the G3 before it, but rather an improvement with some learnings applied from the Nexus generation of devices LG built for Google before.
There's a similar body complete with nearly the same look under the removable exterior cover, though it's a little larger and now has tightened up bezels that kind of make you recall the way the Nexus 5 looked. The curves are soft and the corners more angular, and the screen actually features a curve.
Yes, LG's love of playful displays returns in this model, with a display that curves along the vertical, different from the curve found in the Galaxy S6 Edge.
Rather, this is a curve that is reminiscent of what LG put into the G Flex smartphone, curving to fit your leg when you put the phone in your pocket. It does tend to blow out the size a little, something we'll get to a little later as it makes the phone thicker than a lot of other handsets out there in some sections, but it's also a lovely display.
Keep in mind, it's not the same style of display in the G Flex, and you can't sit on it or test its pressure with your fist like you could in that model.
It might survive drops a little better, with some wiggle room from the flex already there, but this appears to be curved for your leg, not for your backside.
That curved display is also 5.5 inches and yields a resolution of 2560×1440, or QuadHD, which is the same as what LG offered in last year's G3, but with a bit more brightness and a bit more contrast. Indeed, this is quite a bright screen and very easy on the eyes, producing 538 pixels per inch, and blowing Apple's many definitions of Retina (usually at least 326 pixels per inch) right out of the water.
Good luck being dissatisfied with this screen, because we most certainly are not.
LG's design also curves into the hand nicely, though it doesn't like sitting on tables, with a plastic based body flowing into a curve at the back. We mentioned that the front is curved, and it is, but the back is curved too, and this helps the phone almost have an organic feel to it, soft and friendly, with a choice of leather or plastic for the back dependent on which model you end up buying.