LG's quest for the ultimate flagship phone has been all about constant evolution, and for its 2016 attempt, we're seeing the best one yet. Is it enough to unseat Samsung and Apple?
Specs
LG has come up with some interesting smartphones over the past decade, but the G5 is different to anything we've seen out of the company prior.
On the surface, you might see a standard phone, but when you get down to brass tacks, the LG is about evolution. Specifically, LG wants to let you make the G5 into something else, with a way of taking out the battery and popping on other ends, such as a camera, a new audio system, and more.
We'll get to how that happens later, but for now, know that the LG has still made the G5 a high end machine, with a Qualcomm Snapdragon four-core 820 processor, much like the HTC 10, with 4GB RAM and 32GB storage, plus a microSD slot in case you want room to move.
Google's Android 6.0 runs here — the version known as "Marshmallow" — and while it looks a little more like iOS in this incarnation, you'll still find support for a fingerprint scanner like other Android 6.0 installations, which is great since one is included on the phone.
A fingerprint scanner isn't the only extra feature you'll get, as you'll find an infrared port for controlling home entertainment devices and appliances, as well as Bluetooth, GPS, Near-Field Communication (NFC) and 802.11a/b/g/n/ac WiFi, as well as the typical assortment of Category 6 4G LTE offering speeds as high as 300Mbps if you need them.
Wired is handled via a USB Type C port at the bottom of the phone, while the top offers a 3.5mm headset jack.
Cameras can be found here — it's a smartphone, after all, and that's pretty important these days — so expect at least one, and closer to three. Specifically, the front offers up an 8 megapixel camera with support for Full HD, while the back delivers two cameras via a 16 megapixel camera and 8 megapixel camera, each with varying lenses for a standard and wide angle respectively. Ultra HD video can be captured from the rear cameras, too.
All of this sits under a 5.3 inch Quad HD display offering a resolution of 2560×1440, with Corning's scratch-resistant Gorilla Glass 4 protecting everything.
You'll need a nanoSIM if you want to play, though, as LG has finally jumped ship to the smaller SIM technology, but the tray here does support both.
Finally, you'll find a 2800mAh battery under the hood, and for a change it is removable.
Design
Sheryl Crow once sang that "a change would do you good", and in the case of LG's smartphone range, that is definitely true.
For three years, we've seen the company try to push out its idea of rear buttons being the best way of using a phone, with the back gradually adopting a curve most companies have shied away from.
And this year, the rear buttons are mostly gone and the curve is completely gone. If you had ever seen an LG phone before this model, before the G5, you'd think the previous designers had all been fired because this is completely different.
This is simple. This is elegant. This is understated, and that's a good thing.
The LG G5 pushes back from that suggestion that a phone is all about fashionably premium materials like leather by actually using the premium materials people have wanted for ages: metal and glass.
This phone is encased completely in metal, with the exception of that 5.3 inch screen on the front, which has your typical coating of Corning's scratch-resistant Gorilla Glass 4.
Try not to drop it, because "scratch-resistant" doesn't equate to "drop-proof", but it should survive an encounter with your keys.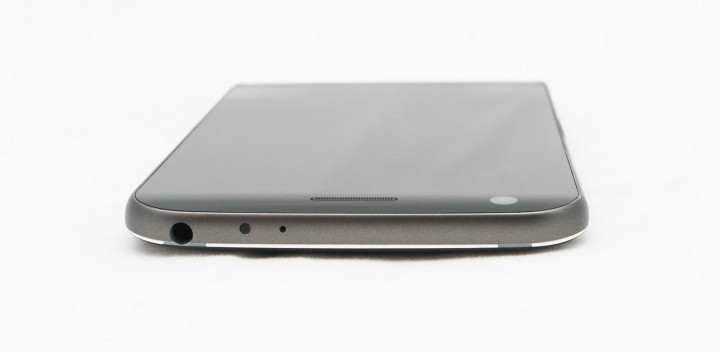 That screen isn't totally straight, though, with the top featuring a gentle curve as it flows up, almost to the point where you could think you're using a curved screen, though it's not quite as pronounced as what we see on Samsung's "Edge" phones.
In fact, the curve here really does nothing, serving to look pretty even though it's barely noticeable, providing just a bit of something extra.
The edges, however, are a little unusual, and that's because as smooth as they are, LG has leg a metal trim in place that has an edge you can feel, making the handholding a little strange.
You'll definitely know when you're picking this phone up, even though the metal can make things a little slippery.
Still, it's not a bad device to hold.