According to a study, 15 percent of the audio equipment being bought in Australia is made for multi-room audio. It's then no surprise that we're seeing LG join the fray, bringing years of research and not just doing it because everyone else is.
LG's recent launch of its Ultra HD OLED TVs was only part of the package, because you can't have video without audio, and LG wants people to know it's big in that category as well.
Currently, the biggest area for audio is that of wireless multi-streaming audio, or to put it another way, music in all parts of your home.
Start in the living room and play a tune, and as you walk throughout your home, the track will follow you, playing in the dining room, the kitchen, the bathroom, and even following you up the stairs to your bedroom, playing in every connected speaker of your home.
That's the dream of a multi-room streaming system, and it's a place LG wants to be, with the company this week launching Music Flow, its answer for this concept.
"At LG we are not only about improving lives, we are also about making life more enjoyable," said Lambro Skropidis, General Manager of Marketing at LG Electronics in Australia.
"We believe that with LG's new Music Flow system, we have taken wireless multi-room connection to the next level and that this is going to excite those who love their music and are looking for mastery over the soundscape of their home."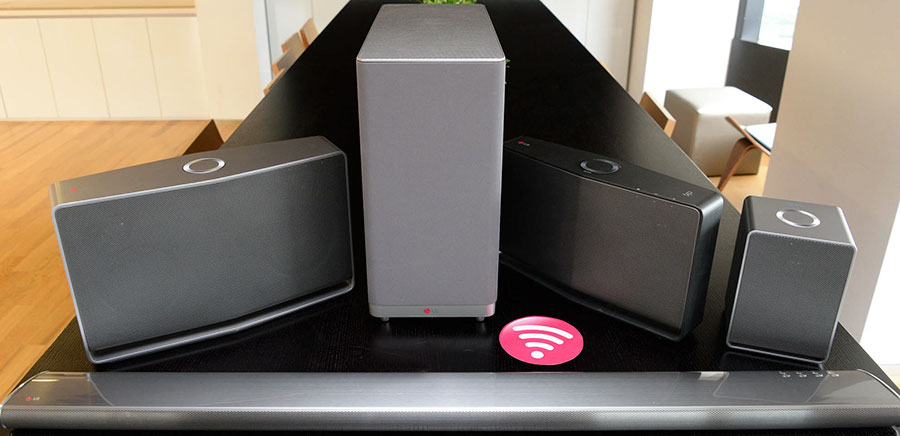 The system looks to be similar to existing options from other manufacturers out in the market, with four specific speaker systems and a bridge. The products can lean heavily on a mesh network, handled by the LG R1 Bridge, with the sound delivered by either a small bookshelf speaker (H3), mid-sized option (H5), a larger option (H7), and a soundbar and subwoofer combo made both for the TV and the multi-room setup depending on what you want to play at the time.
Audio support will exist for music files on phones and computers, and we can only imagine NAS drives will be included here too, though there will also be support for streaming services as well. Right now, that includes Spotify and TuneIn, though LG did tell GadgetGuy that it is currently working with Pandora and Google to get these services working with LG's new speakers.
Bass and treble will also be able to be modified with a customisable equaliser, a setting we have confirmed is built into the app, while Near-Field Communication can be found on the speakers, making it a simple "bump and connect" style of operation, like the NFC-equipped headphones out there.
Build quality looks to be good, with a metal look in what we can only assume is a plastic body, though they look reasonably solid. And there's even a dose of humidity resistance in the design of the speakers, with LG telling GadgetGuy that the speakers "are designed to withstand high-humidity up to 80%, but the product is not waterproof nor water resistant."
That's similar to what Sonos made work with its Play:1, though LG does emphasise that "proper ventilation systems" like an open window should be used if the speaker is used in a place where the humidity reaches higher than 80%, such as use in a bathroom when someone is having a shower.
But LG's entrance to multi-room audio comes at an interesting time.
Earlier in the month, we heard that the NAD-connected Bluesound was going to be joining and providing HiFi quality sound to people who expect a level of perfection and purity from their audio, while Samsung entered the multi-room arena several months ago, providing decent sound but an app that was in dire need of proper development.
LG, though, will be entering with a product that it says has been worked on for years, with the result being a sound product that features network stability via a mesh network and an app that looks to integrate research LG has learned from its mobile division.
"We have researched for many years" said Mr. Byunghoon Min, President of LG's Electronics Audio and Video Business Division,
adding that the research has been about making "a stable networking technology" and that much of the research was in "how to interpret consumer needs."
"I think it's one of the most important things," said Min. "We wanted to implement what consumers experienced on the phone into our audio."
Support for high resolution audio is also important, as highlighted in LG's smartphones, as the technology first made an appearance in the G2 and then G3 smartphones, a move Sony echoed in its recent Xperia Z3 and Z3 Compact smartphones, all of which make it possible to take HD audio on the go without a dedicated HD music player.
But streaming audio devices like the Sonos don't yet support high-resolution audio, and we're not sure if Samsung's foray in the multi-room streaming market does, either.
Bluesound, on the other hand, will, but the products are primarily geared at HiFi enthusiasts, especially since a model with a speaker built in starts at $999, which won't match everyone's requirements.
Interestingly, the support for high-resolution audio is something LG seems to think it needs.
"I think consumers want to enjoy better sound quality," said Min. "The high resolution audio demand is growing, [and] we need to consider the consumer's needs."
So far, we've only really gone up close and personal with one of the new speakers, the H3, which basically sits opposite the Sonos Play:1, and it's about the same size, if not a little chunkier.
LG is going for a more metallic look — clean and minimalist, with metal framing — and we can see some people preferring it, but the sound should be what drives this speaker, and while it was good from our brief test, we'll need to spend more than a minute with it to really decide whether LG has a true Sonos competitor, or just another multi-room player.
With the amount of speakers that have LG's Music Flow technology, though, LG isn't taking this area lightly, using it in three specific speaker models — H3, H5, and H7 — as well as the company's new soundbar and subwoofer (HS6) for its TVs.
We were even shown a prototype of something small that is coming up soon. Shaped like a Bluetooth speaker, it reminded us of the Bose SoundLink Mini, albeit with more than just Bluetooth support, as it could be integrated in the multi-room LG Music Flow system, removed from your home and carried as a mobile speaker for on the go audio, and then brought back home and reintegrated for more streaming.
While LG has yet to tell us a name of the product, or even when it will be coming and for what cost, we can only assume that this is the H1, since it's smaller than the H3 model.
That said, only time will tell if LG even sees a need for this miniature Music Flow streamer to reach Australia, and we suspect the outcome will be determined based on take-up of its current Music Flow line-up.
LG's multi-room Music Flow wireless streaming speakers will be available in stores shortly, with the H3 retailing for $249, the H5 hitting $399, the H7 coming in at $549, and the HS6 Soundbar and subwoofer reaching a recommended retail price of $799. LG's R1 Bridge to extend the mesh network will retail for $79.