Curious how smartphones can evolve past the touchscreen communications devices that they already are? So is LG, and rather than just build another of the same thing, it's trying something different.
This year, the flagship phone coming from LG will be a little more than just a variation on the same old thing, with a revamp of what we think the phone is.
We take our phones everywhere, and they have become our music players, our cameras, and our movie player, but in LG's 2016 flagship, it wants to evolve as many of these areas as it can without moving far from the initial concept: the phone.
To do that, it has had to come up with a phone that is modular. If that sounds a little far fetched or even strange, LG's take on modularity isn't to make every part replaceable in the way Google has been doing with Project Ara, but rather to make the bottom modular, with accessories able to plug right into the very core of the phone and turn LG's smartphone into something else.
For instance, let's say you want to turn the LG G5 into a high-res music player with a digital amplifier. You'll be able to play high-res music files on the device itself already, but if you want to pump up the volume and throw in a small amplifier, LG has teamed up with Bang & Olufsen to do just that with a modular digital-to-analogue converter which also supports up to 32-bit 384kHz audio.
To make the phone adopt this technology, you simply press a button to release the battery in the G5 phone and plug the new module in.
If you want to have a better grip on your phone when using it as a camera, another module — LG's Cam Plus — will bring a little extra battery power and buttons for the shutter, zoom, and exposure lock to the smartphone.
And if you just want to replace the battery, the removable battery means the G5 can be powered up in a jiffy with a new battery.
"The LG G5 ecosystem is the result of many LG experts asking themselves if it was still possible to be innovative and unique in the smartphone space," said Gino Casha, General Manager of Mobile Communications at LG Australia.
"I think once customers spend a little time with the LG G5, the answer will be a resounding yes."
Outside of the modularity, you'll find a pretty high end smartphone here, with many of the features from LG's previous generations carried over and improved, such as the 5.3 inch Quad HD 2560×1440, which has evolved from both the G3 and G4 to use the high-end pixel busting displays to now include the "Always On" feature hinted from before MWC.
From what we understand, this is essentially a part of the screen that always stays on — like a second screen that only serves small pieces of information when requested — which LG says will only use 0.8 percent your battery's power every hour.
The camera has also been improved and now includes two lenses on the back, similar to what HTC did with its One M8 back in 2014. For the G5, LG's reason for putting two lenses there comes from angles, with the first camera providing a 78 degree lens which acts more like a standard smartphone camera providing 16 megapixel images at your typical smartphone distance.
The second lens is a little different, capturing 8 megapixel images at a wider angle, shooting at 135 degrees, something LG says is more like what the human eye sees.
There's also a bit of expandability on the camera front, not just with that module we mentioned early. LG will also produce a 360 camera called the "360 Cam" which will bring two 13 megapixel wife angle cameras and a separate battery to let owners of the phone capture 360 degree content in 2K video, watchable later with another accessory the 360 VR.
Powering all of this expandability will be fairly high-end innards, much of which will be shared with other smartphones on their way out, including Qualcomm's Snapdragon eight-core 820 processor with 4GB RAM and 32GB storage, though you'll be pleased to know microSD cards can be added to the phone.
Connections have changed a bit, and you can expect Category 6 LTE connectivity here, providing 4G speeds as high as 300Mbps for downloads as up to 50Mbps for uploads, while home WiFi will let you connect to 802.11a/b/g/n and 802.11ac networks.
One new addition can be found in the USB port at the bottom as LG moves past microUSB to the new USB Type C format. Bluetooth, GPS, and Near-Field Communication are here, too, as is Android 6.0 "Marshmallow".
One thing we're not sure about is the battery which has dropped a little and will now sit at 2800mAh instead of last year's 3000mAh battery. That could be an issue, though with replaceable batteries, LG is at least helping to deal with any potential problems.
If anything, though, we're intrigued by the prospect of expandability in a phone, which is something that could make the company appear more playful than the other brands.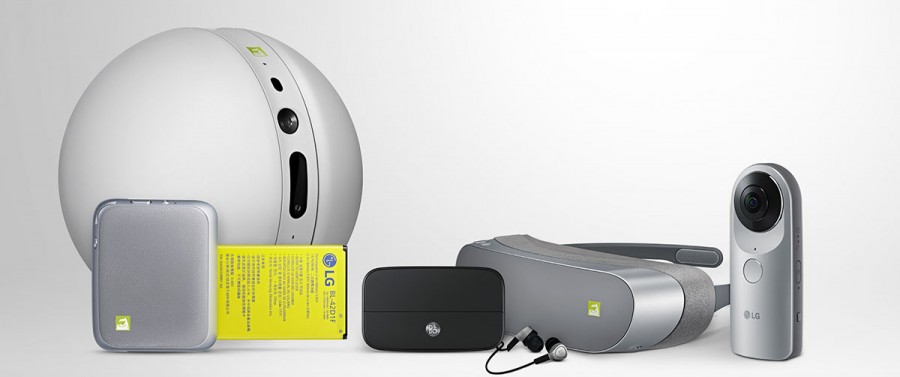 We're still not quite sure we agree with the promise of support for 32-bit audio — seriously, we like 24-bit more than the next guy, but that calibre of audio is next to impossible to find and practically impossible to discern the difference with — but at least LG is working with a company that has audio heritage to get it right rather than reinvent the wheel itself, and that is important.
Pricing and availability isn't known for LG's G5 or any of its accessories, but we're suspecting from April for around the high prices you expect flagship smartphones to be, while the accessories will likely range from $199 to $599 depending on what the gadget is.