LG News 8 June:
LG sells the world's first 8K OLED model 88Z9;
LG adds 4K HDR Monitors to the range;
LG OLED rated #1 globally – win a 65-inch OLED (well three actually);
LG News 8 June
LG sells the world's first 8K OLED model 88Z9
Pre-orders have started for the world's first 8K, 7680 x 4320, OLED – LGs 88-inch model 88Z9 (Global site here). First markets are USA and Korea, and Australia follows in Q3.
Now it is not for all – we estimate the Australian price will be north of $40K and there is little if any 8K content so you will see everything upscaled. GadgetGuy has seen demos and the upscaling from 1K and 4K is impressive, driven by LG's α (Alpha) 9 Gen 2 8K intelligent processor. There are lots of other smarts including voice control, intelligent upscale of audio to 5.1, HDMI 2.1, Dolby Atmos and Dolby Vision. The base is an integrated soundbar and cabinet style stand.
GadgetGuy has written a guide to 8K, and while it is amazing, 4K TVs are just coming of age, do a great job and will be around for some time yet.
LG adds 4K HDR Monitors to the range
27-inch, 4K IPS flat panel with HDR10, 99+% sRGB, HDR400 rating, HDR Effect, 350 nits (typical) with hardware calibration compatibility
USB-C 3.0 60W downstream charging, 2 x HDMI 2.0, DisplayPort 1.3, USB-A
AMD Radeon Freesync
Tilt, pivot, height adjustable stand
2 x 5W speakers
RRP $1199 (mwave has it for $799 so shop around)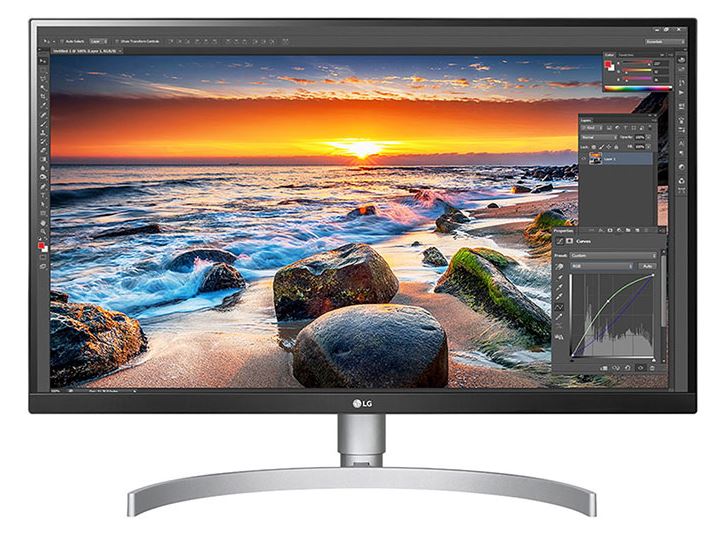 31.5-inch, UltraFine 4K UHD LCD/LED flat panel, 98% DCI-P3, HDR600, factory calibrated and calibration compatible, 450/750 nits (typical/peak)
2 x Thunderbolt 3 40Gbps, HDMI, DisplayPort, 2 x USB, daisy chain to add more monitors
Tilt, adjustable height stand
2 x 5W speakers
RRP $2599 (mwave has it for $1699 so shop around)
GadgetGuy has seen these monitors, and both are excellent. We are currently reviewing the 32UL950 and the 34WK95U-W, 34-inch 5K ($3199) that has the best colour and clarity of any monitor we have seen to date.
LG now provides high-end panels for most of the leading OEM PC brands. The 27-inch is for games and dual monitor setups. The 32-inch is for creatives, designers and photo editors. LG Thunderbolt 3 and USB0C monitors work equally well with later model PC and Mac.
LG OLED rated #1 globally – win three!
LG OLED TVs were internationally recognised as the top TVs in 2018 by a variety of independent research and testing organisations, including Australian-based, CHOICE; UK-based, Which?; France-based, Que Choisir and German-based, Stiftung Warentest. Seven consumer advocacy groups worldwide ranked the 2018 LG OLED TVs as the number one large screen recommended products.
To celebrate the LG C8 OLED TV as the front runner TV of 2018, according to several worldwide independent consumer research and testing groups, LG Australia is giving away three 2019 LG 65-inch C9 OLED TVs, in a social media competition where one lucky entrant will win an LG OLED TV not only for themselves but also for two friends.
"We're impressed by the recognition LG OLED 4K UHD TVs have received from reputable research and testing groups from across the world," said Tony Brown, Marketing Manager of Home Entertainment at LG Electronics Australia. "At LG, we are celebrating these awards by giving Australians the opportunity to upgrade their home entertainment experience with one of the best TVs in our range this year."
LG Australia will run the giveaway through the company's social media channels, including Facebook, Twitter and Instagram starting today.
To enter the 'Upgrade to OLED TV' giveaway, Australians can tag two friends and tell LG Australia why they would like to upgrade to a brand new, 2019 65" LG OLED TV. The most creative entrant will win an LG OLED TV for themselves, and one for each of their tagged friends. Participants will also be required to use the hashtag #LGOLEDTV in their entries.
The competition will run until 30 June 2019 on the LG Australia social media channels. The winner(s) will be announced by 12 July 2019. For more information and details, visit LG's social channels, including, Facebook – LGAustralia; Twitter – @LG_Australia and Instagram – @LGAustralia.
2019 LG TV Product Range and Pricing as of June 2019
| | | | |
| --- | --- | --- | --- |
| Model | Size | Code | Price $ |
| OLED TV | . | . | . |
| LG Signature Z9 | 88″ | OLED99Z9PTA | Price TBC |
| C9 | 55″ | OLED55C9PTA | 3,899 |
| . | 65″ | OLED65C9PTA | 6,399 |
| . | 77″ | OLED77C9PTA | 15,999 |
| W9 | 65″ | OLED77W9PTA | 9,999 |
| . | 77″ | OLED65W9PTA | 19,999 |
| E9 | 55″ | OLED55E9PTA | 4,299 |
| . | 65″ | OLED65E9PTA | 7,099 |
| Super UHD 4K (LED/LCD) | . | . | . |
| SM9450 | 65" | 65SM9450PTA | 5,399 |
| SM94 | 75" | 5SM9400PTA | 7,799 |
| . | 86" | 86SM9400PTA | 10,699 |
| SM86 | 55" | 55SM8600PTA | 2,399 |
| . | 65" | 65SM8600PTA | 3,349 |
| . | 75" | 75SM8600PTA | 4,799 |
| SM81 | 49" | 49SM8100PTA | 1,649 |
| . | 55" | 55SM8100PTA | 1,899 |
| . | 65" | 65SM8100PTA | 2,749 |
| LG 4K UHD (LED/LCD) | . | . | . |
| UM76 | 43″ | 43UM7600PTA | 999 |
| . | 50″ | 50UM7600PTA | 1,349 |
| . | 55″ | 55UM7600PTA | 1,599 |
| . | 65″ | 65UM7600PTA | 2,199 |
| . | 75″ | 75UM7600PTA | 3,499 |
| . | 86″ | 86UM7600PTA | 6,599 |
| UM73 | 70″ | 70UM7300PTA | 2,899 |