The LG R9 Master robot vacuum cleaner is the best by a huge margin of any brand/model GadgetGuy has tested. This is a great robot vacuum cleaner and one that I would own.
I make no apologies to the other robot vacuum cleaners we have reviewed. See links here and here. Without fail, they left me wanting more – much more. The LG R9 Master ticks almost every paradigm box and then some. Competition is healthy and let's hope other brands try to beat LG.
Without spoiling the remainder of the LG R9 Master review
It gives a good deep clean – as well as the LG A9 Master that is currently the best stick vacuum
The full dust caddy and clean floors under bare feet proves it
5200mAh battery life is amazing – around two hours use and four to charge
It is the only one to conquer our feature shag pile rug and clean it
It is the only one to explore and find all our north/south and east/west rooms without prompting
It has a full-width Power Drive Nozzle that works on timber, tiles, carpet and shag pile
It is a hell of a lot more intelligent for obstacle avoidance and edge cleaning
It is quiet at 55dB
It significantly reduces the need for a manual vacuum cleaner – does not do window cobwebs!
We christen thee 'Lucky', and you are welcome in the Shaw household anytime.
LG R9 Master robotic vacuum cleaner with ThinQ intelligence
Website here
Price: $1899 but shop around and you may find it online for a lot less or even find a factory second.
Like all reviews, we caution that this uses our standard test home setup, and we cannot vouch for all surfaces or styles of homes. We can say that if you are not happy with the LG R9 Master, then you won't be happy with anything else.
Having said that robot vacs cost from a few hundred dollars to a few thousand, so there needs to be a price/performance paradigm as well. So, match your expectations to your budget.
In the box
R9 robotics vacuum
Charging station
Remote control and batteries
Spare washable pre-filter
First Impression
OK, it's bigger than I expected. Iron Grey, taller and wider with a full-width front Power Nozzle brush and a rear round body. Size: 285mm x 330mm x 143mm x 4.2kg.
The control panel is a maze of touch-sensitive lights/buttons. At the rear is a 600ml lift-out, washable dustbin.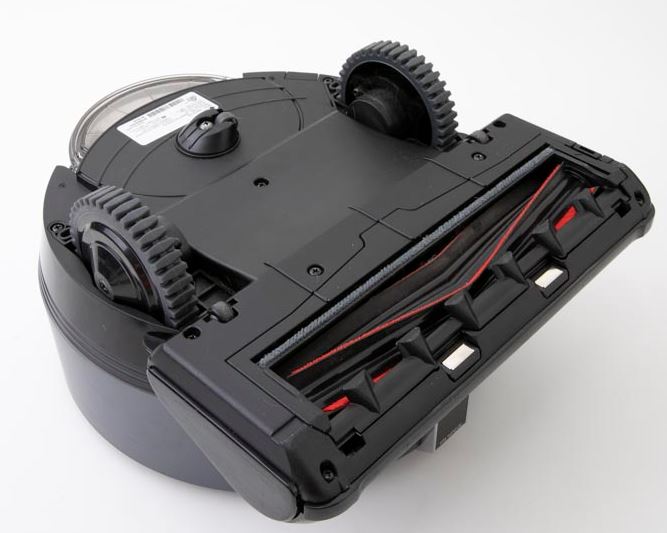 Setup is easy with the LG ThinQ app although it does ask your date-of-birth as a security measure.
Run time, charge time and base negotiation
We 25% through a four week-test so results so far are based on two full home cleans. We will update this as new data emerges.
The unit has four power profiles
45 W (General mode)
90 W (Turbo function)
200 W (Spiral Spot mode)
310 W (Spiral Spot mode with Turbo function)
Battery life depends on the use of these profiles. For timber and hard floors, the 45W mode will give over 90 minutes. If it is a mix of carpet and hard floor, the smart turbo kicks in, and that can reduce to around an hour.
But for our first two cleans we have had two hours (80/20 hard/carpet).
Battery recharge is between four and five hours.
In both cases, it found all the rooms and cleaned very well before exclaiming its battery is low and returning to base. Each time it was at least 20 metres from the base and had to navigate an obstacle course down hallways or around furniture.
It will recharge and complete the cleaning cycle. You can set the app to Sleep mode to prevent that happening in the night.
Learning about the home
It has a self-learning function and SLAM (simultaneous localisation and mapping) function as well as smart self-learning and recognition technology. Yet I cannot find a home map in the app after two full vacuums.
You know its learning because when you place it somewhere new, it says it does not recognise the area and starts learning.
It has a 3D dual eye laser sensor to detect objects (which is far better than a mechanical bumper in some vacuums) and smart turbo to increase/decrease suction on different floor surfaces.
Note you do not need to install the LG ThinQ app – the remote control will access all features, but you will not see cleaning logs etc.
A 2.4Ghz Wi-Fi connection facilitates communication with the app, but you don't need it to clean the home. However, a low or no signal may stop it from returning to base.
Floor surfaces
The R9 Master is the only robot vac so far that has negotiated and cleaned our feature shag pile rug. The shag is over 25mm long and has some longer contrast threads as well.
It ploughed over the edge (25mm) and started cleaning without missing a beat.
Earlier we said it was as good as the LG A9 Master stick vac in terms of a deep clean. The bare-foot test showed a grit and dust-free surface that was a pleasure to walk on.
Preparation for cleaning – a major issue for all robot vacs
You cannot expect any robot cleaner to just to work! As a guide
Lift all chairs off the ground (if you want it to clean under tables)
Lift floor rugs with tassels that could get tangled in the brush
Tie up loose electrical cables from the floor
Remove clothes/shoes/bags on the floor
Build lower gradient ramps if the door sill is over 20mm (if you want it to clean in those areas)
Close doors to areas you don't want it to clean
Having said that, this is the first vacuum that I feel confident that you could skip the preparation, and it would still do the job. Its obstacle detection is brilliant – far better than vacs using physical bumpers.
Cleaning
It defaults to a zig-zag mode. Like any other robot vac, it reverses out of the charger, does a U-turn and heads in a 'north/south' direction until it encounters an obstacle and then reverses and starts again. It's very much faster than others as it has a full-width motorised head and it moves so much faster.
It also has edge mode where it will navigate around the edges – we tested that, and it uses the 3D Laser to map the walls and gently 'suck up' to them engaging turbo on close approach to ensure a good clean.
You can also use the remote or the app to direct it to a specific area. It also has a spiral spot clean mode.
Maximum obstruction sill height
It handles up to 25mm sills with ease – something no other review bot has done.
Maximum height under furniture
At 143mm high it won't go where a lower profile bot will. So that rules out cleaning under beds or couches unless there is clearance.
Error handling (when obstructed, steps, cords, clothing)
It did exceptionally well on avoiding obstructions, cords, clothes etc. So much so that I feel confident that a lot of the pre-preparation suggested above could be let slide. Remember it uses 3D Laser instead of physical bumping so it cannot hurt furniture.
Noise
At its highest Turbo mode, it was 55dB and in normal use about 48dB.
Maintenance
Like the LG A9 Stick vacuum, it has a flip open, 600ml dust canister and removable and washable cyclone cone. I really appreciate that the whole unit is washable including the pre-HEPA filter pad, but LG suggests you let it dry for 48 hours.
The HEPA filter is also washable, making this very low maintenance.
The front full-width brush is removable and can be cleaned but not washed.
The app
The app provides LG ThinQ functions and is not necessary for general cleaning.
It has
Home Guard to detect motion in an approximate 3-metre arc from, its camera.
Home view shows what the vac is seeing
Scheduled cleaning
Cleaning diary (a log and floor plan)
Smart Diagnosis (not tested)
Set up push alerts
While Home Guard sounds like a good idea, the image quality is not outstanding.
Voice assistants
It's easy to add LG ThinQ to Google Assistant and to voice control basic vacuum functions like start cleaning or go home.
GadgetGuy's take – LG R9 Master robot vac is the best yet – by far
For fear of repeating our earlier review spoiler, it is the first that I would feel comfortable in letting it clean my home while unattended. The next three weeks of use are to test out the remote mapping features and see if there are any foibles – we will then update the review.
For now, my wife and I are very impressed at the speed, efficiency and clean quality. Lucky is welcome in our home.
Caveats
Now that we have finished our review, we read others to see if there are any issues others have experienced. Indeed, on LG's website, there is a mix of good and bad reviews. Let me address some of the concerns.
Dropping out of the Wi-Fi network. This is not LG's fault but rather the result of an underpowered router resulting in inadequate network coverage – get a better router.
Won't clean under couches. Valid if the clearance is not at least 150mm
Scratched one of the chair legs. Its 3G anti-collision technology means this is a rubbish claim. It does not use bumper technology, so it does not run into things
Won't negotiate 20mm sills – we have tested to 25mm, and it's excellent and goes where no other robot vac goes
Will leave dust behind – we vacuumed the same area immediately after with the LG A9 Master, and it picked up very little extra dust. Its suck power is as efficient as the A9.
Cleaned the same room three times (on the first try). It takes time – a few weeks – to learn the room/furniture layout and then this will not happen.
Scratched my wooden floor very badly. There is no way the vacuum can scratch the floor as on the Mohs hardness scale plastic is far softer than wood. It is more likely that something like a metal screw was caught in the Power Head and that is a user and maintenance issue – not the vacuum's fault.
A recharge takes hours – yes that is correct and the same for any robot vac. This has a 5200mAh battery and takes about four hours.
Resumes cleaning at 2 AM after a charge and wakes the family – use the app's sleep mode.
Patterned or dark rugs can confuse it – sorry the 3D camera does not get confused as its looking parallel and at an angle to the floor – not down at it
To the naysayers, we simply say that if LG R9 Master cannot do it for you – nothing can.
Positives
Reliable, powerful, unattended cleaning
Far mroe advanced than other current robot vacs
Terrific battery life and smart turbo
Amazing 3D obstacle avoidance - no bumping into things