LG is one of the only companies selling OLED TVs, televisions with panels that are semi-organic in nature and produce real blacks and vibrant colours, and from this week, they're even 4K ready.
TV technologies have been pretty consistent with LED and LCD lately, but make no mistake, OLED is one of those things we just can't stop thinking about.
Seen as the real replacement to the now defunct plasma technology, organic light emitting diode panels or "OLED" is viewed by many as the technology that will lead the future, relying on pixels that have an off position of "black" and an on position with colour.
For LG, these colour pixels rely on four colours, with the conventional red green and blue, as well as white (WRGB), together pushing out extended colour and infinite contrast, while featuring pixels that go black when switched off, happening individually rather than to the entire panel at once, which means real black is seen as opposed to lit up black like what you get in most LCD TVs.
While we know how they work — and you now do too, roughly — the technology is still very new, with only a few TV manufacturers using the concept. You can see OLED in other devices too, mind you, with smartphones and cameras receiving the tech which is known for showing bright colours, but there isn't a lot happening in the TV world.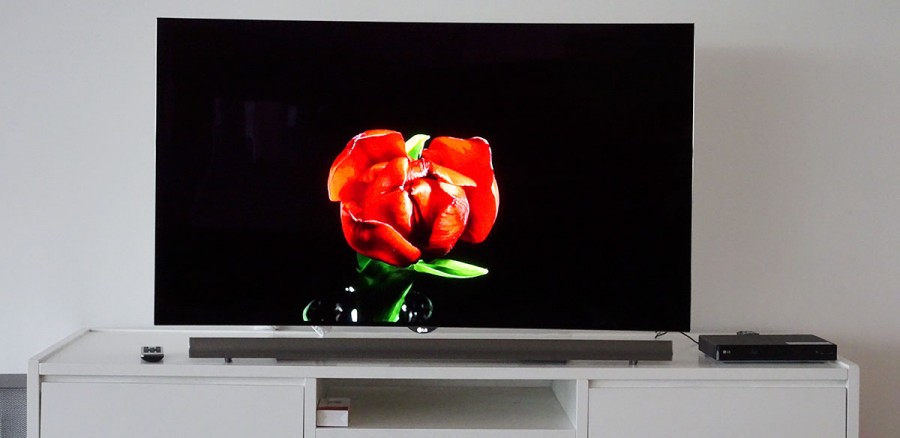 In Australia, Samsung and LG were pretty much the only manufacturers to offer the technology, and Samsung hasn't shown a new model locally since 2013, which was the only model it released in Australia. LG, meanwhile, has previously shown a Full HD model, which has been on sale for $3999 for some time now, and we even saw an early 4K OLED model last year, the $9999 EC970T.
LG's last 4K OLED effort was early days, however, and now the company says it is well and truly ready for what it believes is the technology of the future.
"It's a technology that does take some time to master," said Grant Vandenberg, Marketing Manager for LG in Australia.
"This is not just a new type of TV; it's a new type of technology. We think this really puts a stake in the ground for the way TVs are defined."
While it's probably clear from how it works how bright and colourful the OLED technology, the key difference separating this model from most of the versions LG has had widely available is that this model run naticely in 4K Ultra HD.
Granted, footage and videos demonstrating 4K are still in short supply, and will basically stay that way until the 4K Blu-ray format starts making its way out to the general public, which is expected later this year or early next.
Until then, video in 4K Ultra HD can be found in a few places, with Netflix near the top of the list, provided you have a 20 megabit connection as a minimum which is needed for the high downloaded speed necessary for Ultra HD videos.
One other place you can get 4K videos is to make them yourself, and LG is quick to point out that its phones — the G3 and G4 — both capture 4K videos, while quite a few other competitors — Sony's Xperia Z3 and Samsung's Galaxy S6 to name but a few — as well as a fair amount of cameras do so also.
Even without the native 4K footage, you'll find your Full HD Blu-rays and standard definition content can be upscaled, with LG's six-step upscaler interpolating upwards and doing its best with a processor to make the footage look like it belongs on a 4K TV.
That's likely the same technology LG uses in its current 4K UHD TVs relying on the conventional LED-backlit LCD technologies, which should provide enough of a refresh to your current content that you won't be complaining and will be held off until you get those 4K Blu-ray discs in your hands.
Being thin is another part of the package, with a thickness of 5.9mm there for much of the design, which takes that thin panel and curves it slightly, before turning into a 21 to 23mm (dependent on screen size) backing system where all the processing power and ports are hiding, which features a simple white look to the back.
For sound, Harman/Kardon has been tapped with four speakers found on the underside of the TV, pushing out 20 watts, though you could feed this TV back into a soundbar or home theatre system if need be.
And there's even 3D technology back for another round, with LG's passive 3D found here, with two pairs of glasses included in the box, as is LG's webOS 2.0 interface and the motion friendly Magic Remote.
But really, the point of LG's 4K OLED TVs is to provide a boost in colour, with a level of colour detail and accuracy few displays can offer, thanks in part to the TV being able to show off 1.06 billion colours, which is what this manages.
In person, the colours are certainly striking, with the 65 inch TVs we checked out displaying lovely crisp imagery with a vibrancy few displays manage to achieve.
Upstairs, checking out a 55 inch version of the same — because there will be two of these — the same experience is shared, albeit in a smaller display, with the 55 inch essentially just being a smaller version, even if the energy ratings are different (3.5 stars for the 55 inch, 4.5 stars for the 65 inch).
"We've tried to create what we think is the ultimate watching experience here," said Vandenberg.
"This is about amazingly vivid colours coming from a pitch black background. I think this will probably appeal to people looking to get the best picture quality."
Pricing and availability for the LG 4K OLED EG960T models comes in from $5999 for the 55 inch and $9999 for the 65 inch variants, with the units hitting Harvey Norman stores this week and other retailers later in the year. Both will sit alongside the Full HD model, the EC930T, where it will stay for the moment at $3999.