During CES, we heard that LG was planning to make itself more known in computers, and now after playing with the slate for the first half of the year, we can see why.
LG looks to be getting into computers in a big way this year, with more devices than just the two machines we saw in the middle of 2013. Case in point, it's the beginning of 2014 now, and the brand has a lot to show, with more scheduled for later in the year, we were told.
The first of these is an interesting one, with the world's first Google Chrome OS all-in-one desktop.
Essentially, this is a 21.5 inch desktop computer styled in a way that looks like a plastic iMac, but rather than run a full operating system, there's a Chromebook inside this.
For those who haven't seen one, a Chromebook is essentially a laptop that runs Google's Chrome web browser as an operating system, a feature that makes the computer more secure thanks to how few security attacks are developed for the Chrome operating system.
Outside of the security issue, you'll find most of us are using the web more these days than specific applications, and if you're already someone reliant on YouTube, Gmail, Google search, web surfing, online games, social networking, and anything else connected to the web, the operating system makes a lot of sense.
In the Chrome base, LG has taken what is essentially a Chromebook and made it stationary, running the Chrome OS on an Intel fourth-generation Celeron (Haswell) alongside 2GB RAM, 16GB solid-state drive, WiFi 802.11 a/b/g/n, Gigabit Ethernet, Bluetooth, and several USB ports under a 21.5 inch Full HD 1920×1080 screen.
It's better looking in person than you might expect, and we're intrigued to see a full-size HDMI input on the back of the display, making it a display for other things, such as an Xbox or PlayStation if need be.
Pricing for LG ChromeBase will come in at $599 RRP with an expected release in April.
Next up is an update to LG's Windows 8 computers, two of which were released last year. Both will be seeing a refresh, but only one will be sold to consumers in 2014.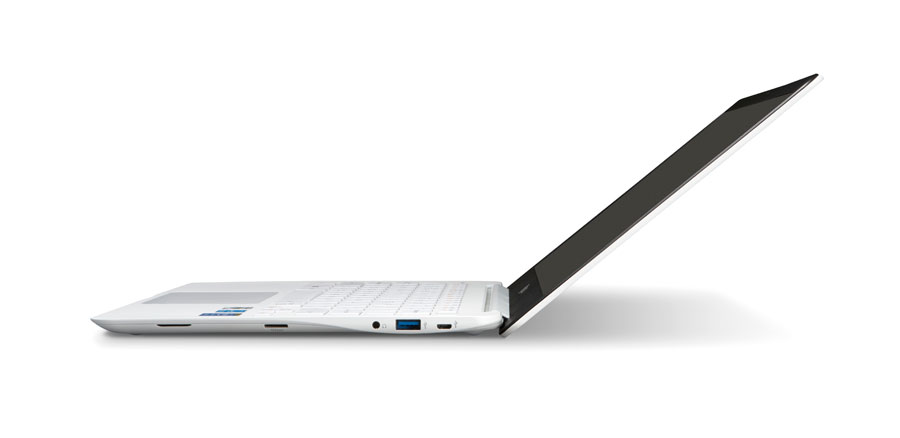 The Ultrabook is that computer, and while the first version just missed out on the latest Intel chips from the fourth-generation, the new model will get the goods, jumping to Haswell-based Core i5 and i7 processors, with either 128GB or 256GB of solid-state storage.
A quick hands-on with the new one, the Z940, reveals what we had hoped for when LG announced the machines at CES in January: yes, there's a proper mouse this time around.
In the first incarnation, LG had integrated the mouse with the plastic wrist pad, creating an unusual experience for using the mouse, though not one we came to admire or find comfortable to use.
With this latest model, though, the company appears to have taken our criticisms and moved with them, integrating a trackpad with a button underneath, which will no doubt make the computers easier to use.
The screen is also a touch bigger in size, with LG slimming the bezel a tad and technically increasing the screen size from 13.3 to 14 inches.
Unfortunately, there's still no touchscreen here, a fact that surprises us immensely given how much better Windows 8 is with touch, but perhaps that's something LG will bring later down the track.
The LG Ultrabook will be priced from $1298 for the Core i5 model, while the i7 model will start at $1898, both hitting stores from late February.