The LG V50 ThinQ 5G practically solves the foldable dilemma using Occam's Razor – the simplest solution is often the best.
It practically takes Occam's Razor to foldables, cuts them in half to avoid the screen cracks plaguing early models and adds a separate, clip-on screen to its terrific flagship LG V50 ThinQ 5G phone. Simplicity personified.
Dual screens are not unique, but none made much of a market impact. One using e-ink on the back of the phone made such an impact I cannot remember its name. ZTE has the Axon M (never mind the fact President Trump killed that company before doubling down on Huawei) but it was big, heavy and bulky. NEC, Kyocera and others have had 'Japan only' efforts.
To be fair to the earlier efforts – Android was simply not up to the task. Android 9 has lots of smarts for foldables. I hope foldables progress but let me tell you – after a couple of weeks of use I do not care about the minor gap between screens – I care about the wonderful screen real estate that I can do so much more on.
LG nailed it with a light and thin clip-on second screen making the LG V50 ThinQ 5G a folio style. Thanks Mr Occam.
How we rate smartphones
We use comprehensive paradigms to measure against and then slot them into market segments.
Our original four categories have grown to seven, and we review against different paradigms for each category.
Foldable $2500+
Premium Flagship $1600-2499 (usually a flagship with more memory/storage, additional camera lens and now 5G)
Flagship $1000-1599 (account for about 10% of sales)
Premium mid-market $800-999 (10% and often last year's flagship at run-out price)
Mid-market $500-799 (about 25% of the market)
Mass-market $200-499 (about 25% of the market)
Value pre-paid <A$199 (about 30% of the market – good for pre-paid and children)
The LG costs $1728, is a foldable (or folio), it has 5G, and meets or exceeds all premium flagship specifications. You can tell it is a 10-out-10 from its thoughtful design, full features and its premium finish.
Buy here – or you will regret it
We issue the standard warning that you must buy the genuine model with Australian firmware to work on Telstra's 5G network and can make a 000-emergency call (not 911) without a SIM.
The only Australian model is LM-V500EM (global version), and it has TEL (e.g. Telstra firmware) on the box label. It also has The Australian C-tick in settings, General, Regulatory and Safety screen.
International models are not for Australia and may at best be able to access 4G only.
Telstra 5G network
Telstra is an early 5G adopter. Its network is embryonic – Telstra admits this. There are currently 125 small cells over ten cities. You can read more here. You can also read GadgetGuy's 5G guide here and why we say it is better to buy a 4G handset in 2019/20/21 and save money now – at least until the network has grown and you have a use case for it.
We have valiantly tried to get a 5G signal in spots on Telstra's coverage maps but have been less than successful. The one signal we got in Surry Hills was very erratic and nowhere near advertised speeds.
We are not knocking the Telstra 5G network nor discouraging you from buying a 5G phone – it is just that for most of us it will be a very expensive 4G phone. Perhaps your next phone in 2022 will be 5G.
Review: LG V50 ThinQ 5G Model LM-V500EM TEL
In the box
Handset and clip-on second screen
Charger 5V/1.8A and 9V/1.8A (16W) QC 2.0 compatible
USB-A to USB-C cable
3.5 mm earbuds and mic
Clear plastic bumper case
Postage-paid recycle bag
The first impression
As a single screen phone, it has an almost flat, full-face pOLED screen with slightly curved edges, quite a wide top notch and a 3.5mm headphone jack. The piano black (Aurora) back has three flush mount cameras under glass, a fingerprint reader, three flush mount pogo pins, and a red glowing '5G' letter indicator. It is 8.3mm thin and weighs 183g.
The clip-on screen is a typical fold-over folio cover. It has the same piano black glass on the outside. It is very easy to clip on and remove. It weighs 131g for a total of 314g.
As a combo – yes, it is heavier than a single screen but quite respectable for a foldable. It does not feel overly heavy or uncomfortable in your pocket, and the folio design gives it a useful protective cover that helps to make it MIL-SPEC.
A a couple of weeks use you will find it impossible to give up the massive extra screen real estate – multi-tasking on Android has never been so easy.
In all – the word is practical rather than elegant – yes, a premium glass slab.
Screen/s
Main Screen
Size:6.4-inch
Resolution: 3120 x 1440 (adjustable to FHD+ or HD+ to save battery)
PPI: 538
Ratio: 19.5:9 (settings for 16:9, 16.7:9 and full screen)
Type: LG pOLED
Always on Display: Digital clock, Analog clock, Dual clock, Signature or Image.
S-T-B-R: 82.7%
Colour depth in bit/colours: 16m
Brightness: 522 nits (average)
Delta-E accuracy: .17 (0 is perfect) – Adjustable for colour temperature or RGB values
Contrast: infinite due to OLED producing true blacks
HDR: Dolby Vision and HDR10
Colour gamut: 100% DCI-P3, 169.5% sRGB
Blue Light: OLED does not suffer flicker or blue light issues
Notch: has earpiece speaker and dual camera lens
Screen Protection: Gorilla Glass 5
Second screen is for portrait or landscape use
6.2-inch
2160 x 1080
Three pogo pins for power only
Uses short-range, high-bandwidth Wi-Fi chipset to transmit data between to the extra panel.
If the potential of dual screens excites you remember that it is simply, an extra screen, unlike a foldable that extends the screen.
You can't slide apps from one to the other – you open an app on the screen you want to use. Unlike foldables, you can default to leaving the screen off until you need it – saving battery.
That means you can run separate apps on each screen, use one as a gamepad or preview a photo before shooting.
I love it for flexibility – open a browser on one screen, email on the other and no more having to memorise a phone number from an email and then open the phone app – very smick.
The main screen has gorgeous, natural, yet vivid colours. Gone is the older generation pOLED cold blue tint and off-angle viewing is almost perfect.
My accountant rang me almost breathless at the prospect of a dual screen.
Q: Have you seen the new LG V50 ThinQ 5G?
A: I have one here for review.
Q: Lucky bugger. Can you test it with Excel and let me know how it goes?
A: Single screen portrait columns A-E and rows 1-28, landscape A-J, 1-11 and very fast!
Q: I could hear him crying tears of joy, "I want one. Where can I get it?"
And that exchange is all about the use case. If you hate the ineptness of Android multi-tasking on a single screen, this is an elegant answer.
Performance
Processor
Qualcomm SDM855 Snapdragon 855 (7 nm)
Octa-core (1×2.84 GHz Kryo 485 & 3×2.42 GHz Kryo 485 & 4×1.79 GHz Kryo 485)
New heat-dissipating vapour chamber system
X50 Modem
GPU
Adreno 640
Video codecs: 3GPP, H263/264/265, VP8/9, MP4 and many more
RAM
RAM: 6GB LPDDR4
Storage: 128GB UFS 2.1 (101GB free)
OTG Support: Yes
Micro-SD card expansion: to 2TB
The Qualcomm SD855 is the 2019 flagship processor, and any phone using it will perform similarly. That means GeekBench single/multi-core tests of around 3500/11000 (line ball with the OPPO Reno SD855).
To put that in perspective the Huawei P30 Pro Kirin 980 SoC is approx 3300/10000. Note these speeds are not far off the Apple iPhone XS series.
The Adreno 640 is the fastest GPU and is about 20% faster than the Kirin 980.
Some reviews state the unit gets hot. Yes, under full load it gets warmish – 30° – but nowhere near alarming levels. And, we did not see evidence of major throttling (average >90% with occasional dips to 80% over five minutes), so the vapour chamber heat pipe is efficient.
Game use: It has a games mode that focuses all resources on games and will play any game currently on Google Play.
Comms
Wi-FI
Wi-Fi AC, dual-band, 2 x 2 MU-MIMO
Wi-Di, Hotspot
BT
Bluetooth 5.0
Codecs: aptX/HD
NFC
Yes
USB
3.1 gen 1
Wi-Fi connects at up to 866Mbps (5Ghz) at two metres from our reference D-Link AC5300 router. It drops off to 250Mbps at 5 metres and swaps to 2.4Mhz at about 7 metres.
Signal strength compares favourably to our reference Samsung Note9 and the OPPO Reno.
BT 5.0 is the most recent standard and supports multi-point connections and 2Mbps higher transfer speeds.
Sound
Sound
3.5mm audio jack
Earpiece speaker
Down-firing speaker with Boombox bass reinforcement
Mics: two far-field top and bottom
Buds: 3.5mm in-ear buds and mic
Res
32-bit/192kHz audio
24-bit/192kHz record
eAAC/+, FLAC, MIDI, WMA, WAV, MP3, OGG and many more
Tuned
Meridian Sound
DTS:X Surround Sound
LG Boombox Edition
LG is known for its HI-Fi Quad DAC (Digital analogue converter). Add to this support for "Boombox", DTS:X, AptX/HD, far-field microphones and you have a winner in the sound department.
Boombox means you can place the V50 ThinQ on a solid surface and it produces extra bass and better sound.
The sound is superb with our reference headphones – Sony WH-100XM3 that support Hi-Res aptX HD. It supports 7.1 decoding as well.
The 3.5mm buds – themselves a curiosity these days – and the 32-bit Quad DAC makes the sound through these quite incredible.
It has a +/-10dB EQ, and various DTS:X sound presets so anyone who can't get great sound is not trying!
Strangely for LG, it does not come with Dolby Atmos, but DTS:X 7.1 sound is very good.
Maximum Volume 80dB with minimal distortion.
Our frequency response tests reveal all
(Note: Frequency response is from 20Hz to 20kHz)
Deep Bass: 20-40Hz – none
Middle Bass: 40-100Hz – creeping in via the Boombox effect
High Bass: 100 to 200Hz – ditto
Low-mids: 200-400Hz – flat
Mids: 400-1000Hz – flat
High-mids: 1-2kHz – peaking
Low-treble: 2-4kHz – rising further from high-mids
Treble: 4-6kHz – peaking
High Treble: 6-1kHz – declining but solid enough
Dog whistle: 10-20KhZ – falls off a cliff
Despite claims of superior bass it simply is not there. There are hints of high bass and the Boombox effect is better than no Boombox.
Handsfree: Great with callers saying they could hear me clearly and volume is good.
Other
Security
Fingerprint sensor: Rear centre under the camera
Face recognition: 2D
Knock Code, Pattern, PIN, and Password
GPS
Single channel, A-GPS, GLONASS, GALILEO, e-compass
Fingerprint sensor accuracy is excellent using the Goodix sensor (many brands use this sensor now).
Face recognition is fast but only works about half the time. That is due to low ambient light – it needs to be above about 200 nits to use this feature.
It has a standard single-channel GPS – fine for in-car use. The OPPO Reno and Huawei P30 Pro have dual channel GPS for better accuracy.
Battery
Battery
4000mAh Li-Po battery
The device is Qualcomm Quick Charge 4+ compatible if you buy a new charger
Charge
Charger type: 5V/1.8A, 9V/1.8A (16.2W – Quick Charge 2.0)
USB-PD version: 2.0 (can charge from any USB-C USB-PD device to 100W)
Quick Charge: 50% in 36 min (requires Quick Charge 3.0 18W charger)
Wireless Qi charge: 10W
Approx recharge time two hours using QC 3.0 and eight hours at 5V/500mA.
Adaptative battery manages background app usage
The battery is quite large for this class of device, but 5G takes more power as does a second, albeit a clip-on screen. We could not test 5G drain, but some reviews say it gives about 8.5 hours talk time to about 20 hours 4G talk time.
LG states standby time is 134h, and that is spot on – after about five days sitting on a shelf (power on, in sleep mode) it went from 100% to 15%.
As a single screen, GeekBench 4 gives it 10.57 hours under 100% load – very respectable. That is shorter than the OPPO Reno at 13.88 hours and longer than the Samsung Galaxy S10 5G at 7.4 hours.
Add the extra screen, and it drops to 6.2 hours – which is what I would expect as it has a slightly lower resolution. It is very easy to turn the second screen on or off.
Tests:
Single screen: 1080p Video loop, 50% brightness, Airplane mode – 15+ hours
As above with dual screen 10+ hours
Single screen: 100% load, maximum brightness with everything on it empties in just over 10.4 hours
As above dual screen 7.25 hours
General use, calls, browsing, music – we expect this to run for 24+ hours between charges.
4G/5G/LTE
LTE
Cat 20 (2000/150Mbps)
Bands 1, 2, 3, 4, 5, 7, 8, 12, 17, 20, 28, 32, 38,40, 41
5G
Sub 6GHz, 4 x 4 MIMO
N78, TD 3500 Telstra only
Sim
Single Sim
Separate microSD sim slot
Other
VoLTE and VoWiFi depends on carrier
4G
In our two-bar (weak) test it has a signal of -105dBm – just higher than the OPPO Reno at 101dBm. It also found the next closest tower at -141dBm (OPPO Reno 107dBm). Lower dBm is better.
These results are marginally ahead of our reference Samsung Galaxy Note9 and reflect advances in antenna technology over a 2018 handset.
5G
We finally got a 5G signal in Surry Hills. Before we report the best signals, let's just say that we had a wide range of signal strengths over 5 minutes.
The LG V50 ThinQ 5G got 452/30Mbps (dual screen) and 462/46.5 in single screen mode. We can only surmise that the clip-on dual screen may slightly impede 5G signals.
At launch at Telstra HQ, it was 1.1Mbps and at one stage 1.4Mbps.
For comparison, the OPPO Reno got 450/65Mbps download/upload and at the Telstra launch 1944/65.5Mbps – it is the current 5G speed king (at least at Telstra HQ).
Operating system
OS
Android: 9.0 Pie
UI: LG light overlay, AirDrive, DLNA, Beam, Sharing, LG Bridge for backup to PC
Google Assistant: Yes – quick launch button or right swipe home screen
Google Apps: Chrome, YouTube, Docs, Drive, Duo, Maps, News, Photos, Play, Gmail and more
Google Lens: Yes
Multiple user accounts: Yes
Impairment access: huge range of options
Games: Game Launcher focuses resources on gameplay
Dual App – same ap with dual accounts
LG phone setup: LG to LG (all), Android to LG (Android apps) and iOS to LG (no iOS apps)
Pie has loads of features, including AI, to learn about your use and adapt the phone to it. In the test week, we saw minor improvements, especially in the over aggressive adaptive brightness setting.
ThinQ
ThinQ is a Google Assistant alternative – well, not really. Now it is the gateway to access LG's TVs, soundbars, home appliances and more. Call it the universal translator – Google speaks English, and LG's ThinQ translates these into action.
The integration is quite good – it is far more comprehensive and deeper than an Alexa Skill.
The LG UI comes with some bloatware – Fortnight, LG versions of some Google apps, LG Health (not tested), Smart Doctor etc. You can trash all bar OS apps.
Build etc
| | |
| --- | --- |
| Colours | Aurora Black |
| Build | Aluminium alloy frame, glass back |
| Dimensions | 152 x 76.1 x 8.3mm x 183g |
| IP Rating | IP68 – 1.5 meter, for 30 minutesMIL-STD-810G compliant |
It is a premium build, but a glass back makes it a little slippery. Clip on the second screen and you have a solid, grippy device.
The second screen does add a few minor issues. The phone and second screen case have a flat back (great for typing on a desk), but when you attach the second screen, it tends to flip the phone up a little off the desk and obscures the volume buttons.
The second screen can be a tent, flat or almost 90°.
This is also a tough phone – MIL-STD and IP68 make it a long-lasting device.
What's missing
Missing
FM Radio
IR blaster
No deal breakers here. In fact, it meets or exceeds every premium smartphone paradigm. It is almost perfect.
Camera
Rear Camera 1
12MP standard
Sony IMX363 backlit and stacked
1.4um
f/1.5
78°
OIS and EIS
ISO: 50-3000
Dual Pixel AF
RAW or JPEG
AI: All
Flash type: dual temperature LED
Images: JPEG or RAW
Video: with mono/stereo recording
Google Lens: Yes
4K@60fps
Rear Camera 2
12MP telephoto
Sensor: Samsung S5K3M5
1.0um
f/2.4
45°
OIS and EIS
PDAF
Rear Camera 3
Primary
16MP Superwide
Sony IMX351 backlit and stacked
Pixel Size: 1.0um
F-stop: f/1.9
FOV: 107°
Stabilisation: Gyro EIS
Focus type: PDAF
HDR: HDR 10
Zoom: 16X digital
Selfie 1
8MP
SK Hynix SL846
1/12um
f/1.5
80°
Selfie 2
5MP (depth sensing and wider angle)
SK Hynix SL556
1.12um
f/2.2
90°
Why the detail?
First, the camera setup is like the LG V40 and G8 ThinQ (DxoMark 94/96), but this time it has the Qualcomm SD855 powerhouse SoC to do image post-processing and add considerable AI smarts. It should rate well over 100 – the magic hurdle for all good smartphone cameras.
In fact, the V40/G8 camera setup was let down by Bokeh, Zoom, and to a lesser extent, digital zoom and image noise. The V50 with the SD855 handles these issues with ease!
The only other 5G phone on test is the OPPO Reno 5G with its innovative periscope zoom camera. Being subjective, its camera is better by just a smidgeon! I understand the Samsung Galaxy S10 5G camera is superb and it ties with the 4G Huawei P30 Pro DxoMark of 112 for camera quality.
So, my point is that there is so little between the camera quality on these devices and you – Joe and Jane Average would be ecstatic with any of them.
I particularly like:
Dual screen: It's great as a preview screen to ensure that you get a well-composed shot. If you use the volume key as a shutter key, the clip-on case obstructs that.
Wide angle:  The 16MP, 107° Superwide lens is perfect for those long vista 'Grand Canyon' type shots. In fact, I have used this type of lens since LG's G5, and I call it my 'holiday lens'.
Camera access: Double-press of the volume-down key. Core shooting modes include auto, AI cam, portrait, studio, and manual. Easy to select a lens to use – three icons on the right of the screen.
Really institutive app – its easy to use and the dual screen gives a great preview of the shot.
AI software
It seems that Android 9 and the Qualcomm SD855 enables many post-processing enhancements. The list below is not as comprehensive as the OPPO Reno, but it covers more than enough bases.
Studio/Spotlight to create lighting effects and change background colours
Portrait – bokeh with adjustable blur strength
Makeup Pro – a beautify feature
AR – My Avatar includes AR Emoji (Animal) and AR Sticker and Ani (Animated)
AI Cam – recognises a range of subjects and shows a keyword
Cine shot – record three seconds before and after a still shot
Food shots
YouTube Live
Night view – no it's not Pixel 3 standard – it just adjusts exposure and can increase graininess.
Tests – all auto
Daylight, outdoors
Once it focuses (PDAF takes a fraction of a second longer), it is perfect and saves the image rapidly for the next shot.
Daylight colours are extremely accurate, not manufactured, and details are excellent. You cannot go wrong.
Indoors Office Light (400 lumens)
This is a great bright shot with huge definition and accurate colours. Many smartphone cameras struggle with uniformity of light and keeping the background in focus – the f/1.5 aperture is perfect here.
Low light (room with less than 100 lumens)
Colours are good, details are sharp, but there is a lack of HDR definition.
Selfie
Two lenses offer single (80°) or group selfies (90°) as well as great bokeh control. Selfies are clear, accurate colours and have good detail. Also, studio, portrait and AI Cam settings are available.
Video
4K@60fps is smooth, detailed and colour accurate. It appears to use Gyro EIS and swaps to OIS and EIS at 1K@60fps.
It can record in DTS:X 3D in surround sound or a specific direction
GadgetGuy's take – LG V50 ThinQ 5G is a practical solution to a foldable phone
Don't underrate or underestimate this powerhouse SD855-based phone. The clip-on dual screen is innovative thinking without the downside of a cracking foldable screen. And it is easily the best phone LG has produced to date – Life's Good just got Lot's Gooderer.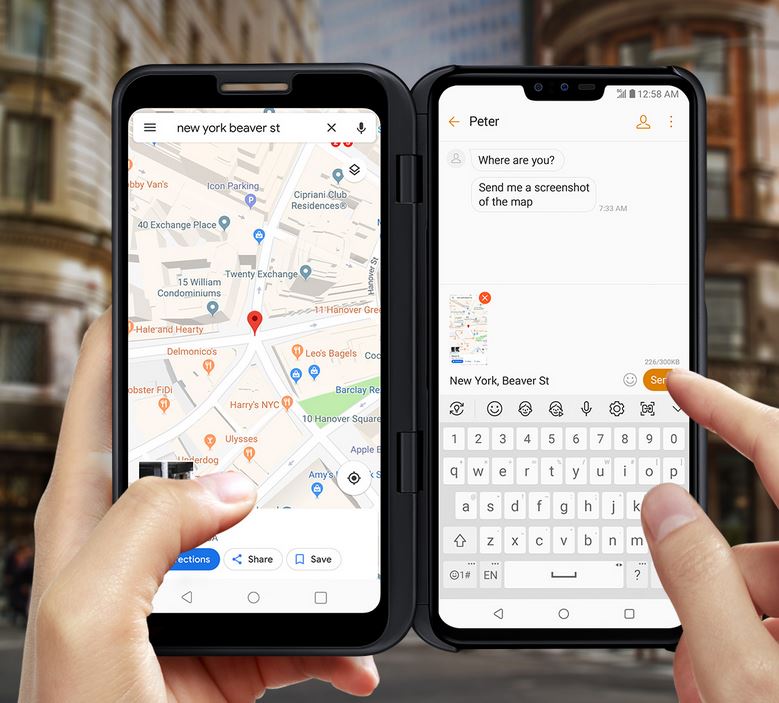 So, while Telstra's 5G is uber-spotty, that is not the prime reason to buy. It is also an excellent 4G device.
As it meets all paradigms in the premium, 5G and the foldable category, we must award 5-out-of-5 – it deserves that. It is a damned good phone regardless of whether it ends up just being an expensive 4G one.
The only other 5G phone we have reviewed is the OPPO Reno. Under the skin, they both use the same powerhouse SD855 SoC. The differences are in:
The camera (OPPO's is marginally better)
Dual screen (LG is unique)
Price – OPPO is $1499 for a single screen, and LG is $1728 for a dual screen
And here is the conundrum. Unless you have a specific use case for 5G and can get reception (unlike 99% of us that cannot), then I would have to recommend the 4G variants of both brands. LG's amazing value V40 ThinQ 4G is on special at JB for $799 (the same camera – uses the earlier Qualcomm SD845), and OPPO Reno 4G is $1199 (the same camera – uses the later Qualcomm SD855). Neither have carrier lock and you get a premium flagship device. If you are thinking of 4G, don't forget the excellent Samsung S10/+ as well.
Beautiful, accurate, HDR10 pOLED display
Second screen soon becomes a must have
Versatile camera takes top shots all-around
Battery life with the second screen can reduce by up to 40%
Should have had a Qualcomm 3 or 4+charger in the box