Big families need big washing machines and dryers, but if your home lacks the space for both, it might be time to consider a big device that does both.
LG is filling a gap for just that this year, with what it calls an "ultra large capacity washer dryer combo," a laundry machine that lets you wash as much as 15 kilograms of clothes, manchester, and anything else remotely soft and soiled, with the dryer taking as much as 7.5 kilograms at a time.
It's actually called the "LG's Front Load Washer Dryer Combo with TrueSteam," which is a long name that more or less says what it is, but also comes with the product number of WD12595FD6, both of which are technical gibberish to explain that it's a big combo laundry unit with some neat technology to neutralise marks and odours more easily than leaving the clothes to soak.
For those who haven't seen a combo machine, it's best to make sure the amount you're washing isn't over the capacity you can dry with, which is always under what the washing side of the machine can do, often sitting at half the capacity, just like this one.
If you don't want to remove any clothes for the cycle, that means you can wash up to 7.5 kilograms and then dry those 7.5 kilograms without taking the clothes out, relying on programs on the machine to take care of things for you.
One of the programs included is LG's TrueSteam, a proprietary technology that employs up to 1600 steam particles to beat stains and smells into submission, removing them from clothing where you would otherwise have to soak.
Eleven other programs are included in the machine, working with a specific control system to move the machine drum at different speeds to care and wash the clothes better — including scrubbing, rolling, and tumbling motions — while the inverter direct drive motor is included to provide less noise than previous components.
"LG takes pride in creating products that anticipate the needs of customers, and our new washer dryer is no exception," said Lambro Skropidis, General Manager of Marketing at LG Australia.
"Since bringing the range to Australia, the functionality, reliability, and stylish design of LG's Smartwashers have been very well received."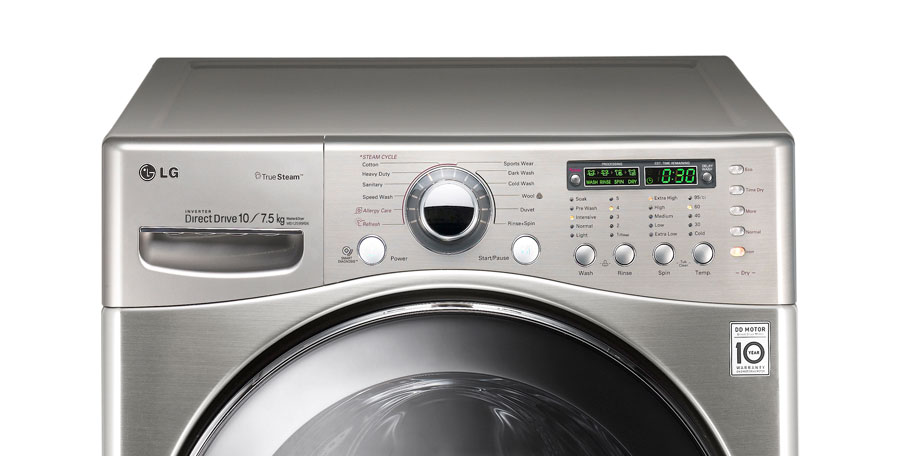 You might be wondering about that use of the word "smart" in its name. Well, there are some smarts here, but it's not the sort that will let you control or monitor the washing machine or dryer from your phone.
Rather, if or when the washer dryer combo has a problem, an app on your phone can be run to listen to the machine sing, and that sound can be interpreted by the app to work out what is wrong and send that information to an LG information centre.
While it's not the smarts we had hoped for — when the washer dryer can do our laundry for us like a robo-butler of the future might, then we'll talk — it's still more smarts than our fridge has, unless of course you're still rocking the LG Internet Fridge of years ago (or have made your own).
Regardless, you'll find the LG 15/7.5kg Front Load Washer Dryer Combo at stockists now with a recommended retail price of $3499.