There are routers, and then there are routers, and much like the whole "that's not a knife" argument in one famous flick, a new router on the way from Linksys could just stick it to every other router out there.
Networking at home and in the office is about to get a little more awesome provided you have the room for it, with Linksys announcing a massive new router heading to our shores later this year.
It's called the "Max-Stream AC5400 Tri-Band WiFi Router with MU-MIMO (EA9500)", a name that's big and hard to remember, but its big name is at least reflective and indicative of the big device it's attached to.
Specifically, this is one massive device, sporting an AC5400 chipset, providing three bands of WiFi power and giving as many devices in your home the bandwidth they need, with the 2.4GHz 802.11a/b/g/n network running at 1Gbps (1000Mbps), while two 5GHz bands run on 802.11ac technology providing a little over 2Gbps each (2166Mbps on one 5Ghz network, 2166Mbps on the other 5GHz network), allowing the router to achieve close to 5.3Gbps of bandwidth.
There's no modem in this one, and it's just all router, but it definitely offers the bandwidth a modern home and office could well need, complete with eight — yes 8 — antennas to accomplish this.
Massive households should have no problem with the hardware, either, with the use of "Multi-User, Multiple-Input, Multiple-Output" technology also called MU-MIMO which works out which devices need to be connected to what, and acting a bit like a traffic controller for the router. This appears to be the second generation of the technology, too, with Wave 2 running on this router, much like it was on a Netgear Nighthawk that launched the tech locally last year.
Oh, and just in case you have wired devices, because we still do, the Max-Stream AC5400 also arrives with eight — again, yes 8 — wired Gigabit Ethernet ports, as well as a ninth one for wired internet from a cable modem or the NBN.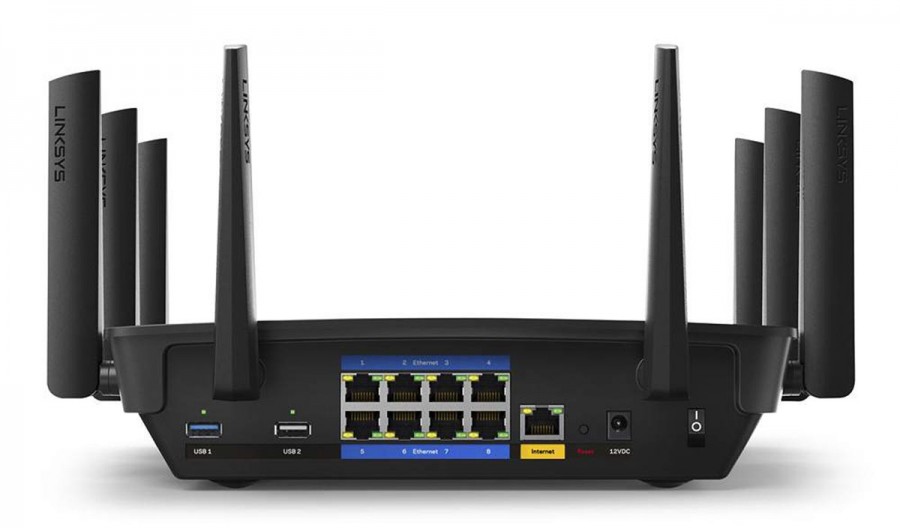 "Our new line-up of Linksys MU-MIMO solutions provide the networking backbone to allow consumers to enjoy high-performance and simultaneous Wi-Fi, including speed, range, and coverage", said Justin Doucette, Director of Product Management at Linksys.
"With the rise of 4K streaming and the growth of MU-MIMO clients, having the latest MU-MIMO technology is the best way to ensure users get the best Wi-Fi experience possible."
The Linksys AC5400 Max-Stream won't be cheap, however, launching for a recommended retail price of $549.95 when it arrives in April. That's a lot of router, though, and we're already salivating.
It won't be the only new Linksys networking product to hit Australia, though, with a dual-band MU-MIMO Gigabit router also landing in the Max-Stream AC1900 EA7500, and you can think of this like the AC5400's baby brother with only two bands instead of three.
Two is nothing to sneeze at, and this relies on the same Wave 2 802.11ac MU-MIMO tech, but with 1900Mbps of bandwidth instead of the 5400 from the big brother, with four Gigabit Ethernet ports instead of eight.
Think of this model as the middle ground for anyone keen to have a more capable router than the one their standard ISP-supplied modem included, because this packages up a bit of the new tech in with a spec that flagship routers from a year or two ago had.
You'll find the EA7500 in stores a little earlier, with March the timeframe when this one lands for an RRP of $329.95.
Finally, there's a range extender on the way, as well as a USB WiFi adaptor, each with MU-MIMO for better network connectivity.
The RE7000 range extender appears to be a wall friendly update to a model we saw at the end of last year, with Wave 2 802.11ac delivered to the device, while the AC600 USB dongle called the WUSB6100M brings MU-MIMO support to a wireless dongle in a first for the market, while also bringing 802.11ac to computers that have essentially gone without.
Neither of these last two will hit Australia until the middle of the year, though, so you'll be waiting for each, it seems.