The Logitech K600 Smart TV keyboard is an excellent remote-control replacement adding even more functionality with an onscreen cursor and a physical keyboard.
There is just one catch. It currently only works as a remote with compatible 4K Samsung QLED and LG OLED and UHD TVs from 2016 onwards. You can check here. Logitech is working on more brands, and Android TV (Sony and TCL) are not far away.
(Post publication note: Logitech has advised that the K600 is designed to work with select smart TV models from Samsung, LG, Sony BRAVIA and Philips. It is also compatible with select Toshiba and Insignia TVs powered by Fire TV. And of course Windows, Mac, iOS and Android).
You might ask why you need the $99.95 Logitech K600 Smart TV keyboard?
Well, if you have ever tried to enter a password for Netflix or your Wi-Fi, especially a complex unhackable one as you should have, using a remote control is a pain. If that password has a mix of upper case, lower case, numbers and symbols it can take several attempts. The K600 solves that.
Or you can type a query into the internet browser search bar. Or you simply want to navigate menus with the convenience of a mouse. There are many opportunities to use it instead of a one-dimension remote.
Review: Logitech K600 Smart TV keyboard
Australian website here.
First impression
It is a solid, well made if surprisingly heavy keyboard at 500g. I only mention the weight as I use a Logitech Wireless Touch Keyboard/trackpad K400 Plus at 395g.
What differentiates it is the round trackpad and what Logitech calls the D-pad (which is a feature of most remotes).
And the additional keys over the standard HTPC volume Up/down/mute are very handy.
It connects via a Logitech Unifying USB receiver or Bluetooth Low Energy and has multi-point connections for three different devices. So, you could use it for a TV, laptop or desktop.
Setup
Insert the two AAA batteries
Plug in the Unifying receiver to a USB port (recommended as it is easiest) or set up pairing with Bluetooth (also easy but a longer process).
Open a web browser on the TV and navigate to the K600 portal (easy as you can use the keyboard to type that in). If you are connecting to a mac/Windows device, then you can download Logitech options software top add additional features
Then hide the remote-control and start learning to use the K600
Setup was easy and almost foolproof. Because web browsing was so tricky using the remote I had to search the Samsung menus for where it was!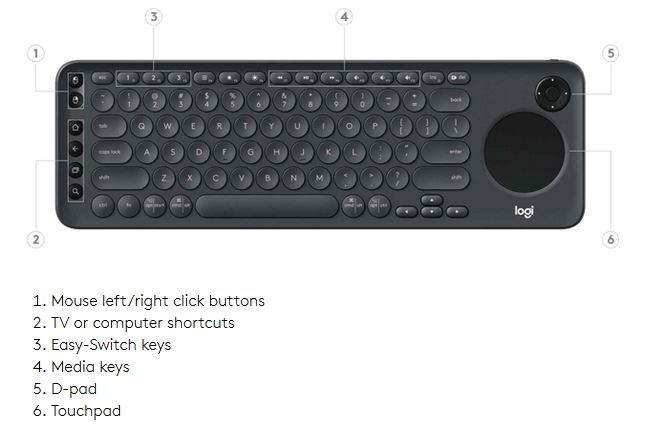 Use on a TV
The D-Pad emulates the same function as found on most remotes. In most cases, I preferred to use the round trackpad that also acts as a 'mouse button' as well as two-finger zoom and right-left scrolling. It makes getting around menus easy.
The special buttons are Home, Back, App Switch, Search, Apps, Brightness up/down, play/pause, next/previous.
Having been remote bound for so long and using a separate HTPC keyboard when I needed to, my muscle memory was to reach for the remote. So, I put it on a shelf too far away for convenient use and spent a few minutes with the keyboard. It really does everything you need although a remote is still handy for daily use.
Use on a PC
I connected via Bluetooth and allocated button three to that device. Logitech Options software allows you to do a little customisation but its essentially a PC keyboard. What I could not find was dedicated Windows Key. But the D-pad and trackpad worked well.
Here we tried typing tests. The 15m round keys are 2.5mm apart and have a 40g actuation. It's a compact setup, and the arrow keys are under the return key. Keyboard slant is a very slight few degrees. It is not a typist's keyboard but good for hunt and peck!
GadgetGuy's take. Logitech K600 Smart TV keyboard works well
I have used HTPC keyboard for a long time to control an attached Windows media centre style of PC connected to a NAS device. This now controls my TV and the PC from the one device, so it is convenient.
My only negative is that it's not backlit and much of my TV viewing is in a darkened room (no jokes please). Of course, you could ask for a rechargeable battery too but it all ads to cost.
Pro
Will replace a remote
A necessity for text entry
Three device support – TV, Windows, Mac etc
Bluetooth or Unifying receiver connection
Well made
Great support including the Logitech Community crowd support
Con (not deal breakers)
Not backlit
Only for the late model Samsung and LG TVs at present
A hunt and peck keyboard rather than a typists one
Rating
Rated as a remote control replacement/supplement
Overall: 4.2 out of 5
Features: 4 out of 5 – does what it promises and love the trackpad/D-Pad but its only for a limited range of recent 4K TVs
Value for Money: 5 out of 5 – good value for the technology
Performance: 4 out of 5 – No issues on any tested device
Ease of Use: 4 out of 5 – Easy setup but takes a little learning
Design: 4 out of 5 – an excellent addition to the lounge room but I would have preferred backlit
Logitech K600 Smart TV keyboard specs
Wireless keyboard (not backlit)
Works with Unifying receiver (Windows, Mac, Chrome, Android, Tizen, WebOS and iOS)
Bluetooth LE
15-metre range
12 months battery life from 2 AAA batteries
Will connect to three devices (LEDs show which device)
368 x 118 x 20mm x 500g
1-year warranty
A$99.95
Website here
Perfect with late model LG and Samsung 4K TVs