Lighting up your face when you're recording or streaming video, the Logitech Litra Glow helps you look your best online.
There was a time when only YouTube stars and other streamers worried about things like perfect lighting. These days, an extra light – which adds a healthy warm glow to your face – is great for anyone who needs to improve the picture quality while on work or personal video calls.
Lighting might seem like a minor issue but it's not. Ensuring your face isn't ghostly pale, or lost in the dark, makes a big difference when it comes to creating engaging content or becoming engrossed in a personal or work video call.
If your home workspace lacks decent lighting, or awkward backlighting leaves your face lost in the shadows, then an extra light might be a handy addition to your tech kit.
Review: Logitech Litra Glow
| | |
| --- | --- |
| Australian website | here |
| Price | $89.95 RRP |
| Warranty | 1 year |
| Other | You can read other GadgetGuy Logitech news and reviews here |
First impressions
An arm with a handy adjustable clip makes it easy to rest the Logitech Litra Glow on the top of your monitor, similar to the mount on some webcams. Alternatively, you can remove the light from the arm and use the thread mount to attach it to a tripod.
Folded up, the 17-cm long arm is compact enough to slip into your travel bag. It extends to 27 cm if you need to adjust the height of the light.
When attached to the monitor mount, you can also easily adjust the light's rotation and tilt. This kind of flexibility makes it easy to find the sweet spot, so it lights up your face evenly without casting awkward shadows. One downside is that, if you wear glasses, viewers will likely see the reflection of the light shining into your face.
Thankfully, the diffuser on the front ensures the light isn't too harsh on your eyes, plus there's the ability to adjust the brightness and colour temperature. You can vary the latter between a "cool" neon-style blue-ish light and a "warm" sunlight-style yellow-ish light. You'll likely want somewhere in the middle.
The light is powered via USB, with a USB-C port and a supplied USB-C to USB-A cable, but there's no built-in battery. You can plug it into your computer, a USB port on your monitor or a USB AC power adaptor.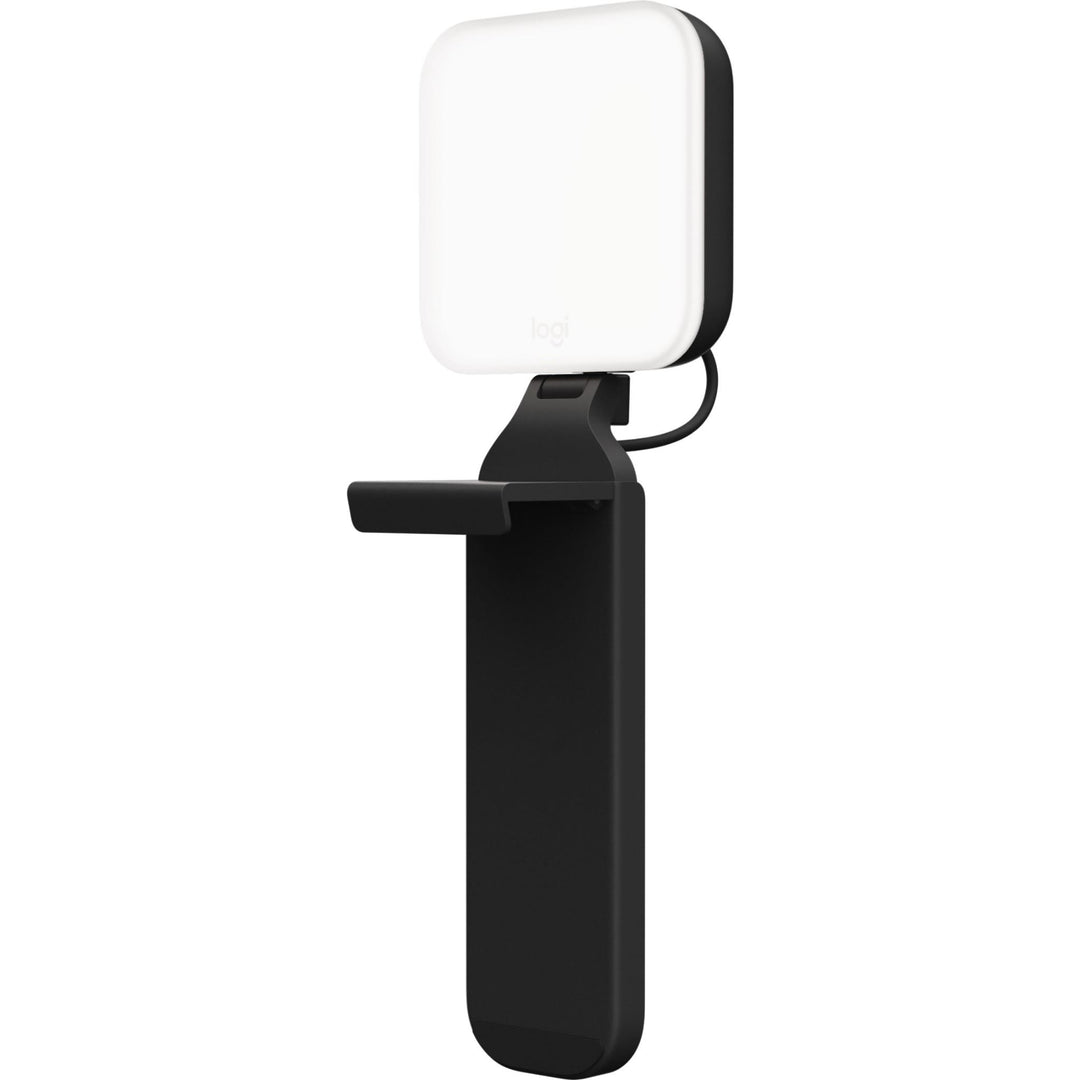 Logitech Litra Glow specs
| | |
| --- | --- |
| Output | 250 Lumen max |
| Colour Temperature Range | 2700K – 6500K (Kelvin) |
| Connectivity | USB |
| Mount | Monitor mount clip, 1/4 inch thread mount |
| Dimensions with monitor mount, full extension | Height: 365.9 mm |
| | Width: 90.5 mm |
| | Depth: 43.5 mm |
| | Weight: 177 g |
| Dimensions without monitor mount | Height: 90.5 mm |
| | Width: 90.5 mm |
| | Depth: 27.5 mm |
| | Weight: 99 g |
Features
It's easy to control the Logitech Litra Glow by reaching around to access the buttons on the back. Along with the power button, there are two rockers which let you select between five brightness levels and five colour temperatures.
Alternatively, if the light is plugged into your computer you can control it with the Logitech G Hub software, which also works with a range of other Logitech gear including webcams. If you have a Logitech G keyboard or mouse, you can assign buttons to easily control the light.
Realistically, you can likely get by without installing the software as, once you've adjusted the light to your liking, you're unlikely to need to keep fiddling with it.
These days, most webcams are pretty good at compensating for low-light conditions, but an extra light can certainly help. If you're really in the dark, the Logitech Litra Glow isn't really intended to be the only light in the room. It will certainly light up your face, but maybe leave you looking a little ghostly against the darkened room.
You're more likely to benefit from the Logitech Litra Glow if you're struggling with awkward lighting conditions. For example, your face might be in shadow, or be lost in the dark due to a bright backlight such as a window.
In these circumstances, the Logitech Litra Glow does a surprisingly good job for a small light. It's enough to help lift your face out of the shadows, even when it's half a metre from your face. At the brightest setting you'll likely look overblown, so it pays to fiddle with the controls.
The results are a bit more hit and miss when it comes to dealing with harsh lighting conditions. For example, my home office has harsh fluorescent lights, which shine down on an awkward angle that makes my reading glasses cast long shadows under my eyes. I was hoping that the Logitech Litra Glow might be bright enough to override this, but no such luck.
GadgetGuy's take
There are plenty of dirt cheap ring lights on the market, but the Logitech Litra Glow is a step up in terms of price and performance. It's not a miracle worker, don't expect studio grade lighting, but it can certainly help light up your face for better video.
Remember, it's worth doing your best to improve your lighting conditions before you resort to buying an extra light.
Would I buy it?
Yes, if I couldn't improve my lighting conditions in other ways.
Logitech Litra Glow – a bright idea (review)
With a bright diffused light and flexible mounting options, the Logitech Litra Glow could light up your next video session.
Positives
Diffused lighting
Adjustable brightness and colour temperature
Adjustable mount
Negatives
No substitute for studio lighting
Reflections in glasses