The Logitech MX Vertical mouse is billed as an advanced ergonomic mouse and comes with a warning – Logitech MX Vertical is a unique user experience – so allow for a small adjustment period. And it needs a second warning – not for left-handed use.
The Logitech MX Vertical mouse has a mouse-like base, and the rest of the mouse top morphs 57° upright. The result is a precision scroll wheel on the right side operated by the index finger and four customisable buttons (Back/Forward, DPI, Middle click).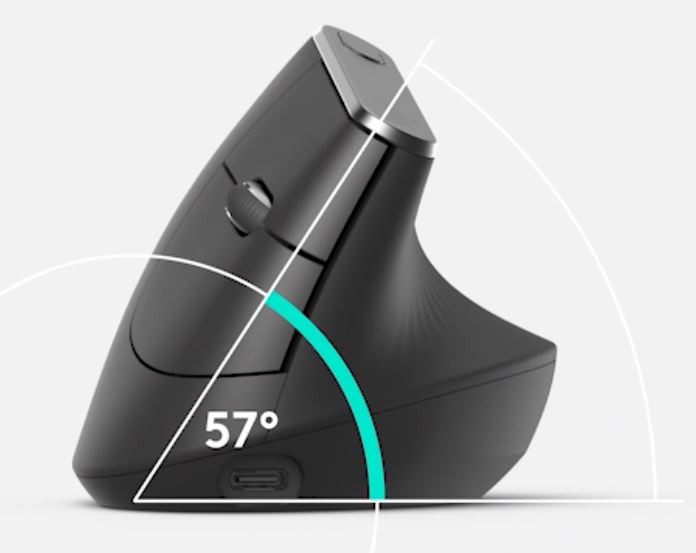 It works on Windows or macOS via Bluetooth or the Logitech Unifying USB-A receiver.
It charges the 240mAh battery via a USB-C to USB-A cable that can also act as a third way to connect as a corded mouse. You can pair to three different devices as well. Battery life is about four months and recharge time is under one hour.
Why do you need an ergonomic mouse?
A mouse is a mouse. Sorry, this is unlike any mouse I have tried. It is all about reducing muscle strain, decreasing wrist pressure, and to grip in the the natural handshake position – as you would grasp someone's hand.
If you suffer from arthritis or carpal tunnel, then this may restore your mouse use.
And if you have a stand-up desk, it may offer a more natural hand position than a flat mouse.
Logitech Flow
If you're using two computers, you can install Logitech Options on both and setup flow. You can then seamlessly move between the two computer screens as if they were one system, and the mouse will automatically shift between Bluetooth and Wireless.
Logitech MX series
MX is the premium Logitech series and has higher resolution, rechargeable battery and premium grippy materials. This is MX quality.
Specifications: Logitech MX Vertical
120 (d) x 79 x 79mm x 135g
240mAh battery and USB-C cable
1000-1600 DPI adjustable in 50 dpi increments
Bluetooth, Unifying receiver or USB cable connectivity
$169.95
Website here
GadgetGuy's take – Logitech MX Vertical – a stand-up mouse
Sorry, it is not for everyone – lefties and traditional mouse users included. It is not a gamer's mouse either. And there is a steep learning curve as you need to forget years of mouse muscle memory.
I have tried lots of 'odd-shaped' ergonomic mice and trackballs, and this is the best yet. It is well past a gimmick. I used it for a few days and found that instead of resting my hand on the flat underside of the wrist it rests on the smaller profile side. That takes a little getting used to.
It is for designers and creatives that want just a little more definition and could have benefits for arthritis sufferers. A Gadgeteer that has had carpal tunnel covets this mouse.
We are rating the mouse as a niche ergonomic product – not as a $169.95 mouse.
Our sister publication Small Business Answers has also written a review from a business perspective.
Positives
For the right user it could restore mouse use
Logitech's gret build quality
Takes a lot of getting used to