Cameras aren't small, and while everyone has a backpack or messenger bag, not every bag has enough protection for the optical gadget in your life. Worse, some of the camera bags you can find you wouldn't want to be seen in public in, and that's where Lowepro is targeting two new bags.
Aimed at enthusiasts and professional photographers carrying a decent amount of gear, Lowepro is unleashing two bags that won't make you look like an idiot in public, and allows you to carry a decent supply of camera gear.
First there's the Urban Reporter, which is available in three sizes and features a large insert in the cavity of the bag, capable of taking several lenses and a body, or conversely, you can remove the insert, change the padding, and make it into a laptop bag.
The Urban Reporter comes in black, which is pretty much the colour of the professional photography bag, but if you're after something a little brighter, there's the Nova Sport AW.
Another of Lowepro's bags to feature the built-in all-weather cover (hence the "AW" in the name), this model packs in space for cameras and lenses with the adjustable divider system that the brand has been using on bags for some time, while also featuring lots of pockets, zippers, and spaces to keep things.
The outside is also a little different from the typical black camera bag, with choices of "pepper red" and "slate grey" being provided for colour choices, and a design that will let you look a little less like the professional photographer and more like the casual everyday person that you are.
"Both the Nova Sport and Urban Reporter bags are expertly constructed carrying solutions for pro and enthusiast photographers," said Brendan Lee, Marketing Manager at Maxwell International Australia, the company responsible for distributing Lowepro in Australia.
"The bags are refined and versatile, taking both pros and enthusiasts from day-long outings through to extended travel adventures."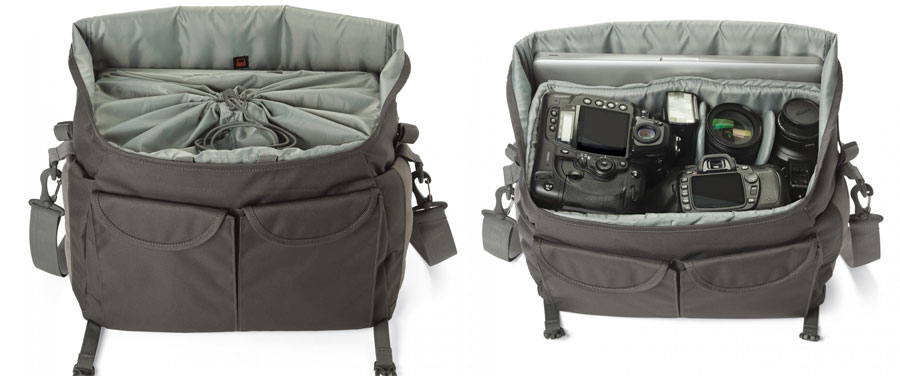 Both bags are heading to stores now, where the Nova Sport AW will start at $75 and be available in three sizes ($75 for the 7L, $109 for the 17L, and $149 for the 35L), while the Urban Reporter will start at $129 for the small, and cost $165 for the medium and $185 for the large models.