People who love cameras tend to need big bags to store their beloved bits and pieces, and Lowepro's Pro Runner 350 certainly fits that bill. Can it deliver a camera carrying in comfort?
This bag is carrying a lot of stuff, so much that if we threw it into any other bag, we'd very likely hear the tear of fabric, the fraying of thread, and shortly after find our stuff on the ground, possibly after hearing some very loud and aggressive thumps, which would then lead us to fainting, or just a lot of yelling and bad words.
But this bag can hold it, and hold it well it does, and if you have a need to carry all of this stuff, you're going to want something like it.
Features and performance
A love for photography tends to give you a few things.
First of all there's a lot of pictures because, really, that's what this whole endeavour is all about: finding moments (or waiting for some), framing them, and then capturing the image to show later on.
Then there's the reduction of money, with an empty wallet one of the first things that someone with a love for optics will find. Simply put, cameras aren't cheap, and lenses eat into the wallet more aggressively, because once you've bought yourself a camera and settled into a system, you kind of have to stick with that system for some time and buy some lenses, maybe a flash head, and so on and so on.
And that leads us to the other thing photography delivers, and that's gear.
You hand over the money, the retailer hands over the gear, and with that gear you can take photos and pictures that let people smile, laugh, cry, and feel something — feel anything — that lets them connect to a still frame from a life they may or may not have shared a moment with.
The unfortunate side of having so much gear is that you have to carry it around, and finding a way to lug this excess equipment can be troublesome.
You might find a small bag with a spot for only one body and a couple of lenses, perhaps a tablet, and that might do the job for a simple walk-around excursion, but what do you do when you need to carry more, when you practically need to bring the entire studio and shop with you?
Lowepro's Pro Runner 350 AW II BP is a backpack (hence the "BP") designed specifically for that, built with the intention of carrying one big body and up to five lenses, with the ability to hold two bodies and less lenses if need be.
The padded velcro divider system Lowepro has used in camera bags for ages is back in this model, with a fairly generous amount of space when you open the main section, with places to store a computer, tablet, cables, and more spread out through other sections.
As a heads up, this bag isn't light, with a weight of at least a kilogram before you start removing dividers and elements — Lowepro suggests two kilograms, though we're not so sure — and we suspect that comes down to the amount of padding thrown in here, because there is quite a bit.
You'll find it in the back, the straps, the handles, and the belt to keep this backpack locked on your body, and adding to this is a fairly rigid set of bones making up the frame of the backpack, helping the Pro Runner keep its pill shape, ensuring the backpack never really falters and your gear is safe in its protection.
Open up the bag's main compartment and you will find Lowepro's tried and tested divider-based system waiting for you, and a heap of space to store things.
Depending on what you need to throw in, you'll find quite an amount of room, with space for lenses short and long, bodies, and the random nicknacks that make being a photographer interesting.
Professional photographers are where this is really aimed, and we can see that, loading in a few big Canon bodies and lenses to test the weight, though you can also play around and get more stuff inside if you use smaller cameras, too.
Testing it with a couple of Samsung mirror-less cameras, a compact, and a mirrorless, we found we could store quite a few digital cameras inside without any problems, with each piece holding its space firmly provided the bag was opened flat.
That's one thing that needs to be observed with the Pro Runner BP 350 AW, because if you don't open it flat, your gear isn't going to stay in place.
This isn't like the Slingshot or Fastback bags where you could shift them to the side and pull your camera out mid-walk, replacing it without even stopping for a beat.
Rather, the Pro Runner wants you to stop, and practically demands it as trying to remove the cameras or lenses requires an open bag and a bit of space, or even a knee, albeit a very stable knee.
Honestly, we wish this style of bag would be adapted to support camera removal from the side, but we can see why it doesn't as its inability to do this means Lowepro can fit more in, packing everything together so that the gear is protected on all sides by computing gear and your back, not to mention the layers and layers of padding in between.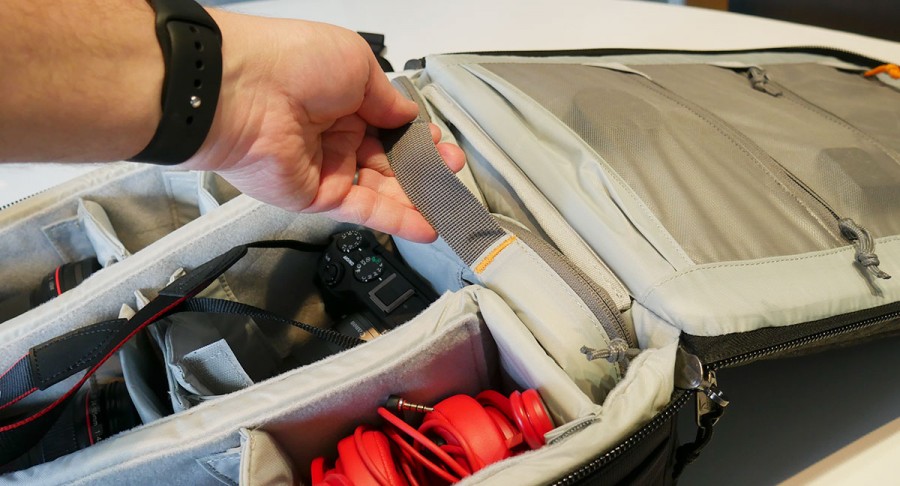 Moving past that, however, you'll find plenty of dividers to make the spaces you'll need, and even a small zip-up section for any cables you want to keep tidy, handy for excess batteries at the very bottom, complete with a pull-out handle in case the section is hard to take out.
Alternatively, you can unpack it from the bag and skip out on it altogether if you don't need it.
Facing this section, you'll find three zip up plastic netting pockets for all manner of things.
We used it for lens and body caps, as well as a very small flash head, but we particularly liked the flip up material sections used for memory as these allow you to quickly and easily get cards in and out without effort.
Awesome, and possibly one of the best features of the bag.
Close this section up — all of it — and you can get to the front where you'll find sections for a laptop — we used the 13 inch MacBook Pro with Retina — and a tablet — we used the iPad — and then another zipped up plastic netting section for any cables or small hard drive sections, as well as a padded area for any documents you might want to stuff in here.
It's a little snug, truth be told, and if you actually want to fit that tablet in there, make sure your laptop is relatively up to date and fairly slim, otherwise you may feel a bit hesitant to throw the tablet in. Yes, it's that snug.
That being said, the very fact that you can fit this much into a bag is quite impressive, not least because you can carry a good ten grand worth of equipment, and most people would be none the wiser.
But packing it in is only one half of the equation, so how does it feel?
The good news is that thanks to some particularly thick straps with a waist line padded belt, the weight tends to get very well dispersed over the entirety of the backpack.
The bad news isn't so much bad, but rather awkward, as the Pro Runner 350 is a particularly large backpack and quite bulky, making your frame just that much wider and harder to walk without bumping things. In a forest, on a hike, on a trail, and generally in open land, this isn't going to pose much of a problem, but take this into a building and you may want to hold it by one of the two handles, both of which are generously padded and make the backpack just that much less of a nuisance when aisles and corners are tight.
An all weather slick completes the bag, making it easy to protect your gear in a bit of rain, though make sure not to get stuck out there too long, as we're not entirely sure (or even convinced) that this little slick is going to be able to repel all the rain in the worst environments.
Conclusion
If you're not fussed with a black and only black backpack and you have a lot of camera pieces to move, the Pro Runner BP 350 AW II is a fantastic entry, if not a massive bag to keep your gear in.
Massive amount of space; Comfortable and balanced to wear; Support for a tripod; Weather-resistant slip included;
Really big; Can get a little snug when it's all loaded into place; No easy way of getting a camera out without unzipping the main section;