Tired of the same old camera bag look? So is Lowepro, and for the "Streetline" series has something a little more edgy, and a little more urban. And it's a little cool, too.
Features and performance
Camera bags have the tendency to be a bit same-same these days, and if you've ever gone out on a walk with a bunch of photographers and thrown your gear down, perhaps to eat lunch, good luck working out the difference between the bags.
Chances are your bag is going to be like theirs: black, bulky, and made to hold lots of gear, and given you can't just work out which yours looks like in a jiffy, there's always a concern that you'll run off with someone else's gear.
Worse, if you take gear with you on your regular day to day, the bulky and often oversized camera bags can be troublesome to keep with you, constantly forcing you into a path of trouble when there's an obstacle in the way for you to inadvertently knock over with that large gear-filled sack on your back.
The Lowepro Streetline BP250 tries to pull back on this by taking the gear bag and flattening it quite severely, offering a small movable gear space that doesn't follow the same modular design Lowepro bags typically offer, and yet letting you fill the rest of the bag with stuff that might be useful, say a computer, a tablet, an a jacket and bits and bobs.
Inside the bag, the space is padded with a slick softened fabric set out in divided areas, offering a space for a 13 inch laptop, a tablet and then just stuff.
That "stuff" section can be divided up with the aforementioned moveable space, which offers up both a large block and a small block of space at attaches to the inside of the bag by way of one of two straps stretched along the inside of the luggage.
You don't have to use this divided section, and you can either flatten it when not in use or take it out altogether.
When in use, though, you can pack in a camera and a lens, or something else altogether, making this a fairly versatile piece of luggage for walking around with.
Helping this versatility is the outside, which for a change doesn't scream "photographer" thanks to the lack of regular typical black found on every other camera bag.
Rather, the Streetline BP250 arrives with a more newsprint-look, with a speckled grey "DWR" or "durable water repellant" fabric, which isn't totally hydrophobic, but does appear to throw water to the side when it is hit with the stray drop.
The bottom is fairly well padded, too, with a strong piece of fabric that feels strong like leather, but comes across as woven silicone or rubber. Even the back feels durable, with the normally slightly plush foam backing of a bag replaced with a fairly solid and rigid piece of strong foam.
The bag can be closed with a squeeze clasp up top, and there's even a small pocket at the very front and bottom of the BP250 which you can close with velcro.
Zippers can be found at the top and along the front, with a pouch along the top under one zipper, an extra pouch under another at the front, while the third zipper goes straight to the main section of the backpack, allowing you to unzip and pull items out of your backpack without going through the top.
It almost feels like this zipper has been put here to let you pull things out of the backpack easily. It's a great feature, reminiscent of the Lowepro Fastback bags, where you could just stop, open the side, and pull out a camera, or even put one away.
About the only thing we'd change on the Streetline would be something to add, and that's a strap for the flat-pack camera insert so you could load the cameras along the side zipper.
Currently, the straps for where you place the camera insert occupy only two spots, with either at the top of the bag or near the bottom. That's great if you want to carry the camera like a backpack, but given that there is a side zipper here, we find it a little odd that there's no strap along the side, or even a crevice cut out for where the laptop sits inside.
If there was a way to hook the camera insert into the side, the Streetline BP250 could function not just as a backpack with a bit of side access, but as a camera bag with proper side access like Lowepro's bags that let you pull the camera out of the side.
Given the zipper is in the right place on this model, this omission seems like a bit of an oversight, but since the Streetline is a first-generation product for Lowepro, we're prepared to give the company the benefit of the doubt. We just hope it finds a side-friendly solution for generation two.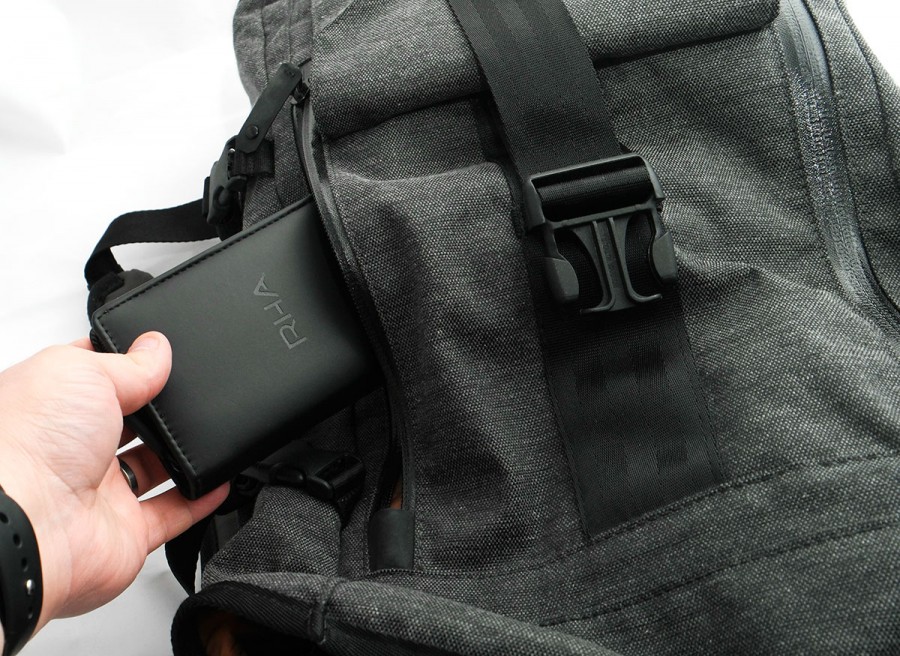 Conclusion
Camera bags tend to generally look the same, with the black and blue of the injury team generally representing in full force, but Lowepro's Streetline backpack is definitely a pleasant change, with an almost newsprint dotted grey look on a highly resistant fibre, a nicely padded back, and one of the most surprising changes to gear loading we've seen in a while.
Lowepro (and where it came from Lowe Alpine) invented the internal frame bag, and while it may not have invented the padded dividers they tend to rely on, it practically revolutionised it. As such, you see it in so many bags Lowepro produces (among others), it's easy to forget that companies like to innovate.
In the Streetline BP250, customers are getting a reminder of that, with Lowepro delivering a bag that feels like it at least wants to innovate, if not shake things up a little bit.
And it succeeds, for the most part, bringing a backpack that doesn't look or feel like your typical camera bag, and can be worn without fear of being mistaken as a photographer.
You won't be fitting a lot of gear in this bag, we'll say that much, and big cameras will want to look elsewhere, but if you don't care about camera size and just want something idea for a day out, the Lowepro Streetline BP250 is definitely worth a look.