It's been a while since Australia has seen a properly new Windows mobile, what with Windows 8 being replaced and all, but the day is finally here for new Microsoft mobiles.
The year has already been pretty big for smartphones, and while it may well be coming to a close, Microsoft is making sure that Windows folk have something new to consider.
In fact, if they looked past the iPhone and heap of Androids that arrived this year, scratching their wallet and wondering if perhaps their faith in a fully Windows ecosystem would be rewarded with a new Windows Phone release, they now will get to see it in Australian stores.
Microsoft's flagship store in Australia will be one of the places, joining JB HiFi and Harvey Norman, while Optus looks to be the only Aussie telco getting the new Microsoft devices, with two rocking up.
The two are similar models, arriving in the form of the Lumia 950 and 950 XL, models which probably tell you that one is fairly normal-sized, while the other is a little larger, and that's kind of what they are, though there are some differences.
First there's the spec, with Qualcomm processors in each of the phones, though some speed difference found in each, with the Lumia 950 — the regular sized model — getting a Snapdragon 808 six-core chip like that out of the LG G4, while the latter Lumia 950XL gets the Snapdragon 810 eight-core processor like out of the Sony Xperia Z5.
The screen size also translates differently, with the "regular" size of the Lumia 950 translating loosely into 5.2 inches diagonally, while the larger gets a screen size more like that of Samsung's Note 5 sitting at 5.7 inches. This subsequently affects the battery life, which sits at either 3000mAh for the smaller model or 3340mAh for the bigger one.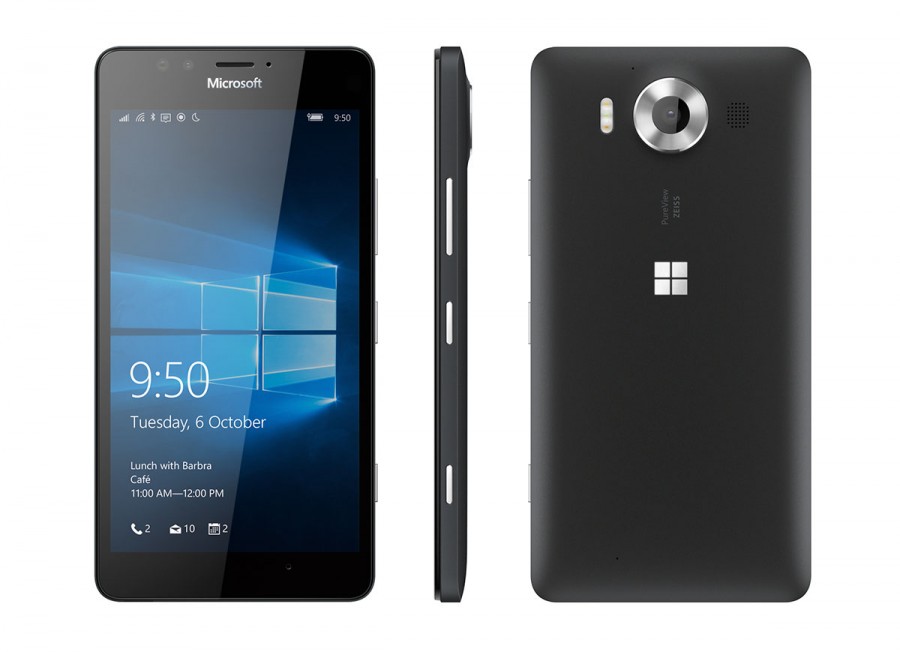 But outside of these features, the phones are pretty much bang on, with the same 20 megapixel rear camera, the same 5 megapixel front camera, the same 32GB of storage with upgradeable option via microSD, and the same resolution sitting at Quad HD's 2560×1440. They all offer wireless charging, and all offer USB Type C wired charging and data transfer, making them pretty future friendly.
More importantly, they all deliver a Windows 10 experience shrunk for a smaller device, meaning apps made for the Windows 10 Store may even run on the phone, and if you nap one of the mobile docks, you'll even be able to use the Lumia 950 and 950XL as pint-sized computers.
Both also feature a slightly different take on the biometric security of the other devices out there, because while Apple, Samsung, Sony, and Google (among others) are dabbling in fingerprint sensors, Microsoft is instead focusing on "iris" scanning.
Think "Mission Impossible" and you'll be close, with the Windows Hello feature scanning your face and eyes to let you in your phone without needing to enter a PIN or password.
"We designed Lumia 950 and Lumia 950 XL for people who want the most productive smartphones running the most productive operating system," said Brett Murray, Microsoft's Director of Mobile Device Sales for Australia and New Zealand.
"People like mobile professionals who want a premium phone that can work like a PC now have the perfect partner for their Windows 10 devices in Lumia 950 and Lumia 950 XL. With full Windows 10 and features like Continuum for phone, it's easy to do more than ever from your phone whether you're in the office, at home or on the road."
Pricing for these new phones isn't far off other phones, that said, with Microsoft asking for a $999 price for the Lumia 950 and its 5.2 inch display, while the Lumia 950XL's 5.7 inch screen commands a $1129 tag. You'll find both in stores now, however, and we expect to have a review on at least one of these very, very shortly.