Twelve months ago I wrote about Panasonic's wonderful full-frame mirrorless cameras, the S1 and S1R. Since then Panasonic has added third to the lineup, the Lumix S1H. This is quite a variation on the S1 and comes with a particular emphasis on video performance. Indeed, it provides cinematic levels of performance, starting with 6K resolution.
Lumix S1H features
I'll return to that shortly. First, as a still camera the Lumix S1H is a 24.2-megapixel unit. The CMOS sensor features "Dual Native ISO technology". If I'm understanding that correctly, the ideal ISO rating for the sensor is both 640 and 4000. That's like having a fast and an astonishingly fast film in your camera at the same time. It permits lower noise shooting in adverse light conditions. The image size is 6,000 by 4,000 pixels (or less if you choose).
The camera also incorporates Panasonic's "High Resolution Mode", which shifts the sensor slightly four times in one shot to quadruple resolution. That allows you to take photos of certain subjects – you'll need to be tripod mounted, and the subject to be steady – at 96 megapixels, or 12,000 by 8,000 pixels. See here for the effectiveness of this.
The camera incorporates all the good stuff including dual image stabilisation – it's in both the body and most Lumix lenses, and software ensures that they work together to provide up to 6.5 stops of stabilisation. There are shutter speeds for still photos of up to 1/8,000th of a second. You can bracket for exposure, for aperture, for while balance and for focus (up to 999 images for this one).
Naturally, the Lumix S1H camera includes dual band Wi-Fi (up to 802.11ac) and Bluetooth. You can remote control it with a Panasonic app, and transfer photos to your smart device. And it includes just about every photo taking feature known to man. Plus some rare outside of Panasonic's lineup. That includes such things as 4K and 6K photo mode, which can do things like pre-shoot and allow you to choose the image later.
Lumix S1H video capabilities
But you can get pretty much all that stuff in the other Lumix S-Series models … at lower cost. If still photography is your overriding interest, then the S1R with its 47.3 megapixels and somewhat lower price is probably the better choice. But what the Lumix S1H offers is extraordinary video capabilities.
At the top end, you can trade-off between physical resolution, frame rate and colour resolution. Want the highest possible video resolution? Then you can choose 6K – 5,952 by 3,968 pixels at 24fps. And that's with 10 bits to define pixel intensity, albeit with 4:2:0 colour resolution. 4:2:0 means that colour is captured for each group of four pixels, not all of them. When all the pixels have their own individual colour, that's called 4:4:4.
In 16:9 format it can go to 5.9K at 24fps or 30fps, still in 4:2:0 and 10 bits. All those modes run at 200Mbps. But if you want to do "mere" 4K – both in cinema (4,096 pixel wide) and UHD (3,840 pixel wide) versions – the Lumix S1H will do 10 bits, 4:2:2 (double the colour resolution) and up to 400Mbps.
The camera supports the V-Log gamma model, and using that can deliver some 14 stops of dynamic range.
Many of these modes are available in your choice of pixel-for-pixel crops, or down scaling from near full frame width.
The Lumix S1H camera includes a microphone input and a headphone output along with a full-sized HDMI output. An XLR microphone adaptor is available ($499). This provides 48-volt phantom power to two microphones and sits in the Lumix S1H's flash mount. It has received pretty positive user reviews.
Handling the Lumix S1H
Want a nice compact camera for travelling? Well, this ain't it. The Lumix S1H is a serious chunk of metal and glass. The body alone weighs 1.164 kilograms, and the full frame design demands the use of relatively large lenses for a given aperture and focal length. Consider the depth of the body. It's about 95mm from the front of the shutter release housing to the back of the rear monitor. Add another centimetre to take you all the way to be rear-most part of the view finder.
Part of the bulk is to assist in the cooling. The Lumix S1H is fitted with a cooling fan so that you can shoot video indefinitely. The inlet and outlet slots for the airflow are at the left and right edges of the rear monitor housing; just behind the sensor. Many, perhaps most, cameras have to stop after a while because of heat build-up.
Lumix S1H controls
But all that said, and assuming the weight isn't too much for you, I think you'll find it a great camera to hold. As a right-hander, I certainly did. There are no inconvenient buttons getting in the way on the right side. My thumb curved naturally over the clear back, just short of several useful control buttons.
There are lots of controls, although only two dials dedicated to specific functions. Those are stacked on the top left. The main mode dial is on top. That's the one that you use to choose between things like program automatic, intelligent automatic (ie. scene guessing), aperture or shutter speed priority, manual and movie mode.
Underneath that is another dial for things like burst shooting, time lapse and timer. This is quite configurable so you can choose things like burst speeds and assign them to one of two positions for ready access. There are also three custom modes on the top dial which you can configure with your preferred settings.
A bunch of press buttons are available for selecting other things, with both front and back wheels for selecting between the options they provide.
The USB Type-C connection is clearly at least USB 3.0 rated. The file transfer speeds to my computer via that route was a little slower than using a dedicated SD card reader. It came in at a touch under 80MB/s. But the difference was so slight that by the time you popped the card and put it in the reader, then put it back in the camera, direct transfer from the camera was actually somewhat faster.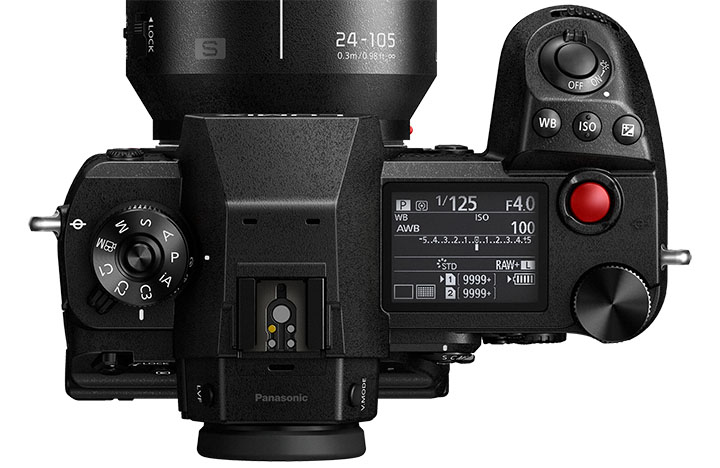 The Lumix S1H viewfinder and monitor
The viewfinder was glorious. It uses OLED technology and has a 5.76-megapixel resolution. It is noticeably sharper than those in most other cameras. That sharpness is actually quite startling when moving up from the lower resolution viewfinders. The colour and brightness grading in the viewfinder was also very natural. You can select things like focus peaking and so on to help you if you're going manual.
The rear monitor contributes to the bulkiness of the camera. It's a 2.33-megapixel LCD unit with two tilt modes. If you release a clip at its bottom, it can fold out at the bottom. That allows you to easily hold the camera down low and look down when framing shots. But the monitor can also be swung out to the left and then pivoted all the way from facing directly downwards through to facing directly forwards. In that way it's like Panasonic's GH-series mirrorless cameras. Basically you can use the monitor from any angle. You can even fold it back into place with the monitor the other way around so that the screen is hidden. That's good for additional protection, and also if you want to avoid distraction when relying on the viewfinder.
There's a third display: a fairly large status LCD screen on the top. This has a 1.8-inch diagonal and is monochrome. By default it's always on – with white lettering on a black background and no backlight – showing battery status and the number of shots remaining on each of the memory cards. Presumably this uses very little power. When the camera is on, it shows a lot of information such as aperture, shutter speed, ISO and so on.
Taking photos with the Lumix S1H
Shooting with the camera was a pleasure. The shutter release was progressive. It's easy to find and hold the point at which the camera acquires focus and exposure. It was even easy to hold it there while fine tuning focus. The live viewfinder shows a zoom view when you're manipulating focus.
If you're happy for the camera to do its own thing, focus was fast and fairly sure most of the time. As always, though, the camera can sometimes choose the wrong thing to focus on. Full frame cameras have a relatively shallow depth of field, so even the thickness of a door jamb can leave an element of the composition out of focus. Here, for example, the grain on the door is sharp and detailed, but the frame to the left is soft.
With the default settings, colour was very natural and realistic. Although I initially thought otherwise. I first thought it somewhat over-saturated, but it turned out that my main monitor had somehow been changed to a CAD/CAM display setting. When I switched it back to sRGB, the colour was simply right. I mention this as much to remind myself that the other equipment you're using can have a major effect on one's judgements and can easily lead to error. So, if this golf course shot looks anything other than natural on your monitor or screen, check its settings:
More photos
And here are a few other pictures suggesting some of the results that this camera can deliver. Note, all shots were hand held and with the camera making just about all the judgements on exposure and so on, although I did use Aperture Priority mode most of the time to keep the aperture at the maximum f/4 in the provided lens. Which was the Lumix S 24-105mm F4 MACRO O.I.S. Lens. At $1,899 this is the lowest cost Lumix-branded lens available for the Lumix S-Series cameras. Presently there are five other lenses in the range including a 50mm f/1.4 prime lens ($3,599) and a 70mm to 200mm f/2.8 telephoto lens ($4,299).
Conclusion
Just about any still photographer would be thrilled with the performance of the Lumix S1H camera, but they'll actually get better value and significantly higher resolution with the Lumix S1R. The Lumix S1H is for those who want a fine camera that also delivers pro-levels of video performance. For that's what this camera does.
Panasonic's website for the camera is here.
Cinematic quality video
Extremely good photographic performance
Highly functional controls