How low can you go? Microsoft answers the question with a new phone that hit the $129 mark, bringing two SIM slots and just enough mobile for people who need something smart and simple.
Features
If you don't think you need the best phone, but you do need something, the phone manufacturer formerly known as Nokia and now known as Microsoft might have something up its sleeve, provided you can handle Windows Phone 8.1.
The phone is small, offering up a 4 inch display running the old school resolution of 800×480, which offers roughly 233 pixels per inch, 100 below that of the Apple iPhone 6's Retina display, with support for touch.
Under this display, you'll find a dual-core Qualcomm Snapdragon 1.2GHz processor, paired with 1GB RAM and 8GB storage, the latter of these upgradeable thanks to a microSD slot found inside the phone. Microsoft makes the phone, and so includes its Windows Phone 8.1 operating system on this handset.
Connections for the handset include 802.11b/g/n Wifi, Bluetooth 4.0, GPS, and 3G mobile connectivity, with microUSB 2.0 making the case for wired connectivity on the charge and data transfer side of things.
A 3.5mm headset jack is included, too.
Two microSIM slots are included here, too, making it possible to use two separate phone and data connections if need be, though both will be at most 3G only.
Cameras are found here, too, with a 2 megapixel rear camera with no flash, and a VGA camera up front, making sure there is something if you want to do some video chat or take a selfie.
Few buttons are found on the handset, with physical buttons taken care of via a volume rocker and power button on the right edge, with the three typical soft buttons for Windows below the 4 inch screen, catering to back, home, and search.
The casing for the Lumia 435 is removable, revealing a 1560mAh battery that is also removable.
Performance
There are generally three sections of the mobile phone market when it comes to buying one: flagship with its $700 to $1200 options, mid range running from $300 to $699, and then everything else below it being entry level.
Entry level, though, also has its own little divisions. There's budget bargain bin entry level, offering phones from $49 and higher, and there are prepaid all-rounders that subsidise the cost of the phone by forcing you to go with a telco.
And then there are entry level devices in the $99 to $149 range that don't, and are open, available for you to insert your SIM — any telco's SIM — and go for your life, and it's in that group that we find Microsoft's Lumia 435 Dual SIM, one of the first phones from Microsoft since the company took over from Nokia in making mobile handsets.
You might look at the handset and go "that's a Nokia, so why does it say 'Microsoft' up top", and that's the reason why: Microsoft now makes the Nokia Lumia phones, no longer Nokia, so that's what's going on, and that's what starts the 435 off.
But there's more to the Lumia 435 than just the Microsoft branding up top.
In the hands, despite the Lumia 435 obviously being made for cheap, it still feels relatively well made, with a fairly thick removable casing that looks like it could be replaced with a different colour if Microsoft decides to release them in stores.
The plastic casing isn't the sort of quality you can expect out of the older Lumia handsets made by Nokia, and it's clear this is a less expensive model. That being said, it's a comfortable albeit edgy design, and when we say edgy, we're particularly focused on the edges which are pronounced along the sides before leaning into a soft slightly curved back.
We found it comfortable, though the corners can be a bit slippery, and we nearly dropped the phone twice.
Buttons are also here, too, with two physical sets on the side for power and volume, while the main soft buttons along the front are your typical Windows fare for back, home, and search, the latter of which now goes to Microsoft's Cortana assistant.
But one thing we do need to note is that lack of lights under the buttons, so if you're using the phone in the dark, you'll want to remember what does what, because the front buttons do not light up like on other smartphones.
Powering the phone on or returning it from standby is easy, that said, with a simple push on the button on the right edge, and with that the screen will come to life.
As you can well expect, the offering here is a pretty low-end display, with the several year old 800×480 resolution used on an older display with weak viewing angles.
We're serious when we say the angles aren't particularly good here, because the colours wash out at any vertical angle and yet hold their own on the horizontal.
The display also leaves a lot to be desired in the whole brightness department, with images that won't exactly jump off the screen, and just enough colour to see that yes, this is a smartphone that you can look at, browse the web with, listen to music on, and play the odd app or game.
That being said, Microsoft's Windows Phone 8 is a fairly colour reduced operating system, with an emphasis more on strong colour grids atop black or white, and while the display isn't great, it's used well here thanks to that operating system design. On an Android phone, we'd be sceptical, but here on Windows Phone 8, it works.
It's not great, but it works.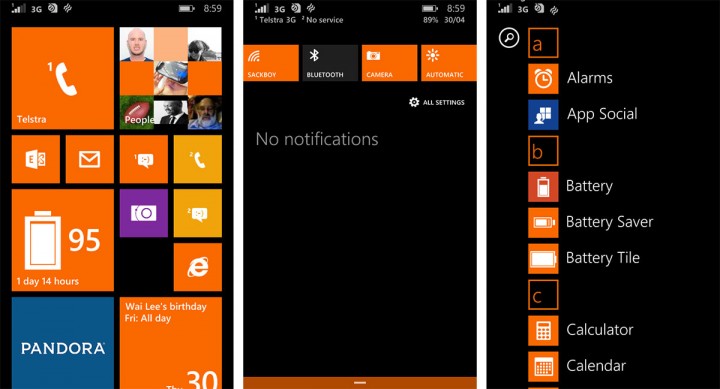 Performance isn't bad, though, and provided you can deal with the screen, you'll have a fairly efficient Windows experience, with few slowdowns when you're scrolling or customising your app menu, loading apps, and jumping from app to app when you hold down on the back button and kick into multi-tasking.
There is a spot of lag here and there, but nothing that'll raise alarm bells, especially since this is now Microsoft's lowest priced phone.