The next version of Windows is almost here, with Microsoft revealing more about Windows 10, an OS that skips a number and unites a bunch of devices under one operating system.

Some might say that Windows 8 was a turning point for Microsoft, as the company tried to embrace the whole idea of touch. Indeed, if you had a touchscreen computer, things were easy, but what about the other 99 percent that had a regular screen, mediocre mouse, and a desire to use the desktop?
When Windows 8 rocked up, many were confused, with large icons, a horizontally scrolling display, and a feeling of something foreign. To make it better and easier to use, you needed a new monitor with touchscreen support, or at the very least, a decent trackpad, and many just weren't there.
Fortunately, a year later, Windows 8.1 arrived, a version of Windows 8 that fixed some of the problems and made it possible to go back to using the desktop the way people were used to. Sort of.
You still had to deal with that home screen, but at least the full screen apps could look like a desktop, and the original desktop could even load from the get go, without any extra apps doing it for you.
But people still weren't happy, and understandably so. Windows had changed, and not necessarily for the better. Sure, if you had a modern touchscreen computer, you were having a better time, but not everyone else, and so Microsoft went back to the drawing board.
What has come of this research and development?
Windows 10.
Announced last year, Microsoft is this week showing more about what it will be doing to make its operating system better and more convenient for users, starting with bringing all of the Windows devices to work with one operating system.
Your PC will run a version of Windows that will be similar to the variant a phone can run, and like that appearing on the Xbox.
Theoretically, this means apps you buy on platforms should be able to be shared, but it also means that the apps that come with Windows 10 — Music, Maps, Video, People and Messaging, as well as Photos — will work across devices, with a similar look and synchronisation through Microsoft's cloud storage solution OneDrive.
More than that, it means, according to this week's announcement, Microsoft will even let Windows 10 computers play against Xbox One owners if the games are compatible, which will be a very neat inclusion, while streaming from the Xbox to other devices will also be possible.
Tablets with keyboards — what we refer to as a "hybrid" laptop — will also receive a mode called "continuum mode" whereby when a keyboard is detected, Windows 10 will automatically switch to the mode best for that accessory.
When detached, continuum mode will load the touch version, making the operating system easier to use on modern devices, and not forcing newer users back to the desktop unless they want to go there.
Internet Explorer is also changing, as Microsoft unveils Project Spartan (above), an interesting collaboration between Microsoft's note-taking app OneNote and Internet Explorer, which will let you browse the web and then take notes on web pages, allowing you to change what you see.
Distraction free reading will also be available, and a way to view web articles offline, plus it will have an integration with Cortana.
What's Cortana?
Aside for a character in the Xbox gaming series "Halo", it is Microsoft's virtual assistant, previously only seen on Nokia and Microsoft Device phones. Australia currently sees it only in a beta form, the last we heard, but it provides a way to help you schedule appointments, answer questions, and is essentially Microsoft's answer to Google Now and Apple's Siri on phones.
When Windows 10 rolls out, however, Cortana will be here for desktop too, linking your schedule and information from mobile and showing it on the desktop, which could be useful for people who use Windows mobile devices.
The price of Windows is also something of note, too, as it will go out for free for the first year for people who want to upgrade from Windows 7, 8, or 8.1.
That's an interesting timeframe, and an interesting price given that the first year is often the one that most of the bugs are ironed out, so it will be interesting to see how many people bite quickly, or even on the verge of Microsoft pulling the free upgrade in the last few days before it ends.
But that wasn't it, because Microsoft showed something very interesting.
It's called "HoloLens", and while the name suggests holography, and Microsoft sure did from what it told us, the name of the game is augmented reality, as Microsoft finds a way to make the world of AR come to the work space.
The technology exists in a headset that will be translucent, and from the looks of things, appears to include some of the technology used in Microsoft's motion-based Kinect, as it will pick up on hand movements and allow people to see a computer world, even interacting with it.
You'll need a HoloLens headset to see what's going on, but essentially, this will bring a computing world to your eyes, with an office that you can touch and interact with, and the possibility of apps that give you a hands-on type of control.
NASA is already working with the HoloLens and a piece of software it has developed called "OnSight" which will let scientists work in a virtual Mars environment to plan paths and treks for the Mars Curiosity rover.
"OnSight gives our rover scientists the ability to walk around and explore Mars right from their offices," said NASA's Dave Lavery, Program Executive for the Mars Science Laboratory Mission.
"It fundamentally changes our perception of Mars, and how we understand the Mars environment surrounding the rover."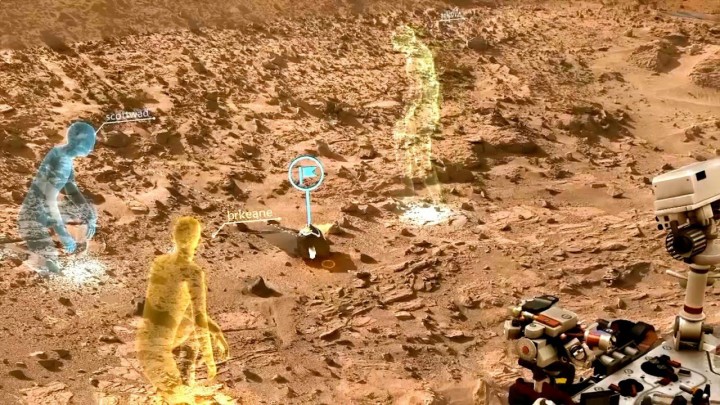 Microsoft has released a neat little video which we've included below that shows some of the neat things HoloLens could do in the next few years, but we're not expecting this one until at least late this year or sometime into next. Even then, the apps that make HoloLens interesting could take a while to develop, especially since this will be able taking the digital world into an almost 3D space.
That said, the next version of Windows should be here a lot sooner, and knowing that Windows normally sees release in October, that's when we're expecting this next version this year. In any case, an updated developer preview should be here soon, so we'll give you some impressions on how things are looking soon enough.