Microsoft hasn't exactly had a big foothold in the tablet market, not like Apple, but the company is trying, and this year it hopes its Surface 2 tablet has the goods to impress. Designed to look and feel different from any other tablet out there, it certainly stands out, but is it any good?
Features
The second of Microsoft's own tablet range, the Surface 2 is a machine designed to let you get on the web, doing work, and having fun.
Designed by Microsoft, this slate grey tablet comes with its own kickstand, as well as some interesting innards to make it a decent competitor in today's highly competitive tablet world.
We'll start with the screen, and just like on the first generation Surface, Microsoft has gone with a 10 inch screen, though had upgraded the panel considerably, bringing it into Full HD (1920×1080), up from the regular HD displays Microsoft used in the original Surface.
Microsoft's original design built in magnesium (a special kind called "VaporMg") is mostly unchanged, though the colour is different and now grey, and the hinge has been modified so that two positions can be set: either at 24 or 40 degrees.
Under the screen, the technology has changed, with Microsoft moving to the Nvidia Tegra 4 quad-core processor, one clocked at 1.7GHz. This is paired with 2GB RAM, which is the safe minimum for Windows operating systems, while the storage is set to 32GB, and can be upgraded using a microSD card slot found under the kickstand.
A 64GB model can also be found, though our review model was 32GB.
There's also the operating system, and on the Surface 2 it's Windows RT 8.1. This is the latest update to Windows, but not the full fledged edition of Windows 8 that you get on other computers. Rather, Windows RT is a special version of Windows 8 designed to run on the different style of processor used for tablets, instead of the Intel or AMD chips used in other machines.
Windows RT looks like Windows 8, and runs just like it, with the exception that it cannot run any apps designed and compiled for the other chips. In essence, this means any application designed for Windows 7, Vista, XP, and even some of the Windows 8 pieces of software cannot be installed here, and the only apps that can will be found through the Windows Store found in the menu of the Surface 2 tablet.
Connectivity on the Surface 2 comes in the form of WiFi 802.11 a/b /g/n and Bluetooth 4.0 — no built in 4G here, sadly — while Microsoft has also upgraded the USB port on the tablet to be USB 3.0 and included a microHDMI port.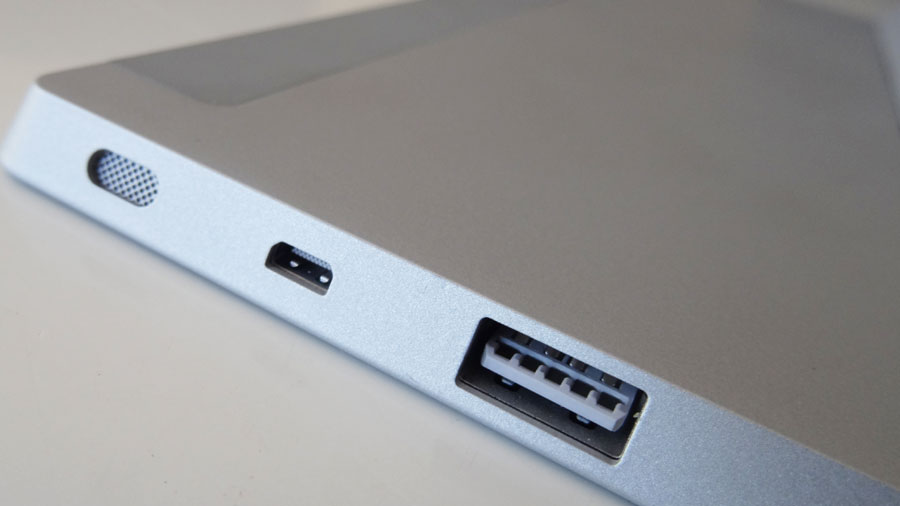 Cameras seem to be a common inclusion on tablets these days, and the Surface 2 is no exception here, with a 5 megapixel rear camera and a 3.5 megapixel front-facing camera, easily good enough for Full HD Skype video conferencing if you ever need to. Two microphones are also included, as are two speakers supporting Dolby sound.
While tablets generally don't have many buttons these days, the Surface 2 has a few, with a volume rocker on the left side, power button up top, and a Windows soft button on the front that will both switch on the machine and bring you back to the main Windows menu screen.
A power pack charges the tablet through a proprietary five pin magnetic port, with the charge time taking between two and four hours depending on how full the battery was to begin with.
No keyboard is included with the Surface 2 — it's a tablet, after all — but Microsoft makes a range of keyboard case accessories which can be plugged in using a six pin magnetic port on the bottom of the tablet.