Microsoft's latest Surface could finally make the Windows 8 tablet more compelling to more people, now that Windows RT has been put to rest. Is this enough to take on the iPad?
Features
The sixth Microsoft tablet to take the name "Surface", the Surface 3 is Microsoft's latest attempt to take on the tablet market, with a machine that isn't quite up to the "professional" level that the Surface Pro 3 aims for, but is still more featured than its Surface and Surface 2 siblings, and that's not just because another year has passed with new technology, but because Microsoft has had a change in heart.
And that's something we mean quite literally, with the heart of the Surface tablet being totally changed, replacing the ARM processors used by the previous models with something more familiar that can run proper Windows, not that RT edition that we've seen on Surface and Surface 2.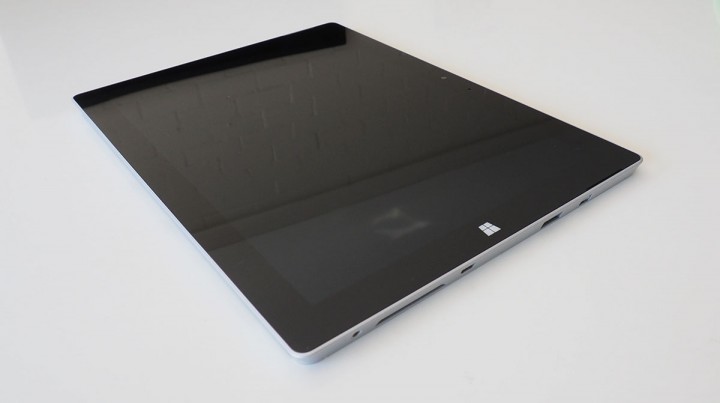 Inside here, you'll find a quad-core Intel Atom x7 (X8700) processor, clocked at 1.6GHz, and partnered with either 2GB or 4GB RAM. A choice of either 64GB or 128GB storage is offered, and if you get the 64GB model, you'll find 2GB RAM, whereas if you opt for the 128GB Surface 3, you'll find you have 4GB RAM.
Both variants offer the same wired connection options, with USB 3.0, Mini DisplayPort, a microSD card reader, a 3.5mm headset jack, and a microUSB charging port, while wireless is taken care of by 802.11a/b/g/n/ac WiFi, as well as Bluetooth 4.0.
Cameras are included, too, with an 8 megapixel rear camera with autofocus, while the front-facing camera relies on a 3.5 megapixel camera module, sitting just above the screen.
The screen is a little different from previous Surface models, too, relying on a 10.8 inch Full HD display, running 1920×1280 thanks to the 3:2 aspect ratio.
Microsoft's Windows 8.1 arrives on the Surface 3 out of the box, and is compatible with the Surface Pen and TypeCover keyboards, though neither are included with the Surface 3.
Performance
Microsoft's competitor to the iPad has always been an interesting little machine, offering a premium look and feel, but not quite something to finish off the package.
Perhaps it was Windows, or more specifically, Windows RT, the version of Microsoft's computer-friendly operating system that was made specifically for ARM processors, the sort of chips the tablets received. Indeed, it was in the Surface and Surface 2 that you would find a tablet that ran a special edition of Windows, and while it walked and talked like regular computer Windows, it sure didn't quack like one, and you could only run apps made for the Windows 8 environment, and there weren't many of those.
That was the curse of Windows RT, and it was a frustrating curse, at that.
While the Surface Pro, Surface Pro 2, and Surface Pro 3 all arrived with the proper edition of Windows 8 — the one that you received on a regular laptop or desktop — the regular Surface was painted with a different brush, and branded with an operating system that couldn't run much at all. Evernote, Fruit Ninja, and a few apps here and there were fine, but the ecosystem was never truly developed or fleshed out, and if you relied on Google Chrome, Adobe's Photoshop, or Valve's Steam, you were out of luck.
And that killed the Surface and Surface 2, which is a shame, because they were great content consumption and web reading devices, with excellent builds, a nice design, and a kickstand thrown in for good measure turning them into makeshift TVs and picture frames.
Fortunately, Microsoft appears to have listened to the endless criticism people had for Windows RT, practically calling for its death, and with the Surface 3, we're looking at a machine that runs Windows 8 properly, none of that RT crap.
So let us say this proudly, because we've been looking forward to it ever since we laid eyes on a Surface device:
Windows RT is dead. Long live Windows!
And what we mean to say is Microsoft has put its RT experiment to rest, and let us never speak of it again. Instead, let's talk about the things Microsoft has done with Surface 3, the first light variant of Surface that comes with standard Windows, and works the way you want a computer to work.
The latest take on the Surface formula is the Surface 3, a variation on a theme we've seen plenty of times before, but that was most successful last year with the Surface Pro 3, a 12 inch take on that idea that changed the display aspect ratio to make the machine more like a large notepad with a pen, a soft keyboard cover, and enough processing power that it could take on the likes of a MacBook Air and then some, making it a notebook force to be reckoned with.
We're still fans of that device, and while we're churning through the keyboards, the Surface Pro 3 is one of the better tablet-laptop hybrids we saw last year, providing a solid middle ground for people unsure of what they want in a new purchase.
From the first glance, though, Microsoft's Surface 3 appears to be doing much the same, providing a similar take on that awkward middle ground for an even more compelling price.