The next generation of Windows is here, with Microsoft finally making the evolution of its long-running operating system available for the masses. With the announcement, there are, of course, a range of new computers built to take advantage of Windows 8's touch-friendliness, but is it a worthwhile update for everyone?
Launched around the world, Windows 8 pushes Microsoft Windows in a very specific direction: one dominated by touch.
"With the launch of Windows 8, Microsoft is unveiling a reimagined Windows to the world," said Pip Marlow, Managing Director for Microsoft Australia.
"Whether you want a tablet or a PC, whether you want to consume or create, whether you want to work or play, Windows 8 delivers a personalised experience that fits your unique style and needs."
The operating system is both similar and different from the one many of us have grown up with, completely removing and reworking the Windows start button, a basic feature of Windows since Microsoft introduced Windows 95 in, well, 1995.
Replacing the start button is the Windows 8 home screen, a long flowing menu bar with larger shortcuts that update themselves with information, similar to how Android widgets refresh themselves with real-time information.
Apps can be uninstalled from here, or pinned to this screen, and everything can be grouped, organised, and changed in a way that makes the Windows 8 home screen into your own custom look, essentially letting you decide what information and application shortcuts you see first.
New to Windows is an app store, similar to what Apple computers have going for them, but with applications designed for the new generation of Windows computers.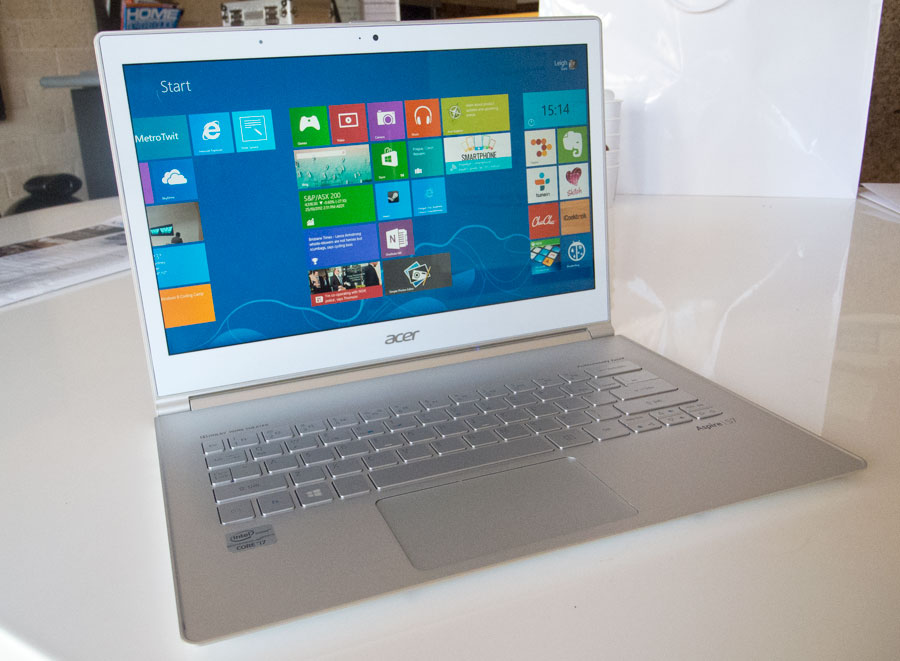 Microsoft's desktop is still present, mostly, but the company has done away with the special translucent and transparent glass-like effects known as "Aero," instead moving towards a style that meshes more solid colours, squares, and rectangles, adopting a simpler look that seems more unified and doesn't tax computer systems as much.
From this week, all new Windows computers purchased will likely have Windows 8 pre-installed, and the best computers for the experience will no doubt be the ones featuring touch screens.
With a touchscreen, Windows 8 is a very tactile experience, your fingers dancing on the screen and moving with the information, allowing you to take control of Windows in a way that you have, up to this point, only been able to do on devices running Apple's iOS and Google's Android.
Should you upgrade?
The question of if you should upgrade is an interesting one.
Microsoft has done a pretty good job with hardware requirements on Windows 8, as the operating system will happily install on most computers in the past decade, with the minimum needs set at a 1GHz processor, 2GB RAM, 20GB storage, DirectX 9 graphics card, and a 1366×768 resolution. Sorry netbooks, but that counts you out.
There are quite a few laptops that won't have any problems with these specifications, but they may not be equipped with touch screens, so you'll be left navigating with the mouse. Our experience with this is that while it's not as intuitive – not nearly – you can still navigate the interface with mouse controls. You'll just have to adapt.
We probably wouldn't update our computer at home, a traditional tower desktop with a physical mouse and keyboard, and a 20 inch LCD (yes, I have to upgrade, I know, I know). For us, Windows 7 just works, and while we admire the long Windows interface and some of the design tweaks, using our desktop isn't one based on touch, but rather typing and mouse gestures.
On new hardware that comes with a touchscreen – like the recently reviewed Acer Aspire S7 – Windows 8 is an excellent experience, and the operating system feels somewhat evolved. But on your regular touch-less laptop and desktop, it's obviously a very different thing altogether.
If you have no problem trying the interface, Windows 8 isn't badly priced, with an upgrade possible from Windows XP, Vista, and Windows 7 for $40 for digital download, or $70 in a full package, though we're already seeing cheaper prices from retailers such as Officeworks.