If you've ever lived in a home with a small kitchen, a larger space to prep your food is pretty much the first thing on your new home wish list, but if you're stuck where you are and reaching for more bench space, Miele is trying to throw you a bone with a coffee machine that aims to be helpful and compact.
The machine attempting to solve the space wars in the kitchen is the CM6300, an appliance that doesn't give anything away with the name, but will once you see it, bringing a compact take on commercial coffee machines with a small screen showing what you will be making, and some soft-touch buttons that start the machine up.
A grinder is built into this box, capable of taking in 300 grams of roasted beans, with room for pre-ground coffee, too, both using Miele's "AromaticSystem" after grinding (or not grinding for the pre-ground stuff) which expands when water flows into the device to allow for improved aromatic extraction when water hits the ground coffee.
Milk can also be textured using this system, with a milk tank available on the side in what Miele calls the "Cappuccinatore", which will froth milk and push it back through the machine, dispensing it into the coffee cups before or after the espresso to make layered coffee drinks.
Other things to note with this machine include some customisation which appears to be good for coffee lovers, such as grind strength, grounds amount, temperature of percolation, and water amount, all of which can help you to define the perfect cup, while people who want it simple can basically press one button — Miele calls it the "OneTouch" button — to get the coffee they want quickly and easily.
Cleaning is the other area automatic coffee machines can struggle with, and Miele's take on this with the CM6300 rinses the internal system by taking in water from the main water tank and cleaning out anything in the pipes.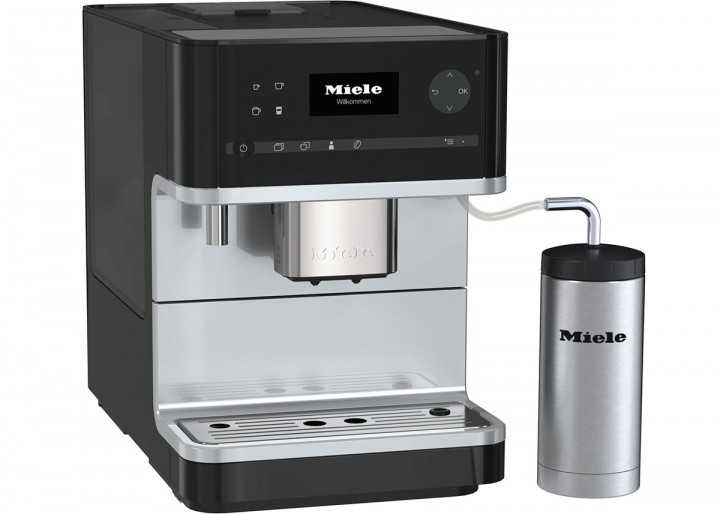 The milk canister itself will likely need to be removed and cleaned, but the milk line is flushed with steam to fix that. Better, the brew unit can also be cleaned, allowing you to deal with any hygiene issues that might pop up later on down the track.
Pricing on this one starts at $1599 in this country, with the Miele CM6300 bench top coffee machine arriving online and in stores this week.