If you buy one after-market charger this year, it should be the Moshi ProGeo USB-C 65W charger (P/N 99MO022148).
Why? The Moshi ProGeo USB-C 65W charger also supports the advanced PD 3.0 charging profile. PD 3.0 is 5V up to 20V and 3A to 5A (15-100W). It is a more elegant and universal solution because it allows micro-voltage and amperage steps instead of the fixed voltages. In this way, it can deliver higher voltages and lower amperages. If you want to read more about USB-C and PD, our Guide for Dummies is here.
We recommend the Moshi ProGeo USB-C 65W charger because any USB-C device to 65W (smartphones to most 13" laptops and tablets) can use it. It has comprehensive Short Circuit/Over voltage/Over current/Over temperature protection as well as the complex circuitry for PD 3.0 to better look after your battery.
Moshi ProGeo USB-C 65W charger
Website here
Moshi is a brand you need to know, especially if you are an Apple user. It provides a range of premium accessories to Protect, Connect, Listen and Carry your tech products.
Moshi sells in Australia via JB Hi-Fi, David Jones and a variety of online stores like MacAddict and Case Store.
Price: $129
Build – EXCEED
It looks very well built, but there is one main advantage over other chargers – all the PD 3.0 Electronics are in a 'dongle' about 125mm from the end of the cable. It also has a smart LED indicator light there to show charging or standby.
Separating out the electronics (intelligent regulator) from the charger body or the USB-C tip is smart as it removes heat from those areas.
It is also compact and light at 8.8 x 5.4 x 2.5 cm x 213g (includes long 2m cable, charger and regulator). As it is narrow, it fits standard dual side-by-side power sockets.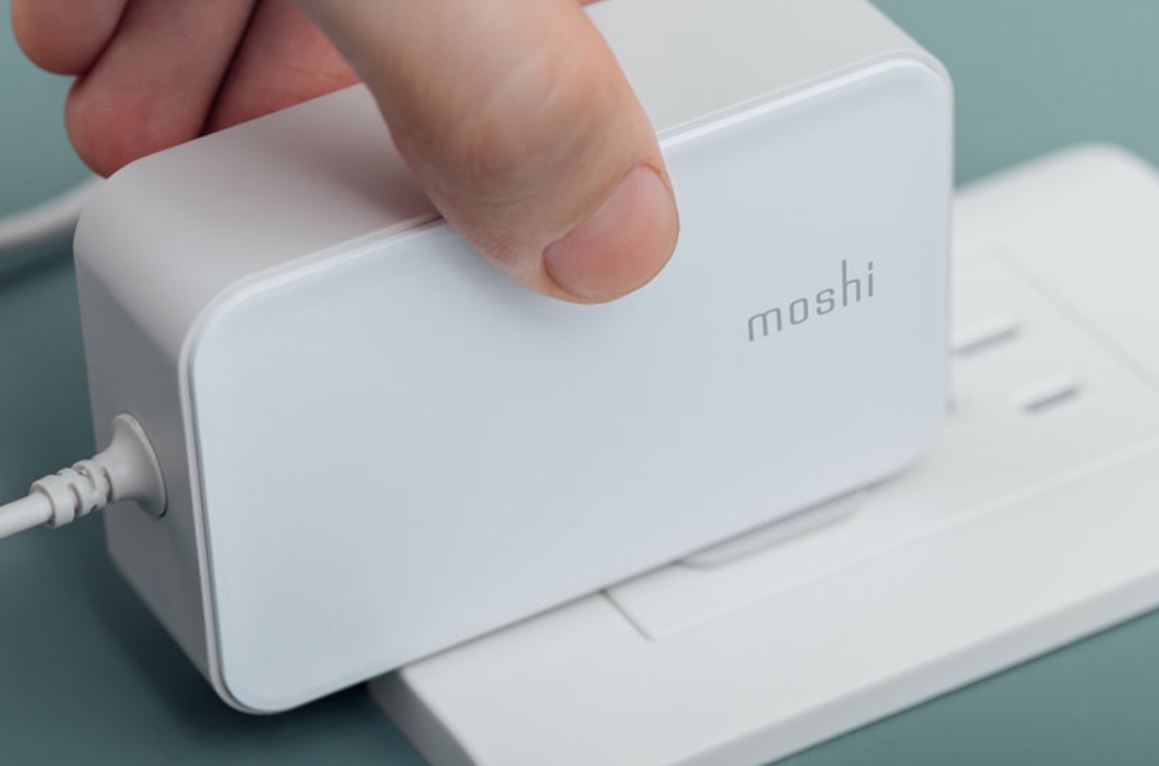 You can purchase an international power adaptor pack.
Voltage regulation – EXCEED
Under PD 3.0, voltage and amperage are regulated to provide the right balance to the battery. Initially it will negotiate 20V/3.25A (65W) and if the battery accepts that it will fast charge to a pre-determined level dropping amperage first (that is the killer) and voltage last.
We tested with a Surface Pro 7 and because its PD 3.0 (not 2.0) it filled the battery in approximately 1.5 hours – faster than the Surface 65W PD 2.0 charger.
It will also work for larger devices (to 100W), but charging will be slower, or it may not keep up with the current draw.
And it is perfect for topping up that USB-C 10,000mAh or larger power bank in a fraction of the time. Or feel safe to leave it attached to your smartphone or laptop as it is a very smart charger!
GadgetGuy's take – Moshi Moshi ProGeo USB-C 65W charger is safe and fast
Anyone that knows electricity will tell you it is the amperage that will kill you – 10mA can give you a painful shock and 100-200mA can kill.
This offers 5, 9, 15 and 20V at up to 3A – that is 3000mA. I am past trusting generic or no-name brands when it comes to USB-C and PD charging. I trust Moshi with this.
Safety is paramount
Supports the better PD 3.0 standard
Moves heat generation from charger and plug - very sensible