The Moto e7 power has a big 5000mAh battery and a low $159 price. Apart from a few minor spec downgrades, it is similar to the $199 e7, offering great value. It is a back-to-basics phone for those who can't afford more and want good service and reliability.
GadgetGuy does not do a full review because the paradigms for a $159 phone are a) does it have any apparent downsides and b) does it meet expected standards for the price. Regardless we have still conducted over 70 tests, and it meets or exceeds all. It gets both the value tick and a buy recommendation.
We suggest you read this Moto e7 power mini-review in conjunction with the Moto e7 review here because we won't repeat the same information.
Details: Motorola 2021 Moto e7 power
(Model XT-2097-7, 2/32GB, dual sim)
Website here
Price: $159
From: JB Hi-Fi, Harvey Norman, The Good Guys (online only), Officeworks, Big W and the Motorola online store. It will be available at Vodafone.
Warranty: 12 months ACL if purchased from an authorised reseller or Motorola online.
Country of manufacture: China
Company: Owned by Lenovo (Est 1984) – a multinational technology company with its main operational headquarters in Beijing and Morrisville, North Carolina. It is the world's largest PC maker. It purchased Motorola Mobility from Google in 2014. Most of Lenovo's smartphone business is now under the Motorola brand, and it has grand plans to become a 'top five' smartphone maker.
Other Motorola news and reviews here
Beware of dodgy parallel grey market imports
Its warranty only applies to genuine Australian stock with certified RETAPAC firmware (Settings>About phone>Software channel) if purchased from its partners or Telstra, Vodafone or Optus. Do not buy any models starting with PAM – they will not work here.
The main differences – Moto e7 power (and e7 in brackets)
2/32GB (4/64)
200g (180g)
5000mAh battery (4000mAh)
13MP Main camera (48MP bins to 12MP)
This mini-review focuses on these differences and whether you should consider the e7 or e7 power for your economy phone.
First impression
Same as the e7 with the additional observation that the wrap-around unibody adds strength over a typical glass sandwich design. This comes in Tahiti Blue and Coral Red – quite young and fashionable colours – the e7 is mineral grey. The paint colour is vacuum deposited onto plastic, and you should use the supplied soft plastic to avoid scratches. The extra 20g is for the 5000mAh battery.
Verdict: e7 power is more colourful
Processor
It should have the same processor as the e7 – advertised as a MediaTek Helio G25 with 2.0GHz octa-core ARM Cortex-A53 CPU, 650MHz IMG GE8320 GPU. But we are beginning to wonder. Our test software Device HW Info shows both as a Helio P22 MT6762V/WB, Octa-core 4 x 2Ghz and 4 x 1.5Ghz, but we will defer to Motorola.
And then we spot the difference. The e7 is in 64-bit mode (Malta_64 motherboard), and the e7 power is in 32-bit mode (Malta motherboard). It turns out that you can't run 64-bit Android on <4G of RAM. That explains a lot, including battery life (later). GeekBench 5 single/multi-core performance is 136/480 (152/878) – a huge multi-core advantage to the e7.
Verdict: e7 has a far smoother operation
Throttling
Throttling test shows 73,302GIPS (84,145), Average 69,636 (79,264) and a 9% (5%) performance loss under load. It is mainly due to the processor having to use less ram and 32-bit versus 64-bit mode.
RAM – 2/32GB (4/64)
In my opinion, 2GB is a tad small for Android 10 – let alone later versions. There is a perceptible delay in swiping and loading apps. But 4GB would up the price. It is good enough for a phone with Android benefits.
I am not worried about 32GB eMCP storage (14GB free) as it has a hybrid dual sim/microSD slot, and that is low cost to add more. eMCP means DRAM, storage, and controller on one chip to save space, but it seems slower, as Androbench tests show below.
Sequential storage read/write is 283/101.6Mbps (288/233) – typical of lower-cost flash storage. Read speeds are spot on but write speeds are less than half the e7 – it is about the processor mode.
It has USB-C 2.0 and OTG and can support exFAT formatted drives up to 2TB. But at half-duplex data transfer speeds of 30MBps, micro-SD is faster. As long as you don't overload this with too many open apps or browser tabs, it is fine.
Verdict: The e7 is a better performer all around.
Battery
The theory is that a 5000mAh battery should last 25% longer than the 4000mAh in the e7. Practice is a little different as 32-bit, and less RAM means more memory swapping and a little more processor overhead.
Video, Netflix, 720p, Wi-Fi, 50% screen, no sound – 15 hours
Video loop, internal storage, 50% screen, no sound – 19 hours
GFX Bench T-REX: 646.9minues and 1600 frames
GFX Bench Manhattan 3.1: 616.7min and 796.4 frames
Screen-on time – 11 hours (about 400-450mA at idle)
Heavy use – 10 hours
Work 2.0 Battery life – 12:37 hours
Battery drain 100% load – 8 hours
Battery charge 5V/2A/10W 3.5 hours
Yes – it delivers two days typical use
Comms
Wi-Fi 4 single band 2.4Ghz -15dBm/78Mbps (-11/78Mbps) showing a slightly less sensitive antenna. It has BT and GPS – no NFC.
4G LTE – dual hybrid sim, dual ring tone
It has an extensive range of 2/3/4G bands – more than enough to travel overseas with it. Dual SIM is hybrid – shared with a micro-SD or two sims. Antenna signal strength is -102dBm and 39.4fW (-105/39.8). It finds the next nearest tower at -107 and 30fW (-110/31) – good. It is a city, suburbs and regional city phone. Data download (3-bar area) was 25.5/11 Mbps (25.7/10.1) and 34 (37ms) – not bad.
Camera
This is a dual camera, but the 13MP sensor does all the work – the 2MP is for macro. Compared to the e7 (48MP binned to 12MP), it does not use computational AI to produce a photograph – what you see is what you get. That means it is quite good in day and office light and forget the rest.
13MP Main (f/2.0, 1.12um) | PDAF (shows as f/2.8 in DHI)
2 MP Macro (f/2.4, 1.75 µm) | FF
1080p@30fps video (no stabilisation)
Single LED flash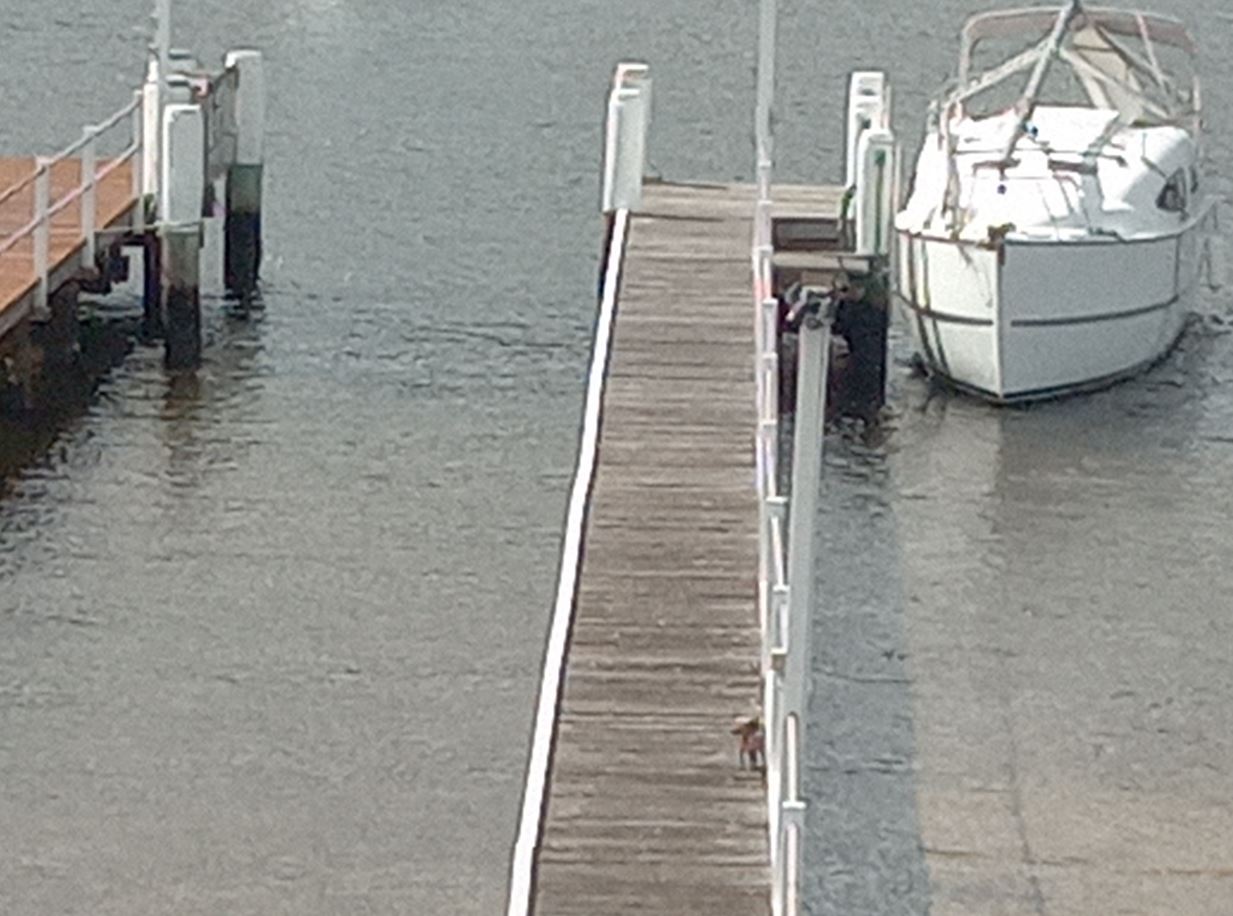 Front Camera: 5MP, f/2.2, 1.92um | FF | 66.8° – adequate
GadgetGuy's take
I often comment that you can't make a smartphone that sells below $199 because there are too many compromises. I am happy to say that the compromises on the e7 power are subtle in comparison to the $199 e7. It still presents great value and Motorola quality. Solid battery life, pure Android, and a better camera that you can expect for the price, 3.5mm audio, bumper cover and even a set of earbuds. It gets our solid recommendation for a $159 device, as does the e7 at $199.
Would I spend more to get the e7? Yes – absolutely. The extra $40 gives it smoother 64-bit performance and the additional memory to do AI computational camera processing.
The Moto e7 power presents great value and Motorola quality.
Positives
Above average battery life
Better than social media class camera
Motorola quality
You cant expect more for $159
Negatives
32-bit Android - its slow