Motorola is returning to greatness now that it is fully bedded in at Lenovo – and it is making money too. The Motorola g7 and g 7 Plus follow the amazingly popular g6 and g5 series.
Motorolla has two models for Australia that appear almost identical. Let's explore the differences and the g7 and g7 Plus $399/499 value proposition.
The g7 Plus has a slightly faster Qualcomm processor/GPU, Wi-Fi AC/BT 5.0, 27W Turbo power, 16MP OIS rear and 12MP front camera. It is absolutely worth the $100 more.
Yet, I am really happy with the performance of the g7 and $100 saving can be three to four months pre-paid voice and data, so it's a hard choice.
Whatever you select rest assured that it will be class-leading in terms of quality and reliability.
How we rate smartphones
We develop paradigms to slot them into market segments. Over the past few months, those segments have seen Apple's XS/Max set new sky-high price ceilings, foldables, 5G, and even higher specified entrants like the Samsung Galaxy S10-series (review here) and now the Huawei P30 series (review here).
Our original four categories have grown to seven, and we review against different paradigms for each category.
Foldable $2500+
Premium Flagship $1600-2499 (usually a flagship with more memory/storage, additional camera lens and now 5G)
Flagship $1000-1599 (this was our highest segment and globally phones $1000+ account for about 10% of sales)
Premium mid-market $800-999 (a new category not seeing much action – 10% at best, offering flagship specifications often for a run-out price)
Mid-market $500-799 (about 25% of the market)
Mass-market $200-499 (about 25% of the market)
Value pre-paid <A$199 (about 30% of the market – good for pre-paid and children)
Buy here – or you will regret it
We issue the standard warning that you must buy the genuine model with Australian firmware as it works on all Australian Telco carrier LTE bands and can make a 000-emergency call (not 911) without a SIM. If NFC enabled, these also have software that works with Australian PayWave readers.
The main difference is in LTE bands, and the other difference is usually RAM/Storage.
G7 Plus: XT1965-3 (check Regulatory information for the Australian C-Tick symbol). Versions of this with different LTE bands are for Western Europe, Japan and ANZ. Motorola changes the -3 for different numbers. 6 is the US, 2 is China, etc.
G7: XT1962-5 – and we thought 3 was for Australia! Here 1 is the US, 4 is China and LATAM
Don't be fooled and buy the G7 Play (XT1952) or Power models (XT1955)
A dead giveaway for grey/parallel imports is the lack of an Australian power plug dual flat angled pin charger (most supply an adaptor for dual round pin charger). Also, don't fall for the term Australian warranty. Huawei only warrants Australian model phones for two years sold by official retailers. All other warranties rely on the merchant to honour them – suspect at best as most are not Australian businesses. We checked several online stores, and all were offering grey/parallel imports (mainly the L09) meant for elsewhere.
It must natively support all Australian bands 1, 3, 5, 7, 8, 28, and 40
Review: Motorola g7 (XT1962-5) and g7 Plus (XT1965-3)
This is a dual review and where specifications will always start with the g7
Australian Website g7 here and g7 Plus here
In the box
Handset
5V/3A 15W Turbo Power Charger (27W Qualcomm QC 4/PD 3.0)
USB cable type
3.5 mm earbuds and mic
Clear bumper cover
The first impression
Both are identical – the Plus is allegedly .5mm thicker. The only give away is the dual LED flash on the Plus.
These are glass slabs with a reasonably high screen-to-body ratio courtesy of the teardrop. The bottom chin has Motorola on it. On the rear are dual cameras in the familiar top centre circle and a bat-wing logo fingerprint sensor below it. Power and volume rockers are on the right side.
Remember these are mass-market phones and we will rate them accordingly as to whether they meet or exceed the paradigms for that.
Screen – both
Size: 6.2-inch
Resolution: 2270 x 1080@60Hz
PPI: 403
Ratio: 19:9
Type: LTPS LCD
S-T-B-R: 82%
Colour depth in bit/colours: 16.7m
Brightness: 450-570 nits (g7 Plus add 5%)
Contrast: 1400:1 (g7 Plus is closer to 1500:1)
HDR: No
Colour gamut: 100% sRGB
Notch: Centre teardrop
Screen protection: type: Gorilla Glass 3
DRM Widevine certification for Netflix and other streamers
The notch is a tad larger than we like, but overall these are 1080p screens with reasonable blacks and colours within tolerance. DeltaE is around 6 (acceptable variance from 0) – colours can be set to natural, boosted or saturated.
BOE makes the slightly whiter/brighter g7 Plus screen and Tianma makes the g7. As these are volume phones, Moto needs multiple sources, and you would only notice this when placed side-by-side.
While both have enough brightness, the glossy/reflective screen reduces daylight readability.
Screen summary: Meets or exceeds paradigms especially as it has 100% sRGB colour gamut
Performance
Processor
Type: Qualcomm SD632
14nm
Cores: 4×1.8MHz LP and 4 x 1.8Mhz HP
Idle: 614/633Mhz
GeekBench single/multi: 1282/4796
Qualcomm SD636
14nm
4 x 1.6Mhz LP and 4 x 1.8Mhz HP
Idle: 633/1113
1342/4914
GPU
Type: Adreno 506
Antutu GPU score: 13845
Hexagon 546 DSP
Dual 14-bit ISP
Limited AI
Suitable for 30fps mobile games
Encode H264/265 and YouTube Live
Adreno 509
Antutu GPU score: 20865
Hexagon 680 DSP
Spectra 160 ISP plus dual 14-bit ISP
Clear sight – basic camera AI
Same
RAM
RAM: 4GB-LPDDR3 single channel
Storage: 64GB eMMC (approx. 46GB free)
OTG Support: 2TB
Separate micro-SD card slot up to 512GB
4GB LPDDR4-1333Mhz double channel
Same
Same
Same
Other
X9 LTE modem
BT 4.2
Quick Charge 3
X12LTE Modem
BT 5.0
Quick Charge 4
The difference in processors is not so much about speed but in camera post-processing, modem, and multitasking capacity.
Both run at a similar temperature 32° idle, but the SD932 heats up more under 100% load. This reflects the better efficiency of the SD636 — neither throttle under load reflecting good cooling and good thermal management.
Summary: These are ideal mass-market processors used in an almost standard Qualcomm reference design and meet or exceed your needs. The addition of a separate micro-SD slot as well as dual sim slots is excellent.
Comms
Comms
Wi-Fi N, dual bands, 1 x 1 MU-MIMO
Speed at 2/10m from router: 433/150Mbps
Signal strength (higher is better): -43dB
Wi-Di, Hotspot
Bluetooth: 4.2
USB-C 2.0
NFC: Yes
Signal strength (lower is better): -46dB
Wi-Fi AC, dual band, 1×1 MU-MIMO
866/150Mbps
-58dB
Same
BT 5.0
Same
Same
Signal Strength: -49dB
For most users, the Wi-Fi N suffices. If you do a lot of uploading or video streaming the g7 Plus will be faster.
Summary: Typical Qualcomm reference design that you find in most Pure Android phones.
Sound
Sound
3.5mm audio jack
Standard 3.5mm buds/mic
Earpiece speaker and down-firing speaker – stereo+
Mics: 2 (1 for ANC)
Google Assistant: Yes
FM Radio: Yes
Codecs: BT 4.2 SBC and aptX
Bitrate: 24-bit/192kHz
Dolby Audio-enhanced
Ring volume: 85dB
Speech/Audio: 72dB
Same





BT 5.0 plus aptXHD





The g7 Plus has the later BT 5.0, and it shows when connected to BT headphones or car audio. Volume is louder, and cross talk is lower.
Our reference Sony WH-1000XM3 headphones sounded brilliant and clear with the g7 Plus and a little more sedate with the g7.
No single speaker phone does well in stereo music – these are no exception.
The G7 has no bass, mids creep in at 160Hz and build to 250Hz where they are relatively flat to 2kHz. Treble takes over and us relatively flat to 16kHz. This is a Bright vocal sound signature and its fine for voice but a little crisp for music.
The G7 Plus is different and worse – and we can't explain why except the DAC or perhaps a different speaker maker. There is no bass, mids creep in late at 250Hz and build to 800Hzx where they are flat to 2kHz. Treble takes over and builds again to 4kHz and then is flat until 16kHz. This is more of an Analytical sound signature that is too harsh for music and can be a little shrill for voice.
Sound: Despite Dolby Audio giving smart, movie and music pre-sets neither speaker can change enough for the nirvana of warm and sweet or even mid sound signatures. Instead, they opt for vocal clarity (which is fine for handsfree). Use them with headphones and be thankful for a 3.4mm audio jack.
Other – same
Other
Rear fingerprint sensor
2D face unlock
Unlike earlier models these have e-compass
Moto also utilise all standard sensors for off-body detection and gesture control e.g. chop/chop, glance, face up/down, pocket etc
The fingerprint sensor is 80% accurate, and we repeat advice to enrol sideways and upside-down fingerprints as well. After that, we experienced 1-in-10 fails – 90% reliability.
Face unlock is the 2D variety and there is no screen fill or IR light so you can't use it in darkened conditions.
Moto gestures and actions are clever – chop/chop for a camera and more.
Battery
Battery
3000mAh battery
3000mAh
Charger type, e.g. 5V/3A, 9V/2 and 12V/1.5 (18W)
Qualcomm QC 3.0
15min for 9 hours use
1080 video test: 13+ hours
General use: 24+ hours
100% load: 3.5+ hours
Full recharge: 1.5 hours
5V/3A and 9V/3A (27W)
Qualcomm QC 4.0 USB-C PD 4.0
15 minutes for 12 hours use
1080 video test: 13+ hours
General use: 24+ hours
100% load: 3.25 hours
Full recharge: 45 minutes
Both perform well offering a full 24 hours typical use. The g7 Plus has the advantage of very much faster charging using the 27W charger or USB-C PD 3.0 to 45W.
4G/LTE
LTE
Cat 12/5 300/150Mbps 2CA
Bands 1, 2, 3, 4, 5, 7, 8, 18, 20, 26, 28, 38, 40, 41
Covers Australian needs
Signal strength (lower is better): -95dB
Cat12/13 600/150Mbps, 3CA
Band 19
Same
-87dB
Sim
Dual sim (dedicated micro-SD)
Can both be 4G
Same
Other
VoLTE and VoWiFi depends on the carrier
Same
HD voice
Calling over Wi-Fi
Our test area has weak 4G signals and our reference Samsung Note9 normally gets the best signal at -97, so these are excellent.
The g7 Plus supports HD Voice and Wi-Fi calling courtesy of the later SD636 SoC.
Operating system – both
OS
Android: 9.x
U1: Pure Android
Pure Android Pie on a mass-market device – get outa here!. But it is true, and you should receive two OS upgrades and three years of patches and security updates.
Pie has loads of new features including AI to learn about your use and adapt the phone to it. In the test week, we started to see minor improvements, especially in the over aggressive adaptive brightness setting.
Summary: If you want pure Android- who doesn't then this is it.
Build etc
Colours
Ceramic White
Ceramic Black
Deep Indigo
Viva Red
Build
Frame: Anodised plastic (matches rear panel)
Black: Ceramic
Slippery – use supplied bumper case
Fingerprint magnet
Same
Gorilla Glass 3
Same
Same
Dimensions
157×75.3x8mm x 172g
Same – 176g
IP Rating
P2i nano-coating water repellent
moderate exposure to water such as accidental spills, splashes, sweat or light rain.
Same
It is well made and has lasting quality – I would go so far as to say excellent, and that reflects it being built in Lenovo's factory – not via an ODM.
I strongly recommend a clear bumper case and screen protector if you intend to keep it for a few years.
What's missing
Missing
IP rating
Notification LED
Are they deal breakers? No! You do not expect them in this price category.
What you are getting is a premium build handset for a lemonade price with considerable added value.
Camera
At this level, all you can expect is a 'social media' standard camera. Motorola has set new standards, especially in the g7 Plus with OIS.
Rear Camera 1
Primary
12MP
Sensor brand/model: Sony IMX486
Pixel Size: 1.25µm
F-stop: f/1.8
ISO: 100-3200
FOV: in °
Stabilisation: video EIS only
Zoom: 8X digital
Focus type: PADF
HDR: Auto
AI: Limited to best shot, spot colour
Flash type: single
Saved images: RAW or JPEG
Video:4K@30fps with mono/stereo recording
Google Lens: yes
YouTube LIve upload: Yes
16MP
Sony IMX519
1.22µm
f/1.7
Same

OIS/EIS
Same
Same
Same

Dual CCT LED
Same
4K@30fps
Same
Same
Rear Camera 2
5MP depth sensor
F/2.2
Same
F/2.2
Selfie
8MP
Sony IMX320
1.12 µm
F/2.2
Fixed Focus
4K@30fps
Auto HDR
Screen fill flash
AI: Smile capture, portrait mode
group selfie, sport colour
12.6MP
Sony IMX486
1.25µm
F/2.0
4K@30fps
Same
The G7 Plus uses the Sony IMX519 sensor – the same as used in the OPPO R15 and R17 so its in good company – these are $799 phones.
All our tests are in Auto as that is what Joe and Jane Average use. All photos are g7 first (on top of g7 plus)
Daylight, outdoors (normal day around noon)
To be fair it was a fairly overcast day. You can see how the g7 Plus is brighter, has more details and more accurate colours. Yet the g7 picks up sunlight highlights on the water.
Indoors Office Light (400 lumens)
The g7 produces a good image albeit a little softer. The g7 Plus again has more light and more detail.

Low light (room with less than 100 lumens)
OK, low light is not good on wither with screen blowouts, poor colours and lots of noise. Still, these are as good as we got from some 2018 flagships.
Bokeh
Both use a 5MP depth sensor and do bokeh (out of focus background or foreground) well.
Selfie
In case you are wondering I don't do sexagenarian selfies – great face for radio! The g7 was a little washed out but had good detail. The g7 Plus had excellent detail and colours. The screen fill flash is harsh and to be avoided.
The rear camera has multiple face detection for group selfies.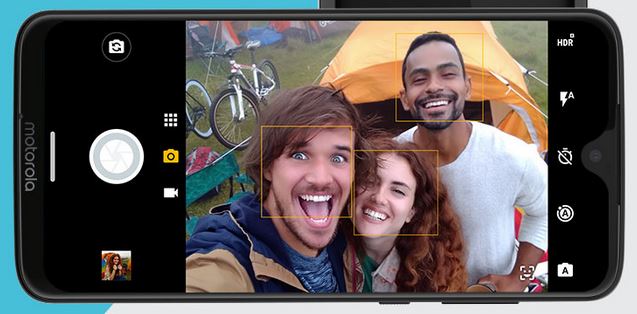 Video
The g7 will records 4L@30fps only its not very good as it does not have OIS or EIA. It does have EIS at 1080@30fps. It is fine for daylight video capturing details and colour.
The g7 Plus has 4K@30fps and again no stabilising. The OIS and EIS kick in at 1080@60fps and make superb daylight and good lower light videos.
AI software
The g7 and g7 Plus has basic rear camera AI including
Digital zoom (up to 8x)
Burst shot
Auto HDR
Timer
Auto smile capture
Cinemagraph
All in focus
Portrait mode
Cutout
Panorama
Manual mode
RAW photo output
Active photos
Spot colour
Best shot
Google Lens integration
The4 g7 Plus adds things like smart composition, smile capture, and creates an optimised second image.
GadgetGuy's take
Compared to the G6-series these represent quite a jump ahead in terms of performance for similar money.
I like Pure Android if only for its upgradeability.
They are both worthy contenders, but I think spending the extra $100 is worth it – unless you are flat broke then the G7 is damned good too.
The only other worthy contenders are the Nokia 6.1 (Review here – 4.3/5) and 7.1 (Review here 4.9/5 for its fantastic feature/value), but in most areas, the later Motorola g7-series has out-classed them – screen size, RAM, Storage etc. That may be until the Nokia 6.2 and 7.2 – how the wheel turns.
We are going to rate the g7 as a value device typical of its class – it's a 4.8-out-of-5, and that is very good.
But for $100 – $499 more you start getting into value found at $799 territory, so that is 4.9-out-5 and that is damned good.
Price
Moto Online, Good Guys, Officeworks and Mobileciti have the genuine Australian versions for $399 and $499. We repeat the warning – only buy from authorised retailers.
Build quality – top notch as we have come to expect
Style – glass slab with unmistakable Moto cues
Battery life – a full day and fast charging
Camera – you could spend $300 more and still not beat it (g7 Plus)
Display – 6.2" with good colour and brightness
Pure Android Pie with Google upgrades