Motorola's return to Australia is with the year old Moto X, a phone that prioritises voice over touch, encouraging you to talk to your phone rather than prod it with orders. But does it work, or should you wait for generation two?
Features
The first phone from Motorola that we've seen in ages, the Moto X is a wee bit late coming to Australia. Launched last year, the device back then offered some decent specifications that weren't quite as high as the competition, and now looks a little dated, especially in comparison against some of the other devices seeing shelves now.
Some of these specs include Qualcomm's Snapdragon S4 Pro, and not the quad-core version that graced LG's Optimus G last year. Rather, Motorola has equipped the dual-core model clocked ay 1.7GHz, running alongside the Adreno 320 graphics chip, 16GB storage with no microSD expansion, and that sweet spot of 2GB RAM.
Connections for the Moto X include 802.11 a/b/g/n/ac WiFi, Bluetooth 4.0 with LE, GPS, Near-Field Communication (NFC), and support for both 3G and 4G LTE in Category 3 (up to 100Mbps).
Cameras are pretty normal on devices, and the Moto X is no different, with a 10 megapixel shooter on the back capable of recording in 1080p Full HD, and supported with a flash. A 2 megapixel shooter sits on the front, once again capable of recording 1080p Full HD videos, too.
All of this sits under a 4.7 inch AMOLED screen showing the HD resolution of 720p, or 1280×720, with the soft buttons included as part of the display and capable of changing dependent on the app or operating system at the time, part of Android's current design language.
The most recent version of Android runs here, version 4.4.2 also known as "KitKat," with very little overlay changing from Motorola. In fact, Motorola's elements can be upgraded individually without needing the entire operating system to be updated, which is an interesting shift from what manufacturers traditionally do.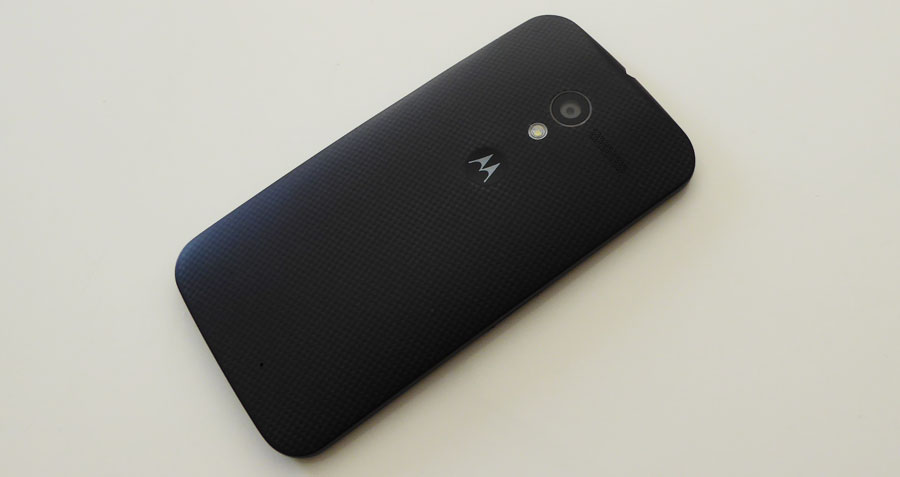 Ports and buttons are few on the Moto X, with two physical buttons on the right edge — power and volume rocker — and only two ports, with a 3.5mm headphone jack up top and a microUSB charge and data transfer port down below.
A nanoSIM tray can be found on the left edge, ejectable thanks to a pin ejection tool.
The battery is rated for 2200mAh.
Performance
You can't look at the history of the mobile phone without revisiting some of the brilliant concepts that came before the smartphone we know and love today. There have been quite a few of them, but Motorola was one of the brands that helped kickstart it all, what with products like the StarTAC and the original RAZR, which helped cement the brand in the minds of customers all over the world.
Unfortunately, the company didn't find tremendous success with its take on how phones should evolve, and bowed out from Australia eighteen months ago.
Times change, though, and so do companies, and this year, Motorola is back with products it think can bring the fight to the other companies.
The first of these we're getting to see is the Moto X, Motorola's play for the mid-range that brings the best of Google in a 4.7 inch size with 4G and a heap of voice control.
Pick it up and you see that the phone isn't quite the big devices we're seeing from other brands, going with last year's definition of big from HTC, which was a 4.7 inch screen.
For some, that screen size is perfect, and is the next logical place for an iPhone owner to go, jumping from the 4 inch screen to something more manageable than the 5 inch minimum bodies many are seeing today.
In the hands, the Moto X is more than just a screen, with a matt plastic body that almost comes off feeling rubberised, but still has a degree of heft. In fact, the phone weighs in at 130 grams, a comfy weight that doesn't make it a burden in your pocket at all.
Switch the phone on and you'll see the screen come to life, an excellent AMOLED that looks great from most angles, though can wash out at extreme vertical viewpoints. Beyond that minor issue, the screen's pixel clarity is close to what Apple offers in its Retina-grade iPhone products, with a rating of 312 pixels per inch, just ten below the iPhone number.
Using Android, owners of the phone will find an experience so close to what Google envisioned, it's hard to see what Motorola did that was different. And really, the point of this is that Motorola didn't do much on the surface.
Given that Motorola made this into a very Google-ish phone is hardly surprising, since the company is owned by Google, pending completion of a sale to ThinkPad-maker Lenovo.
But the resemblance to a Google phone is something that is very noticeable, thanks to the way Motorola has handled building the phone. Rather than create an Android overlay that runs over the surface — which is what pretty much every Android handset manufacturer does — Motorola let Google run Android the way it's supposed to, and then provided some of its programs to hook into the operations of the phone.
There's a little more to it than that, because the phone is always looking out for you to say certain phrases and the lockscreen is very different, but for the most part this is a clean Android experience that feels evolved.