Another design element we quite like is the way Motorola has handled the nanoSIM slot, which also conveniently has a microSD slot tucked inside.
This is one of those things we were critical of Samsung with this year, as all of its flagship phones skipped out on the option for expandable memory, which is a bit of a backflip from a company that had so happily taken expandable storage under its wing since it started competing against Apple good and properly with the Galaxy smartphones.
We're not sure why Samsung skipped expandable memory this year, but when we checked out the recent Galaxy S6 Edge+ and Galaxy Note 5, we were even more critical, because it felt like the nanoSIM slots could have had the extra room built in for a microSD slot if it had wanted.
Here on the Motorola X Play, we see that Motorola has made that a possibility, with a nicely designed slim and small slot featuring both bits, the nanoSIM on one side and a microSD slot on the other. It's cute, useful, and a well designed component, and companies like Samsung need to pay attention to this one because this is a great little component.
To use the phone, obviously you need to throw in a nanoSIM here, and if you want to expand on the 16GB of storage the X Play arrives with, that microSD slot will be waiting for you.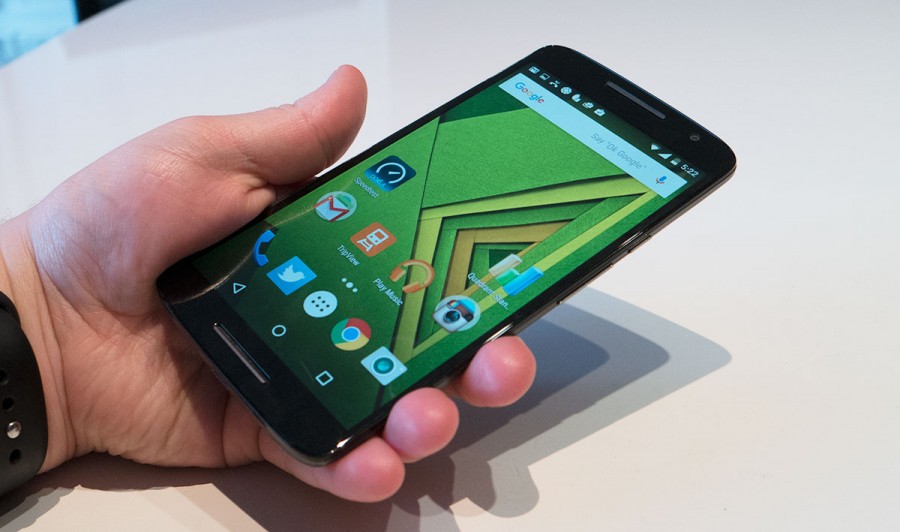 With the SIM installed, however, switch it on and you'll find a fairly bright IPS screen staring back at you delivering a Full HD resolution and some shiny Android 5.1 "Lollipop" visuals your way, with Motorola keeping it pretty close to stock, or to put it simply leaving Android the way its creators — Google — imagined it to look.
That means you get several home screens if you need them, an app menu, a drop down notification bar with shortcuts for hardware controls like WiFi and brightness, and a Google Now assistance screen to the very left.
In fact, if you're already familiar with the Google Now launcher made for Android, the experience offered here is much the same, though it feels more up to date than even that alternative launcher can provide.
This includes a change on the app menu, with your four most used apps sitting at the top of the menu, while the rest no longer flow from left to right, but rather up and down, your finger taking you quickly down the list using the letter-connected scroller on the right side if you have a burning desire to get to an app beginning with "Y" quickly.
Android itself performs well enough with the Snapdragon 615 under the hood, and you'll find most of the apps you're working with load without problems, though you may find a spot of lag here and there every so often.
Fortunately, clearing out apps is easy — the square multitasking button gets you the apps that are sitting in resident memory, and you can swipe them out left and right to get rid of them, or alternatively hit the "x" button to kill them — and this helps speed things up a bit.
Most of the time you won't have any problems, though, and Android just zips along, with Motorola's tweaks and tuning to the phone generally making the X feel decent enough.
Mobile performance is also pretty solid, with what feels like a Category 4 modem thrown into this handset, delivering speed tests of between 35 and 121Mbps on Telstra's 4GX network in Sydney's CBD, which should be well and truly fast enough for anything you have planned.
Motorola has also brought over one of its special sauce technologies to the X Play, and that's the "Active Display" technology.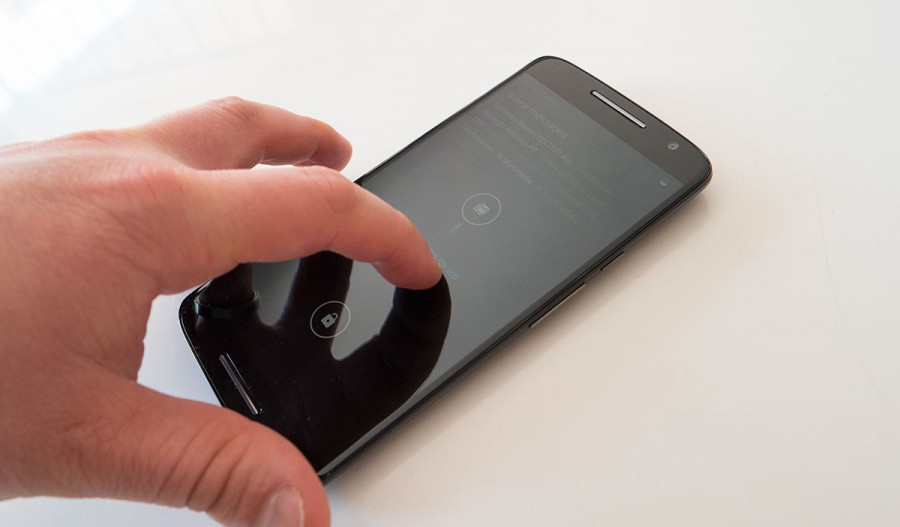 If you haven't seen this before, it's essentially a way for the phone to save the display from eating too much into the battery by running it at lower power in black and white — basically, just white text on a black screen — when notifications come in.
You might get an email or an SMS, or even a Google Hangouts notification, and this will light up, wait for your touch, and let show you a glimpse of the message to let you work out if it's worth waking up your phone for a proper check.
It's certainly handy, and if you're the sort that checks your phone all too regularly, there's a good chance that this constant relighting of the screen is denting your battery life, and that's partly where this concept is drawn from.
Does it help?
Well, in the battery department, the Moto X Play excels, producing what is easily the best performance of any major smartphone this year, providing a solid two days of battery without even trying to conserve energy.