The Motorola Z3 Play is the foundation of Motorola's innovative Moto Mods range where you can magnetically attach a range of mods to extend the phone's functionality. Inspector GadgetGuy would be proud.
So, it is important that you realise this is a review about a modular phone. Snap on a Moto Mod to the Motorola Z3 Play and you have a unique device capable of so much more than any other smartphone.
Go, Go GadgetGuy Camera – snap on an amazing Hasselblad pedigree 10X digital Zoom with Xenon flash for those amazing distance shots.
Go, Go GadgetGuy JBL SoundBoost for 10-hours of party-like sound. This is a great stereo speaker with 6W sound reaching 80dB and a warm and sweet sound signature.
We won't go, go into depth the other Moto Mods
Suffice to say these are the Z-series raison d'être – reason for its existence. Take my word from it as a happy Moto Mods user – you will love the Mods including
JBL Sound Boost stereo speaker *
Hasselblad 10X True Zoom camera *
Polaroid Insta-Share Printer *
360° camera *
Gamepad *
Insta-share Pico projector *
Incipio Vehicle Dock *
Incipio offGRID power pack (2,220mAh and Qi version as well)
10W Qi charging shell (back cover)
Style shell (back cover)
Power pack
Turbopower pack
Moto Mods are a little bit of a religion with most Z-series owners buying between three and five. In my case, the Hasselblad 10X True optical zoom camera has been invaluable as a journalist wanting to get better long shots. The speaker really makes listing to music on a smartphone a pleasure again. The Incipio offGrid 10W Qi charging/powerbank completes my travel kit.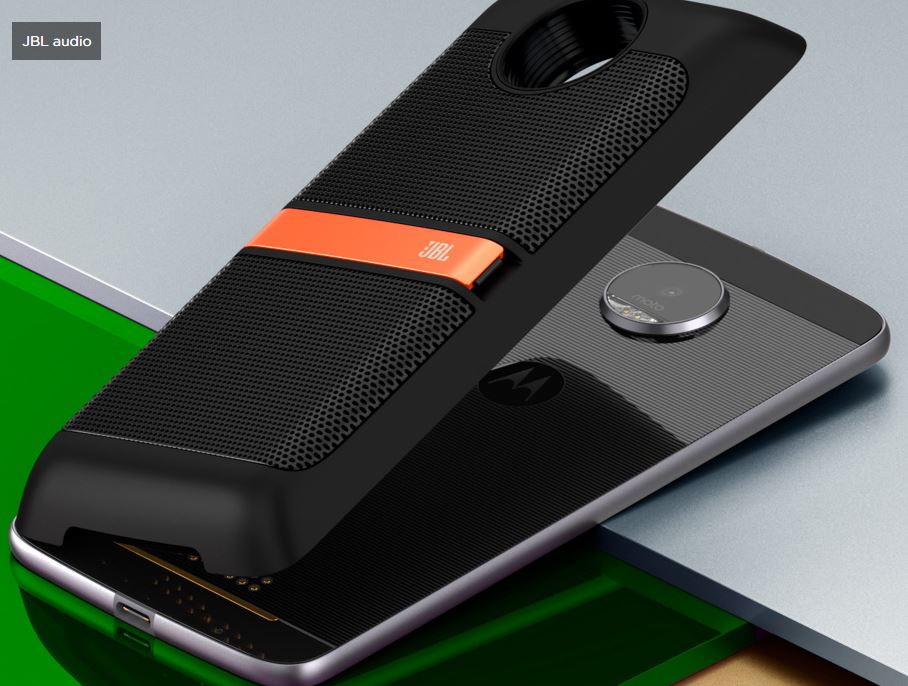 But we are here to review the Z3 Play – the third generation of Z-series and a mid-tier phone at $799 including (for a limited time) a choice of a Moto Mod (* above) – good value!

Review: Moto Z3 Play
Australian Website here
In the box
Moto Z3 Play
USB-C Qualcomm 5V/3A, 9V/2A AND 12V/1.5A Quick Charge 4.0
USB-A to USB-C cable


3.5mm earbuds/mic
USB-C to 3.5mm DAC adapter
The first impression
It is very thin at 6.75mm and light at 156g – part of the Moto Mods design. The Mods require all Z-series to have a dimension of 156.5 x 76.5mm to accept the magnetic interchangeable add-on devices. That is what the row of 16 gold pogo pins on the rear are for.
The original Z had a 16:9 screen and largish top and bottom bezels. The Z3 Play has a more modern 6.1″, 18:9, 2160 x 1080p screen, so it has a smaller top and bottom bezel to fit that same size chassis.
It is the entry-level and uses a Qualcomm 636 SoC. The Z3 (standard) uses a more powerful Qualcomm 835 and has a different camera – it is not sold in Australia.
After a week of solid use, I can say that Motorola (a Lenovo company) knows how to build a good quality device that works in perfect harmony with the pure Android.
It is a mid-range device using the same processor as BlackBerry Key2, Nokia 6.1/Plus/7.1 – it has plenty of power all around.
Buy here – or you will regret it
The Model number is Model XT1929-8, and the firmware is 'retapac'. There are at least seven other variants (XT1929-1-to-7) for different countries and carriers.
We issue the standard warning that you must buy the genuine Model with Australian firmware as it works on all Australian Carrier LTE bands and can make a 000-emergency call without a sim.
Screen
6.01", 2160 x 1080, 402ppi, 18:9, Super AMOLED, Gorilla Glass 3,
77.9% S-T-B-R
MPEG4, H.263, H.264, H.265, VP8, VP8 video playback
As an AMOLED, the colours are vibrant, and blacks are black. It reaches 93% Adobe RGB and 100% sRGB.
It is a very bright screen at 650 nits (max-auto) and 450 nits (typical). Contrast is infinite. To put that in perspective it's almost as bright as a Samsung Galaxy S9.
Out-of-the-box, colours default to vibrant rather than accurate. Colour temperature is adjustable from Warm to Cool and offers standard and vibrant saturations. You can get them very close to accurate which is good for photographers.
Adaptive brightness is fine – not too over aggressive to save battery and will be helped by Android Pie (coming). It is a great outdoor readable screen.
It lacks a customisable Always-on-Display that found on many OLED smartphones, but it does show a clock, battery charge and notifications when you look at it (attentive display).
Performance
Processor
Qualcomm Snapdragon 636 SDM636 (14nm)
Eight-Core
1.8Ghz Quad-Core Kryo 260 Gold
1.6Ghz Quad-Core Kryo 260 Silver
GPU
Adreno 509
RAM
4GB LPDDR4X
64GB UFS 2.0 (50GB free)
micro-SD up to 2TB (uses second sim slot)
OTG to 2TB
Performance tests with Geek Bench 4 are 1924/6614 single/multi-core. This is in line with other phones using the same SoC and shows a good implementation of the Qualcomm SoC. By comparison, it is about the same speed as a Qualcomm 835 based Google Pixel 2 XL.
Renderscript (video performance indicator) is 4231 which means it is VR capable (as an AMOLED screen should be). It achieves 60fps in common games.
RAM is the latest LPDDR4X. There is no lag or stutter with several apps open at once.
The external temperature at 100% load is 38° – fine for a pocketable phone. We did not see any evidence of throttling.
Comms
Comms
Wi-Fi AC, dual-band, MU-MIMO, Wave 2
Wi-Di, Hotspot
Bluetooth 5.0 aptX/HD
USB-C 3.1
NFC
Wi-Fi signal at two metres from our reference D-Link AC-5300 router is 867Mbps – as fast as the 5GHz chipset allows. At 5m it was 380Mbps and at 10 metres, 120Mbps. Then the 2.4Mbps band took over.
Bluetooth 5.0 should support aptX/HD, but in all our tests it defaults to the SBC standard codec.
Sound
Sound
Earpiece mono speaker
ANC dual mics
24-bit/192kHz
MP3, WAV, eAAC+, FLAC
The single earpiece speaker is loud as both a ringer and for voice achieving over 80dB for both. Only the HTC U12+ is louder. The sound is surprisingly distortion free and hands-free is excellent.
Sound signature is no bass, good mids and highs. This is a Bright Vocal signature best for voice.

Using the USB-C DAC to an amp, it provides a good flat 20Hz-20kHz frequency response and lots of volume (signal strength).
We are very happy with the sound and volume on our Sony WH-1000XM2 reference headphones.
The Moto Mod JBL stereo speaker, however, adds so much more depth adding hints of bass from 70Hz. Its not room shaking but it changes the sound signature to warm and sweet which is best for movies and music.

Other
Other
Fingerprint sensor built into the right side power button
Face unlock
A-GPS, GeoTagging, GLONASS, BeiDou, compass
We could be unkind and say how infuriating it is to have the power button on the left side, but after a week it was simply like driving a European car with the indicators on the wrong side too! Face unlock was consistently accurate but could be a little slow in dim light.
Battery
Battery
3,000 mAh battery
15W Quick charge Qualcomm Quick Charge 4.0
30 minutes gives approx. 50% battery charge
Extendable with Moto Mod to include Qi and power banks
GeekBench battery test was 8 hours at 100% CPU load and a battery score of 4532.
The FHD video loop went for 11 hours.
In general use, it easily went a day and a half.
Using the 15W charger, it went from 0-100% in just over an hour. Using a standard 5V/2A charger, it took about five hours. Using a 10W Moto Mod Qi charge back it charges in 3 hours.
But note that you can add a Moto Mod power or Turbopower back and add an extra day or two use.
4G/LTE

LTE
Qualcomm X12 modem Cat 13 (600/75Mbps)
Bands  1, 3, 4, 5, 7, 8, 12, 17, 18, 19, 20, 26, 28, 38, 40, 41
Sim
Dual sim (Hybrid with microSD card)
Only first sim can be 4G
Other
VoLTE and VoWiFi depends on the carrier
Operating system
OS
Android 8.1
Android Pie coming and perhaps Android Q
Security updates for three years
Pure Android uses all Google Apps including Google Assistant and Google Lens
Moto Experiences: Gestures three finger screenshot, screenshot editor, one-button navigation, chop twice for a flashlight, twist for quick capture, swipe to shrink the screen, pick up to stop ringing, flip for do not disturb


Build etc
Colours
Deep Indigo
Build
Aluminium 6000-grade fr
Front and rear Gorilla Glass 3.

Dimensions
156.5 x 76.5 x 6.75mm x 156g
IP Rating
Splash resistant p2i
What is missing
Missing
No notification LED
IP rating – although few mid-range smartphones have it
3.5mm jack (USB-C adaptor supplied)
Camera
Rear Camera 1
Primary
12MP, f/1.7, 1.4µm pixel. phase detection auto-focus (PDAF)
Face/smile detection, HDR, dual-tone LED flash, spot colour, cut-out mode,
4K@30fps video
Google Lens and free Google Photo storage
Missing: OIS (Qualcomm SoC provides some EIS for video)
Rear Camera 2
5MP, depth sensor for bokeh
Selfie
8MP, 3264 x 2448, f/2.0, 1.12µm pixel, 84°, fixed-focus, screen fill-flash, 1080p@30fps
Google Lens
Under the right conditions, The Z3 Play can produce brilliant photos, but it is mostly just a solid performer. The Hasselblad 10X True Zoom really adds to the Z3!

Low light is its Achilles heel and flash can overpower light areas. The best results here are with a tripod. Let's face it lack of OIS on any smartphone makes low light photography challenging.
Daylight, outdoors
Vibrant yet accurate colours, sharp image, good detail
ISO 50, 1/2500 sec 4.5MB
Indoors Office Light
Great detail, accurate colours and just enough bokeh
ISO 92, 1/100 sec, 3.2MB
Low light
Quite a good shot bringing up light and colours to acceptable levels. PC monitor screen washout is evident despite HDR. Flash would have overpowered this shot.

ISO 289, 1/30 sec, 2.9MB
Selfie
8MP is a long way from those offering 20MP or more. But it is adequate with true colour and the option of using screen fill light. It does bokeh via a single lens using the SoCs processing power. Again, it's adequate.
It has cinemagraph (captures seconds around each shot), portrait mode (bokeh), group selfie mode, YouTube Live mode, face beauty, manual mode, face filters and colour pop (select a single colour and rest is mono).
Video
While it will do 4K@30fps and FHD@60fps the lack of OIS means going above FHD@30fps requires a tripod. EIS is evident as the SoC crops the shots to keep them looking unshaken! Colours and sound are good.
Camera software
You can read more about the camera modes here.
Cinemagraphs, portrait mode, spot colour, cut-out mode, face filters, panorama, manual mode, YouTube Live mode, landmark and object recognition (Google Lens), real-time text translator (Google Lens), text scanner, active photos, barcode and QR code scanner, business card reader.
GadgetGuy's take
There is only one reason to buy the Moto Z3 Play – Moto Mods. To be fair to Motorola that is like saying if you are a farmer buy a tractor to plough the fields!
If you have a use, then this is a fine all-around smartphone. If you don't have a use, then the Moto G6-Plus at $499 (review here) would be my choice. It too will also get Android Pie.
Me, I love the Moto Mods concept. It is one of the very few true innovations in 'black glass slabs'. The Moto Z3 Play remains compatible with all earlier Moto Mods. And rumour has it that there will even be a 5G Moto Mod!
It ticks all the boxes as a standalone mid-range device but excels as a unique base for Moto Mods.
Good base for Moto Mods – unique in that regard
All day battery life (extend it with Mods)
Competent camera but lacks OIS (ditto)
Moto quality – well built, local support
Great AMOLED screen
Pure Android and getting Android Pie
Free Moto Mod while stocks last!!!
Verging on a little expensive for the mid-range space
If you embrace multiple Mods it can be a costly exercise
No formal IP rating