In a very crowded market that includes GPS units fitted as standard in many new vehicles, smartphone GPS apps and a flood of no-name online specials the Navman Drive Duo SUV stands out as a combo GPS and Dash-cam unit with the works.
The Navman Drive Duo SUV has been around since 2017, and I guess it is a case of 'if it ain't broke, don't fix it' although firmware updates address some early 'bugs'. I mention this because early reviews mention lockup and slowness issues. I did not notice any this time around – it was a pleasure to use.
Let's segue before the review and talk about so-called Lifetime maps.
The ACCC singled out the worst offender Tom Tom for misleading statements about Lifetime maps when it arbitrarily withdrew support for GPS models, often less than three years old. I know – at that time my daughter was inundated by Tom Tom emails saying her 2015, 6-inch Tom Tom Go 6100 was no longer supported.
Navman and Garmin were the 'good guys' here – both stating that the length of time varies depending on the memory capacity of individual models to accommodate new larger maps, as well as whether their mapping provider continues to supply those maps. As it should be.
So, Tom Tom bad. Navman and Garmin good!
Dedicated GPS or alternative
One of the biggest competitors to dedicated GPS, the smartphone is really no competitor. Having used all types, the dedicated GPS stands out due to
Part of your car's electrical system – on and off. Smartphones keep running and go flat. Then they take a long time to charge enough to run the GPS – not convenient
Vastly easier route setting including POIs, near intersections, and autofill (smartphones often need a full address)
No need for an internet connection so it works in tunnels etc. (smartphones can work off-line but are invariably slower, have issues with turn-by-turn and are and less accurate)
Faster response times especially in critical turn-by-turn situations and to get a GPS signal
Bigger unimpeded screens and very much cleaner user interfaces
And you can't touch a smartphone in a car without getting a fine!
Review. Navman Drive Duo SUV GPS and Dash-cam combo. $479 Model AA0072003
Website here
6-inch, LCD Touch screen with the familiar Navman tile user interface
8GB internal memory expandable to 32GB via microSD for maps
Separate microSD for video and stills expandable to 64GB (16GB supplied)
Wide-angle, glass lens, 2MP sensor for 1296p or 1080p recording
Large vehicle assist (for Motorhomes etc)
ADAS (Advanced Driver Assistance Systems) including speed display, over speed warnings, school zones, forward collision and lane departure warnings, landmark guidance, 3D junction view
Free monthly maps and SUNA Live Traffic updates (with supplied RF cable)
Bluetooth handsfree
2-year warranty
Any many more – it has more features than a typical GPS
In the box
Drive Duo SUV
240V to 5V/2A mini-USB charger
12V Utility charger 5V/3.4A with fixed micro-USB cable and SUMA traffic receiver (has additional USB-A output 5V/1.4A)
Glass suction mount that sits on top of the unit
Setup
It is not a small unit at 17.3cm x 10.1cm x 1.8cm. As it has a camera facing the windscreen it needs to mount high enough to 'see' over the bonnet. The camera has a 45° (approx.) adjustment angle, but it still mounts best in the middle of the windscreen.
I tested in the latest Lexus NX-300 SUV with an expansive windscreen that curves further back towards the driver than most. The bottom line is that with a large sweeping vista it needs to mount higher than in a car/SUV/Motorhome with a more traditional angled windscreen. Best advice – before you buy, ask the retailer if you can test fit it to your car.
These days the 12V utility socket tends to be in centre console boxes or glove box. In an expensive car, you are going to notice the cable hanging down over the carbon-fibre and leather trim. But as you must use the special cable to get SUNA traffic updates you may want to consider getting an extension cable so you can hide it a little more conveniently.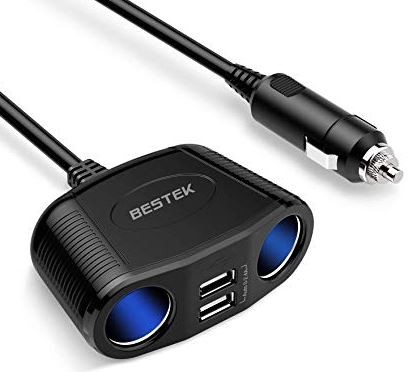 GPS
Without intentionally glossing over the huge range of GPS navigation features these are the most important.
Spoken street names and landmarks
3D photo guidance of main intersections
Premium spoken driver alerts like lane merge, steep hills, etc
Distance and time information on the sidebar
Uses Here Maps – my personal favourite
I enable My Drive to lean my route settings and preferences and for multiple destination trips (waypoints).
Search is very flexible
It offers keyword, postcode, intersection, POI, City/Suburb or even GPS coordinates.
Address works backwards from city/suburb and auto-fills as you type. It then offers a choice of Fastest, Economical, Easiest, or shortest routes (in different colours) and then GO. Keywords search from your location, so it lists Sydney Airport (90km away) the Bankstown, then Newcastle etc.
We found it far easier to use over an in-car GPS that uses a touchpad or rotary dial.
Note that a GPS is only as good as it's up-to-date maps.
Camera
The camera has a 1296p sensor and f/1.8 (good for low light), wide-angle, 130° glass lens.
Although the nomenclature is 2K it uses a 2304 x 1296-pixel resolution sensor (2,985,984) and will record in 1296p or 1080p (1920 x 1080 or 2,764,800) at 30fps.
The 2K resolution makes the most of the wide-angle lens and produces a slightly clearer image – files are about 10% larger files than 1080p. A three-minute clip is about 325MB. Stills are 1.3MB – here the wide-angle fisheye effect is evident.
The Navman Drive Duo SUV comes with a 16GB micro-SD starter card.
We say starter because, depending on use, it could cycle through the capacity in as little as 148 minutes (49 x 3-minute 1296p clips). At a minimum get a Class 10 (10MBps), UHS Class 1 (U1), Video 10 (V10). It also helps if the card is High Endurance as the video it overwrites when full. Maximum size is 64GB.
The 3-axis G-sensor trips recording in contiguous segments (1, 3 and 5 minutes) and you can manually take a still. Both have GPS coordinates/speed/time/date stamp. If you want to save these, you can move them to the event vault folder. You can turn on WDR wide dynamic range and adjust exposure levels – leave these at default.
You can also select continuous recording or event/emergency recording.
The camera provides Lane Departure and forward collision warning. If not calibrated and placed correctly it can affect accuracy.
You can also purchase an optional rear-facing 1080p camera for $139.
Practical Motoring has a good review of off-road use and a video of the dashcam
Image quality
In daylight or overcast weather, video quality is fine with reasonable colour and makes the best use of the wide-angle lens. At night or very low light (under 100 lumens) it becomes grainy and loses colour. In both cases, there is enough detail to pick out licence plate numbers etc.
You can edit the MP4 videos, or JPG stills on a PC or Mac via MiVue Manager software for Windows and macOS.
MiVue allows you to manipulate images and videos taken on the dash-cam. It is old software version 1.0.33.21 and has no screen re-sizing on multiscreen monitors and docks.
However, it does view video and has a visual representation of speed, latitude/longitude, altitude and G-force. It has an .KML option to display geographic data in a Google Earth browser.
Navdesk for Windows or Mac
Download Navdesk and install. Be aware that if you are using a dock and or multiple monitors, it may not scale (and you will see very small type). Adjust your screen resolution to 720 or 1080p temporarily or use a magnifying glass. Regardless it should find updates and only require you to accept to install. However, it is less than acceptable that Navman/Mitac have not fixed this.
4WD driving tracks
4WD may be a misnomer – these are more weekend SUV tracks. So, if you are a hardcore weekend warrior or bush basher then get a GPS that will load Hema 4WD and touring maps with trip planning, PC connectivity etc.
The maps are an amalgam of HEMA, Hardie Grant (Explore Australia), Outback Travellers and others and include 123,000km of HERE 4WD tracks and over 14,250 additional off-road points of interest, including 7660 campgrounds.
It also has Zomato and Lonely Planet data. We did not get to test this due to the lack of a 4WD! Other reviewers have said the tracks can be hard to read and lack topographic information.
Large vehicle assist (up to 9 tonnes)
You can enter vehicle height/length/size/weight data to assist with to avoid narrow bridges. It is great to add a boat or trailer dimensions to help avoid bottlenecks or difficult roads. So, if your rig is less than 15m long, 3.5m wide and 4.6m high, it is for you.
Drivers of larger vehicles can purchase the B-Double add-on). If you have a motorhome or tow a van or boat – just get it!
Voice and Bluetooth
It is adequate as a Bluetooth hands-free phone device – nowhere near the fidelity of a dedicated BlueAnt or similar. It pairs easily with a single Android and iOS device although it can be a tad slow to recognise it when you return to the car. To access hands-free calls, you must press the screen icon. It does not read SMS messages.
As for voice control, it is patchy at best. To use voice, you say a command word and follow the prompts. Sometimes it would work, sometimes it waits for seconds and almost always gets the wrong address – try saying Woolloomooloo – forget it.
I guess you don't buy this for voice control.
ADAS (Advanced Driver Assistance Systems)
ADAS features that rely on the camera "seeing" the vehicle may suffer at night. Also, the GPS provides speed camera alerts, fatigue alerts and more.
The camera enables lane departure warning (LDWS), and forward collision warning (FCWS about driving too close to the car in front).
One-off calibration is easy following the on-screen prompts. ADAS LDWS is, as in most GPS equipped cars, patchy.
Manual
There is a 100-page manual here – Select Drive Duo SUV
GadgetGuy's take – Navman Drive Duo SUV is unique
6" car GPS – it rates very well
Combo GPS and camera – it is a cut above other contenders and only needs the one power cable.
A motorhome or if you tow a caravan or boat – it should be mandatory
4WD off-road device – only for soft-roading
It has been around a while, and that means it's filling a niche need for a larges screen combo dashcam. Design wise it is feeling its age compared some of the newer full screen, small bezel units with more powerful processors but these lack an integrated dash cam. It is unique.
Price:
$479 but look for specials closer to $430 at major retailers.
Positives
All in one with a great GPS and fit for purpose dash cam
Really easy to use, intuitive interface
Best for soft-roaders and larger vehicles
Negatives
Largish unit can obstruct view – make sure it fits your car, and you can use a top mount
Navdesk and MiVue need updating to modern software standards
Extra camera is $139 and reduces 2K to 1K for both cameras
Older micro-USB connector
Voice command is useless - really useless