The new Navman MiCam Explore 7″ solves one major problem with dash-mounted cameras and satnavs. It is a combo satnav and dashcam saving windscreen/dash space and only needs one power cable.
In fact, Navman MiCam Explore 7″ solves several problems with using two devices, especially if you have been struggling with an outdated in-car GPS or a separate small dashcam.
Navman MiCam Explore 7
Website here
Manual here (it is a PDF so check downloads)
Warranty: 2-year ACL
Price: $499
From: JB Hi-Fi, Harvey Norman, Bing Lee and most CE stores
Navman is a brand of MiTAC (Est. 1982), a Taiwanese electronics manufacturer and a subsidiary of SYNNEX.
Let's address the benefits of this over a typical in-car satnav unit then 'Explore' them further.
As usual, we use FAIL, PASS or EXCEED against various tests paradigms. A pass means it meets our expectations for fit for purpose.
In-car Satnav issues versus Navman
Free monthly map and safety alert updates for Australia and New Zealand – EXCEED
I don't know about your in-car unit, but annual map updates cost from about $200 on lower-cost cars and up to $1000 on premium brands. Some smart car makers, not many, now offer free annual updates if you use their dealer services within warranty.
Maps get out of date very quickly – EXCEED
We have a 7.7 million sq km landmass and 1.65 million kilometres of federal and state roads. Australia's roads change each year (new, realignment, bypasses) amounting to many tens of thousands of kilometres. That does not include off-road and private roads. An annual update simply does not cut it especially around new complex intersections, tunnels, bypasses and in new estates.
Navman has free monthly updates, and this one does it via the Home Wi-Fi network – no need for an app, but there is one too.
Bluetooth – PASS
The Navman Companion app for Android and iOS gives you remote control over the MiCam. You can specify addresses and more and upload to the MiCam. It also enables hands-free phone, and voice-activated calls and SMS.
One main issue – once paired the Navman becomes your default hands-free speakerphone. Make sure you remember to disable this aspect if you don't want it.
Live traffic updates use phone mobile data. A Roadside Assist function is available too that relays GPS coordinates.
Simple address find – EXCEED
Most in-car satnavs use a complicated alpha-numeric dial or uber-touchy trackpad to type in addresses. Most start with the state, suburb, street, and number – not very intuitive at all.
Navman allows you to find by address, (e.g.,12 Smith Street, and it prompts you if there are options), keyword, Point of interest or pin drop on the screen. And not to mention that its handy magnetic mount makes it easy to take off the windscreen and search.
Fastest, shortest, toll etc. – PASS
Most in-car satnavs default to the shortest route using tolls. Yes, you can change the defaults, but it is not easy, and you can permanently lock out toll roads.
Navman Trip select gives you all the options upfront including shortest, fastest, easiest, tolls, unsealed roads and more.
Live traffic alerts – PASS
The majority of in-car units do not have live traffic alerts to help avoid congestion or accidents.
Navman uses a paired smartphone to give the option of recalculating the route to the fastest available.
Premium driver alerts – PASS+
Most in-car units now alert you to fixed speed camera's, school zone and if you are exceeding the speed limit.
Navman takes that far further with things like road changes (merging lanes, overtaking lanes, road narrowing), animal crossings, driver fatigue and many more. Yes, it can be annoying to hear all of these, but unlike in-car units, alerts can be customised or turned off. And they are updated monthly – no more false alarms.
Massive 7″ screen- EXCEED
OK, you think 7″ is large and may take up too much space – it does not. What 7″ does is enable you to see the road names and the route – with far more detail than most in-car units.
It also has a choice of map themes, including Hi-Viz and contrast for colour-blind and vision-impaired drivers. I had a 6″ Garmin unit, and I am blown away with the 7″ that fits into the same space as an older 6″ as it has far smaller bezels. Oh, and it has pinch-zoom too.
And I like the text size of the speed limit and your speed – its larger than most.
Other Navman satnav features – EXCEED
There are too many to list, but these are the main ones that many in-car units generally lack.
More route status info than just distance/time to finish
One-touch short-cut button for home, work, favourites, recent, petrol, ATM, shops and many more destinations
Smart route learns your route habits and preferences
Trip planner for multiple stops before a destination (plan your house inspections for the weekend)
Advanced 3D picture lane, turn-off and landmark guidance that reduces missed turns
Fuel type search
Customisable alerts including voice navigation (spoken street names)
Parking station find
Tax time reports (vehicle log can be exported and categorised)
Navman integrated Dashcam – PASS+
Very few cars come with an in-car dashcam. This 'fad' has become almost de rigueur as police, media and insurance companies increasingly seek video evidence.
The footage from the removable micro-SD card now classifies as 'chain of evidence' for the courts so don't try to edit video or images in your favour!
My daily drive is a 4K dashcam, but there is one huge problem – 4K file sizes are about 400MB a minute chewing up a 32GB microSD in 80 minutes! Once a card is full, it starts recording over itself.
Navman uses a 1080p Premium Sony Starvis sensor, 140° FOV and a 4-layer glass lens and a fifth layer of the infra-red lens. For the techies, this means a back-illuminated CMOS sensor with 2.5um very large pixels. It is capable of extracting the brightest images in night conditions. It records 1080p at 100MB per minute or 320 minutes before a 32GB fills. Use Class 10/UHS 1 video recording 128GB MicroSD cards – I suggest you get one.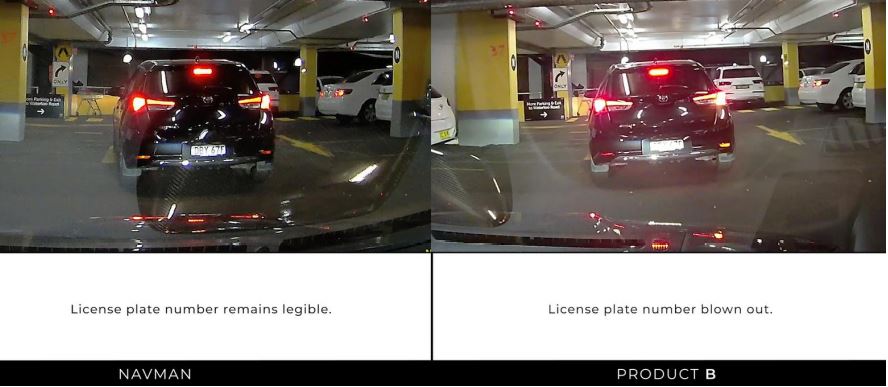 By default, it records as soon as you start driving in 1-minute blocks (adjustable to 3/5-min). You can also select 720p/480p for smaller file sizes, but you lose finer detail.
BTW be aware it also records driver audio! You can also take a still image. If an event happens, it transfers the video into a safe folder.
The footage is MP4. You can view footage via MiVue Manager or edit with any video editor.
We will update this with Starvis night photos soon.
Setup – EXCEED
The magnetic mount uses a suction cup to attach to the windscreen. You can place it either in the centre or to the drivers right. It should not obscure forward vision. The 140° camera lens is adjustable.
Bring up the camera icon to ensure adequate photo alignment.
The screen is fairly glossy, so its best angled to suit the driver, not the passenger.
You can select vehicle mode – car, SUV/Van or Towing (up to nine tonnes) and it adjusts parameters to suit. This includes vehicle length, weight, height, width etc. So if you are towing a van, it won't recommend small car parks or those with a low ceiling height.
Default route type includes easiest, fastest, economical and shortest, and it still gives you options at navigation time. Route settings have options to avoid unpaved roads, 4WD tracks, tolls and ferries. You can specify road names/areas to avoid.
I particularly like route simulation, where you can rehearse the route before you go.
GPS satellite acquisition is fast – within a few seconds of it 'seeing' the sky.
Safety alerts – PASS
Karen (English voice) or Lee (US voice) are fairly direct but polite. They can announce safety alerts including speed limits (and you can choose 5/10kmph over the limit), fixed speed cameras, school zones etc. All are customisable so you can hear what you want and relegate the rest to visual warnings.
Navigation to Points of Interest – PASS+
It is one of the most comprehensive databases provided by Here Maps. Suffice to say it can find shopping centres, breweries, hotels, restaurants, and more. You can set home, work and frequent addresses.
After you enter a location, you can get further local information like nearby petrol, parking, cafes, shops etc.
You can also plot complex routes and add waypoints. Perfect for visiting lots of house inspections on the weekend!
Here Four-wheel drive tracks Australia – Not tested – PASS
140,000km of popular 4WD tracks and POIs pre-installed on the device.
Convenience – EXCEED
You may recall I mentioned a magnetic mount. Its probably the greatest, most underrated feature.
Instead of having to reach over to access the device on the windscreen, you simply pull it off and do it from the comfort of your seat. It is smart enough to know if you are moving and asks if you are the passenger. If so, it allows you to use it. If you are the driver, it won't accept commands until you stop.
In the box – EXCEED
MiCam Explore Unit
Dual USB Vehicle Power Adapter
USB-A AC Power Adapter
Windshield Mount
USB-A to Micro-USB Cable
Quick Start Guide
GadgetGuys's take – Navman MiCam Explore 7″ is the best combo satnav and dashcam with the most features
I have been reviewing satnavs for over a decade and dashcams for about half that. I know what to look for. And to be fair pretty well all major satnav brands (except Tom Tom) are reasonable.
I was very relieved to see the old Navman tiles system replaced with a new clean interface (and that it runs on Android).
The Navman MiCam Explore 7″ includes the proverbial 'kitchen sink.' I have looked at several other brands, and not one other tick all these boxes.
But I need to make a special mention of the price. At $499, you get a 7″ screen, Wi-Fi free map updates, Starvis camera, and one of the most refined and easy to use navigation systems.
Even if you drive a swanky, expensive car and don't want to mess up the immaculate interior, I can guarantee that after a weeks use you won't want to go back to the in-car compromise.
These have been so popular that they sold out AND Navman hopes to see them back in mid-December in time to go under the Xmas tree.
Positives
Combo unit takes less space and only one power cable than two devices
One of the most intuitive and easy to use interfaces
Sony's Premium Starviz camera quality
Free monthly maps for the life of the unit
A magnetic mount is the star feature
POI and local information features work well
Very comprehensive 4WD routes
Negatives
1080p video is 100MB a minute – get the biggest microSD you can afford
Live traffic uses smartphone mobile data (but not much)