The NETGEAR Arlo Pro 2 is an update to its successful Arlo and Arlo Pro security cameras.
I use the term 'successful' because NETGEAR is a master marketer. They have smick marketing material, lovely point-of-sale, copious positive blogs, and multiple nice websites. You buy because of the brand recognition – not because it is superior to other offerings.
GadgetGuy got his 'tiny whities in a twist' over the Arlo Pro 2 press release jam-packed with more marketing BS per square centimetre than even we could stomach.
We asked NETGEAR for an Arlo Pro 2 review unit, and this is our objective, unvarnished, and unapologetic review.
GadgetGuy's review paradigms – security cameras
We use the following review paradigms for security cameras. We test them in real-world situations for at least a couple of weeks.
Our test setup includes using NBN 100/40MB/s connection and a D-Link AC5200 DLR-895L tri-band router and/or a Telstra Wi-Fi AC router. Remote viewing is via an NBN 100/40MB/s link. In short, these are pretty much ideal conditions.
Ease of setup – is there just an app or is a base station needed
Day and night video and still image quality including zoom
Motion detection and zone setup
Two-way speech (microphone/speaker)
Battery life
Wi-Fi connectivity
Video/still storage – cloud, SD, USB, NAS or a mix
App – ease of use, information required
Cost – we don't comment on price, but we do assess the value
Usage recommendations
We don't read the marketing BS or other reviews until we have finished our review. Then we often laugh that many reviewers take marketing information at face value and frankly too much of that hyperbole appears in so-called independent reviews!
Please don't confuse this with the Arlo Pro, 2-pack camera – it is the older Pro version.
| | | |
| --- | --- | --- |
| Model | Pro | Pro 2 |
| Video | 720p@15fps and frequently drops to 480p | 1080p@15fps video and frequently drops 720p@15fps or lower |
| Stills | 1280 x 720p, about 75kb file size. | Same |
| Field of View | 110° (less fisheye) | 130° more pronounced fish eye |
| Recording time | Eight minutes recording | Continuous video recording (CVR) if you have the paid cloud package and only if on AC power |
| Look back | No | Three seconds if on AC power |
| Zones | No – motion record only | Three rectangular zones if on AC power |
In common
Need the Base unit
Weather resistant
Similar dimensions
Similar rechargable battery
IR LED night vision
PIR motion and sound detection
Amazon Alexa, Google Home, SmartThings, Wink, IFTTT, etc.
Free seven-day basic cloud storage (overwrites all content every seven days)
In the box – Arlo Pro 2 VMS4230P two camera and Base A$799
Arlo Base unit and proprietary charger.
Ethernet cable connected to the router.
2 x Pro 2 cameras and removable batteries
2 x magnetic bases (with screws)
1 x USB Charger 5V/1.8A or 9V/1A (9A total) – indoor use only
1 x flat USB-A to micro-USB cable
Brief manual and documents
Warranty is one year only if purchased from an authorised NETGEAR reseller – not third-parties
Options (Prices from JB Hi-Fi )
VMC4030P one camera only $349
VMB4000 Base only
VMS4330P three camera/base $1099
VMS4430P four camera/base $1199
VMA4400 spare battery $99
VMA4400C dual battery charger $99
VMA4700 weatherproof USB charger
VMA4600 Solar panel charger (does not enable additional features) $149
VMA4200B and VMA4200 three skin packs $39
VMA1100 table magnetic mount $29
VMA4000 outdoor ¼" mount $19
Ease of setup – Arlo app and Base station needed
Download the Arlo iOS or Android app
Create an Arlo account (if you don't already have one)
Select free basic 7-day storage or a paid cloud account
Plug the Base into power and Ethernet cable to the router
Use the app to discover the router and connected it to the internet
Pair cameras by placing them one at a time near the Base.
It is easy and foolproof.
NETGEAR suggests a camera Wi-Fi range camera up to a 100m (outdoor line-of-sight), but we found it is closer to 20-30 metres inside a typical home. We did try 50m line-of-sight, but the connection was patchy at best.
Arlo Base station
It is a Wi-Fi N 2.4GHz station connected by Ethernet cable to the Wi-Fi router. Three lights in front indicate it is on, you have an internet connection, and at least one camera is connected. If one or more lights are orange or off – it is not working.
It can support up to 15 cameras (Arlo only), but only five can stream at a time. That also depends on Internet upload speed. A single 1080p stream needs at least 3MB a minute – 180MB per hour recording per camera per stream.
Video/still storage – cloud or USB as a backup
The Base has two USB ports. However local storage cannot be a substitute for cloud recording. You must have a cloud account as well as manual recordings are only saved to there.
Automatically triggered recordings are saved locally if a USB device is connected.
The USB device must be a single device up to 2TB with one FAT32 root partition. It is best to format the device in the Base using the app. Despite having two USB ports, you can only use one at a time and have to disable one to enable the other. You cannot redirect output to a NAS device.
Videos use MP4 format named: camera serial number_video number_date_video clip tag. Dates are in the format YYYYMMDD. The absence of a timestamp makes it impossible to use as evidence.
Siren
The 100dB siren can be activated from motion (e.g. Armed) or manually via the App or the Base.
The sound comes from the base station, not the camera and that can be 'buried' somewhere in the house. All it does is alert thieves that of detection.
Camera Mounting
The camera has a flat magnetic back and flat underside. You can screw a magnetic golf-ball mount to a wall for up to +/-20° angle adjustment. A table or outdoor ¼" mount provides greater adjustment.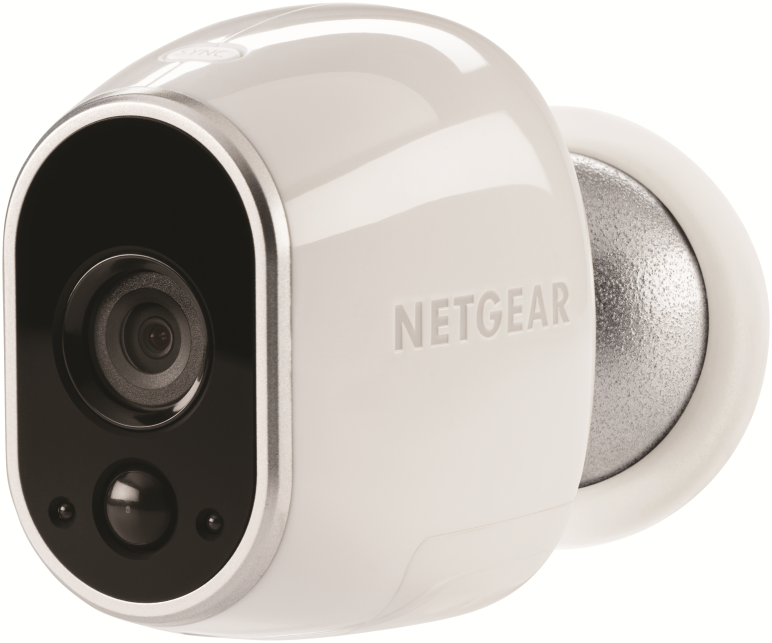 Or you can set it on a bookshelf or table. A word of advice – mount the camera where it is easy to take down for recharge or re-pairing.
The App
It uses the same iOS or Android Arlo app as all Arlo devices. It is reasonably fully featured but things like setting motion zones, look back and CVR are dependent on the camera being on AC power.
Geofencing means that when the smartphone enters the base station Wi-Fi N range (about 20-30metres at best), it can disarm the siren and camera function. Or you can turn individual cameras on or off. It was moderately unreliable working about 70% of the time when we entered the garage (10m away through two block walls). It ceased working when I set it up on two smartphones.
Armed means motion detection is on
Disarmed means motion detection is off
The schedule sets a time schedule for armed/disarmed – very flexible
The app has settings for best video to best battery life a.k.a. 1080p to 480p.
You can enable or disable the speaker/mic and adjust volume. It is useless anyway.
Zoom is as useless as a cup of decaf – way too pixelated showing a very low megapixel sensor
The Library is the only way to view still and video in the cloud. You can send a 24-hour valid link to any photo or video in the 7-day rolling library.
You can only view USB storage by transferring it to an external MP4 enabled device
App access time to the cameras
When your smartphone is on the same Wi-Fi network access time is usually <10 seconds – but sometimes it can take up to a minute. And occasionally it won't connect at all despite all three lights being green on the base. In this case, bringing the camera closer to the base usually works or a re-sync at worst.
When you live-view remotely, it can take a minute or more with frequent re-tries depending on internet reliability. It is frustrating when the Base has an online status, but the cameras refuse to cooperate. That means manual re-syncing – again.
Over the two-week trial, we found the Base station frequently lost connection with the two cameras. To be fair, one instance was due to a major storm/power outage, and the cameras had to be manually re-synced.
After the power outage, NBN connection was intermittent for a couple of days. The Base station steadfastly refused to reconnect to the internet without being powered down and up again. The cameras lost sync every time the Base was powered down.
Once the internet stabilised (we use a Fingbox to monitor it) the Base lost the internet connection intermittently despite all other devices on the network being able to access it.
If this is typical behaviour (and we cannot confirm that), then we can't recommend it as a reliable security system.
By comparison, we had other brands security cameras connected that do not use a base station. These worked perfectly and reconnected within seconds of the end of an outage.
Arlo service plans (annual discounts apply)
There is no inbuilt micro-SD camera storage, so a cloud plan is mandated.
Free is 7-days cloud roll-over recording for up to five cameras
Premier is A$12.99 per month for up to 10 cameras and 10GB storage
Elite is A$18.99 per month for up to 15 cameras and 100GB storage
CVR plans add
$12.99 per camera for 14 days 24/7
$24.99 per camera for 30 days 24/7
If you are serious about using this as a security platform, you will need a paid plan.
Arlo Pro 2 Battery life and recharge
We understand that the 2,440mAh rechargeable battery life is about three months. Obviously, we cannot test that in two weeks use.
The supplied 5V/1.8A or 9V/1A (9A total) charger offers slightly faster charging as it uses 9V first to fill to about 60% and tops up with the 5V/1.8A. Charge time for the internal 2440mAh battery is just under 3 hours.
I was initially disappointed that only one USB charger came with two cameras especially as the documentation said that only it must be used for battery recharging.
If you set it up outdoors, it will not have the same feature set even if you use the Solar Panel Charger.
We found that you can use any USB Qualcomm quick charger that has 5 and 9V outputs as well as any 5V/2A charger (it will be slower – up to six hours).
Arlo Pro 2 video and still image quality
I was unimpressed with the original Arlo and later Pro. The Pro 2 has better video, at least when viewing it live via the app and when it occasionally streams at 1080p instead of 720p or lower.
It is 15 frames per second (fps), not full motion (at least 24fps). If a bird were to fly across the image it would start and jump, start and jump etc. The image is frequently pixelated when you wave your hand in front of the camera.
Compared to its predecessors the Pro 2 colours are more natural, lower video frame drop and the light aperture is slightly larger.
But a larger f-stop means more glare, and you need to place camera carefully to avoid glare from outside windows or direct sun outdoors.
The camera lacks autofocus – not good if there is a moving scene in the field of view.
Viewing video or stills
You access the Library cloud and it shows the photos/videos stored over the past seven rolling day period.
You email a shared cloud link that lasts for 24 hours.
They look OK when viewing these images on a smartphone.
If you use a 27" PC monitor, they appears far more pixelated, blurry and lack contrast.
You can also save clouds still/video to your smartphone, but the still quality is 1280x720p, and file size is about 75kb – not great at all.
You can sort thumbnail displays by camera, type of event captured (motion or audio detection, manual recording or IFTTT), and/or favourites. The library has quick links to download or share a video, mark it as a favourite, delete it and share it.
FHD video (1080p@15fps) requires a minimum of 2Mb/s upstream per camera. Any ADSL connection or weak Wi-Fi signal send the camera resolution plummeting to 720/480p and lower frame rates.
And the loss of Wi-Fi or Internet means no recording either.
Night Vision
The eight x 850nm LEDs provide reasonable black and white night vision capabilities at up to 10 metres. It was clearer and more detailed than the Pro.
Users have complained that the IR light reflects off nearby objects like tables etc. and causes haze. Make sure the camera is completely unobstructed for the 10-metre range.
Passive Infrared (PIR) Motion detection up to 8 metres
If running the camera on AC power, you can set up three rectangular zones to direct motion detection.
I found PIR too sensitive at default and ramped sensitivity back to 50%. Still, I was getting false positives from the battery-operated outdoor camera when it was windy with trees waving. There is no way to set up zones to exclude these.
Motion detection clips are about 10 seconds.
Speakers/mic
Speaking to someone through the camera simply does not work well. There is too much of a delay and voice is choppy/cut-out. It is not full-duplex and way too laggy.
Even with a Wi-Fi AC 5300 router and 100/40Mb/s internet connection, speech and video lag were at least 3-5 seconds, often longer.
Bottom line – you cannot use it as a two-way intercom.
GadgetGuy's take: Arlo Pro 2 – nothing compelling
Good video image quality but not guaranteed to be 1080p. It is visibly better than the Arlo and Arlo Pro.
But too many 'issues' would lead me to consider other brands and options. In short, nothing is compelling about the Arlo 2 over other cameras. Perhaps except as NETGEAR would have you believe – the brand.
Alexa, Google Assistant, IFTTT integration etc. are not priorities even though I have a smart home. They are simply more marketing speak until smart homes become more useable.
And frankly, too many reviewers have been drinking NETGEAR's Kool-Aid. They take specifications at face value and miss so much found in true reviews. Read reviews from security-focused publications first!
In fact, I venture that a lot of the reviews are 'paid' for to overlook the quirks. We are looking at you ArloProReview and the same word-for-word hyperbole littered through so-called legitimate reviews!!!
For the moment I can neither recommend or praise them over cameras from Reolink,  D-Link, Swann, Uniden, Ring, Nest and more.
I can only repeat that you need to buy your entire kit from the one brand to use the one app.
Pros
1080p video and 720p stills are reasonable quality when you can achieve it
Arlo Pro 2 is an improvement over Arlo and Arlo Pro
Arlo App is easy to use
Free seven-day storage
IP 65 weather resistant
Rechargable but only have full functionality on AC power
Cons
The video was occasionally 1080p@15fps but often reverted to 720/480p @15fps or less.
Three-second lookback, motion detection via Zones and continuous recording need AC power and often higher cost cloud plans
Way too sensitive PIR motion notifications – false positives abound
Speaker/microphone is useless due to lag, especially when accessing remotely via the app
Recording time lags need the three-second-look-back just to see 'real time'.
The base station uses an often-scarce Ethernet port and needs to be close to the router unless you have Ethernet wiring in the house
Pairing dropped out three times in the first 24-hours despite firmware upgrades. It is by no means stable and reliable (as evidenced by our Fingbox monitor)
The ¼" mount hole is on the back – it would have been more useful underneath
The magnetic mount makes it too easy to steal
Geofencing is erratic
The web view is low res on a big screen and lacks a time stamp for evidence purposes
Early user reviews claim battery life is closer to a month. We could not test that
Expensive optional cloud CVR plans
Price
As tested $799
Ratings
Overall: 3.6 out of 5
Features: 3 out of 5 – Better video quality does not make up for poor audio, lack of features when battery operated and local storage quirks
Value for money: 3 out of 5 – it costs what it costs. Expensive if you use it as a CVR device
Performance: 4 out of 5 – Good daylight and above average night vision but images lack the megapixel resolution for more than a postcard-sized
Ease of Use: 4 out of 5 – Very easy to set up
Design: 4 out of 5 – useful but not flexible in mounting without adapters
Arlo Pro 2, Arlo Pro 2, Arlo Pro 2, Arlo Pro 2, Arlo Pro 2, Arlo Pro 2
1080p video and 720p stills are reasonable quality when you can achieve it
No compelling reason to buy it over other brands - except perhaps the brand!