The home is getting smarter, and that's something you can attribute to smart lightbulbs, smart appliances, and a conversation happening between your gadgets, but you're going to need another set of gadgets to watch over your home, and that's where Arlo comes in.
Arlo isn't a person, and it isn't really the name of someone who made the gadget it is named for.
"It's a made up name," said Pat Collins, Vice President of Netgear's Smart Home division, telling GadgetGuy that "we thought it was friendly and approachable" which was the feeling they wanted for a line of cameras that could be easily installed and would watch your world, alerting you the moment something happened.
"Arlo" is the result, and it is more or less exactly what Netgear set out to create: a camera system that doesn't take a degree to setup and can be monitored remotely using apps and a website.
"With the explosive growth and early adoption of the Internet of Things, consumers are telling us they value smart devices that help them monitor property and loved ones to give them peace of mind," said Collins.
And Arlo has a few things going for it that other cameras do not.
For starters, it is entirely cordless, so you don't need to plug it into a wall, or find a spare power port for each camera. Rather, the cameras — which remind us of a very large egg — run on four CR123 batteries, the little cells which we all relied on if we carried around a film-based SLR camera.
Nowadays, we're all digital, and so rely on lithium ion battery packs, but back when film was king, these little short and stumpy batteries were what you needed if you had film in the camera and no life for the light metre or motor drive to spin the film into socket.
Each Netgear Arlo relies on four of these batteries, and so there are no other cords. There's a battery life of up to six months, with batteries included in the box (yes, we're no longer living in 1983) and the app will tell you when the batteries are running out of juice.
So there's that.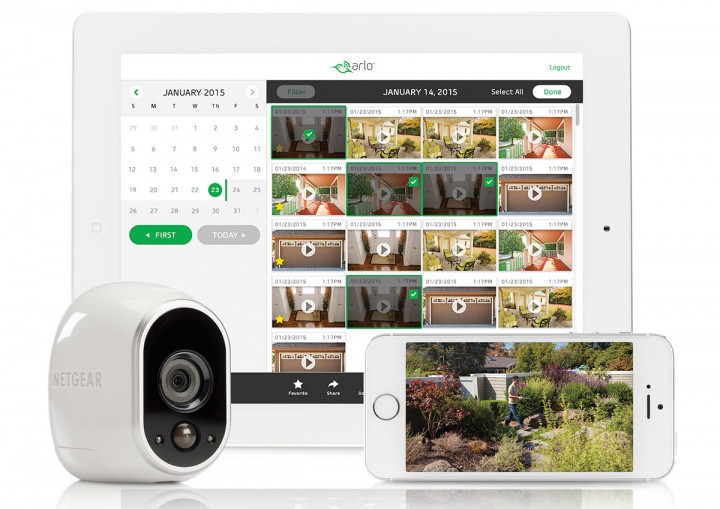 There's also the technology at work, with high definition 720p video captured on and streamed from the camera across a 130 degree field of view, sent to tablet and smartphone apps with a degree of motion sensing brought in to grab video when it is triggered, uploading that to the Netgear servers where it will be stored from anywhere between a week and two months.
Magnets are also used in the mounting of the camera, making it one of the more interesting cameras we've seen to setup.
Normally, web-based security cameras arrive with dinky little plastic tripods that feel like they're going to break when a tiny amount of pressure is used, and often do. They'll work at home on the mantle, on bookcase, but anywhere else and you'll find the short length of the cable is a touch prohibiting, not to mention the lack of flexibility even the tiny bullheads try to put out.
Arlo has a different approach, relying on a magnetic rear on the camera to connect it to a little magnetic dome mount. You can position this around the home using a screw, the dome hanging off much like a clock hangs from a screw, and then use the magnetic dome to position the camera however you want, but Arlo's magnetic back caters for more flexibility.
For instance, you can just attach the Arlo camera to anything that has a strong magnetic presence of its own, like a fridge, a metal pole, or a big metal sculpture that your family told you never to touch.
The camera is also weather-resistant, meaning it's suitable for attaching to a wall outside and leaving out in the rain, allowing you to watch your property and not get too fussed with the questions of "will the camera break when it rains" and "how much will this storm cost me in replacing the camera".
And then there's the setup, and for this camera Netgear is including a specialty wireless router for Arlo, connecting to your regular modem or router using a wired Ethernet cable that is specifically built to connect with the Arlo cameras. This is one of those rather odd inclusions, because while most cameras would have you login to your existing router, Arlo's included router is aimed at simplifying the installation procedure, which is especially handy if you plan on setting up several cameras.
One downside to the system, however, is that you'll need space on your modem or modem-router and space for the unit itself. We're a fan of anything that makes setup easier, but taking up a port on our modem just for another wireless router seems a little strange, especially since it could have just as easily been setup to work with our existing router.
There's also no sound uploaded here, which is interesting. The Arlo cameras don't include a microphone or a speaker, so you'll only ever be a passive viewer, paying attention to movement and people in the shot, but not listening to what's being said.
That might be useful for some, and if video surveillance is all you need, you might be fine, especially since there are notifications when motion kicks in, scheduled start and end times, apps to monitor your home with on Apple iOS and Google Android, and a place for you to find uploaded video online, with several plans available depending on how long you want to keep the video around for.
Those prices start at, well, nothing when you hold onto the video for a week, refreshing after seven days, but if you plan to store videos for longer, you'll find $13 and $19 monthly plans for up to 30 and 60 day storage respectively.
And that brings us to the price, with Netgear focusing on the DIY part of the market, and people who want an app-friendly solution for monitoring their home. With these audiences in mind, Netgear's Arlo does come with a relatively steep entry price, starting at $349 for the kit with one camera, and asking for $599 for the kit with two cameras, and $799 for the kit with three cameras.
We say "kit" because you need that wireless base station to make this work, and the kit is basically that and some accessories. We're told cameras will be purchasable later on down the track separate from the base station, and that if you have a large house, you might end up needing another base station, too, but for now one should be fine, tracking with a range of around 40 metres.
But the kit should work as a starting point for many, with additional cameras and base stations arriving separately later down the track. Netgear may even have more gadgets for the smart home later down the track, with Collins saying "in the future, as we integrate other devices, you'll be able to trigger and talk to other devices", suggesting that the Arlo cameras — or other Netgear cameras possibly — might be able to talk to a light and start it up when you're picked up outside your home.
For now, it's a place to start, and a chance to offer other companies already in this space — D-Link, Belkin, and Swann — some competition, with consumers able to find the products in stores across the country now.