The new NETGEAR Nighthawk AX8 Wi-Fi 6 AX6000 router is the first GadgetGuy has had to review. The result – yes, it is fast, but boy do we have a lot to learn about Wi-Fi 6.
That is not disparaging at all to the new NETGEAR Nighthawk AX8 Wi-Fi 6 AX6000 router (Model RAX80-100AUS website here). It is just that our paradigms for a Wi-Fi 5, AC router don't really fit the expanded capabilities of AX routers all that well. This does things we are not yet familiar with and can't really measure until we get more AX client devices.
In fact, before we reviewed this router we wrote a tutorial on Wi-Fi 6 AX (here), that will be constantly updated as we review other AX routers and figure out what effect the new jargon like OFDMA, 1024-QAM, Medium Access Control, 2×2/4×4 streams, QoS etc., has on performance.
Review: NETGEAR Nighthawk AX8 Wi-Fi 6 AX6000 router
It looks like Star Wars Kylo Ren's Command Shuttle. It pleases my Lord Emperor, but it may be an acquired style taste.
The Wings contain some of the antennae and must be folded 'up' to function. It can wall mount with the ports then at the top or bottom – that is if you like cables hanging down the wall.
Setup
We start with the standard advice that you need to plan where the router should go for best network speeds. The best place is right in the middle of where most of your IoT is. That way you can connect much by cabled gigabit Ethernet – it has five RJ-45 ports, and you can use an Ethernet hub if you need more.
Why use Ethernet? Because it is 1000Mbps full-duplex (both ways) versus Wi-Fi's say 866Mbps half-duplex (transmit or receive but not at once). Plug in your smart 1K or 4K TV, Blu-ray (if you use it as a streaming device), Roku box (Telstra TV), PC/Mac and Foxtel. You may also have some hardwired Arlo or D-Link camera base stations (these can be bandwidth hungry), Samsung SmartThings or Philips Hue hubs. These IoT devices are best off the Wi-Fi network that can become congested.
Now you ask how do I get the NBN (and you need that if you intend to stream video) to my router when the port is in a remote cupboard or basement?
NETGEAR has a pair of Powerline 2000 + Extra pass-through power, Ethernet over Powerline adaptors. Plug one into the power at your NBN Gateway point and the other into the power where your router is ideally situated, and it will bring Gigabit speeds to the router.
I also use these to attach Wi-Fi range extenders instead of variable mesh routers as well. You can have several connecting IoT devices to the router.
The Nighthawk app or 192.168.1.1 or http://routerlogin.net/
You have three ways of setting up the router. If you use the Nighthawk app from Android or iOS, it is easy with a Wizard to guide you through setup and changing Admin and SSID passwords. It is the easiest way to set up the via a 'dumbed down' interface and requires you set up a NETGEAR account for 'marketing purposes' – you can opt-out.
Or plug in an Ethernet cable and go in via a browser. There you have the choice of a Basic (similar to the app) or Advanced interface. You don't have to set-up a NETGEAR account to use these unless you wish to enable remote access or ReadySHARE (USB file/backup).
Tests – distance
Using the Wi-Fi AX enabled Samsung Galaxy S10+ (review here) we get 1134Mbps at 2 metres from the router. Similarly, the Wi-Fi AC enabled Samsung Galaxy Note9 gets 1083Mbps, but it uses the VHT80/160 channel aggregation to do that.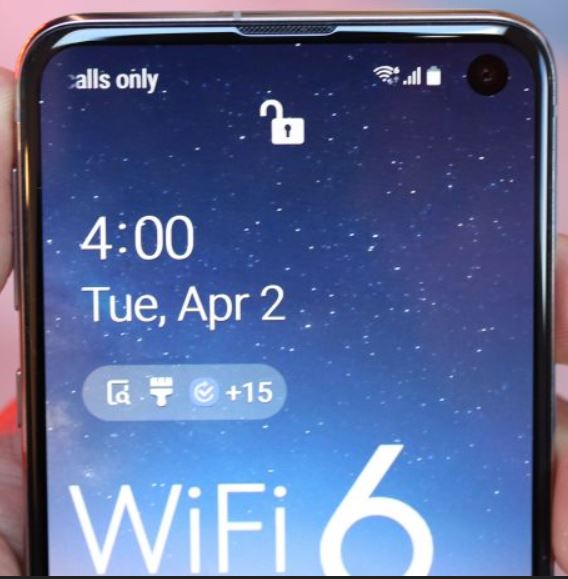 At 10 metres it drops to 866Mbps (amazing). One floor down its 150-200Mbps (5Ghz) and one further floor down (in a three-level building) it has dropped back to 50-75Mbps on 2.4GHz.
That is a slight improvement in the 5Ghz band over our reference D-Link AC5300 router but remember this is at least three years old but does support VHT80/160 bandwidth aggregation.
So, it appears to hold the 5GHz signal at 866Mbps to 15 metres – Tick.
Other tests
As it has an AC router built-in, we can safely assume it does everything that a dual-band router would do. In effect, it offers 2800Mbps more bandwidth than an AC3200 dual band router and 700Mbps more than an AC5300 Tri-band router.
The Wi-fi signal strength speed at 5m from the router (GadgetGuy) was far stronger than any other we have tested to date.
We copied a 1GB file to and from the Samsung Galaxy S10+ and got around 500Mbps upload and download. This is excellent for large file transmission and means your photos will upload up to 10 times faster (if your NBN handles it). We expect it could handle four concurrent 4K video streams, but our NAS will not support that.
We will continue to test and update this review over time as we figure out how to meaningfully measure the impact of OFDMA and 1024-QAM etc.
Our conclusion: This means it can handle 20+ IoT Wi-Fi devices although see our caveat on proper placement and using Ethernet cabling where you can.
Under the hood
Broadcom BCM4908 four-core 1.8GHz
Wi-Fi 6, 1024-QAM, VHT160, Link aggregation, MU-MIMO
Power 19V/3.16A barrel connector
2 x USB 3.0 ports (up to 5Gbps half-duplex)
Five Ethernet gigabit ports (aggregate two for 2Gbps for NAS servers)
1 x Gigabit WAN port for connection to a gateway
Wi-Fi 2.4Ghz 4×4:4 total bandwidth 1.2Gbps
Wi-Fi 5Ghz 4×4:4 total bandwidth 4.8Gbps
Unfolded size: 305 x 202 x 161 mm x 1.281kg
No voice assistant but the use of an app should make that possible later
Dual band versus Tri-band
NETGEAR will release the AX11000, an AX12 stream three times 4×4 – a tri-band device using a faster Broadcom chipset and three radios offering nearly double the bandwidth of an AC5300 router.
The same engine but like a B-Double semitrailer will haul more.
Security
NETGEAR et al. have had a rough time with older routers having security holes. As far as I can tell these this version is fine.
It supports WPA3 security protocol and insists on password changes during setup. NETGEAR should are quick off the mark in issuing security updates.
It also allows the use of an on-router VPN using L2TP/IPsec and OpenVPN. The full manual is here.
GadgetGuy's take: Your next router should be the NETGEAR Nighthawk AX8 Wi-Fi 6 AX6000
The router industry has been a little shambolic with dozens of vendors but very few decent ones. NETGEAR, D-Link and ASUS are all safe AX bets as reputable suppliers using the same Broadcom family chipsets.
For the moment the NETGEAR Nighthawk AX8 Wi-Fi 6 AX6000 router offers slightly better performance to an AC router. As you get more AX clients the difference will be noticeable. But remember – the laws of physics – plan your network properly first.
Our review rates NETGEAR Nighthawk AX8 Wi-Fi 6 very highly (we had to leave some room for the AX12!). It certainly offers the promise of AX speeds and OFDMA (requires AX clients) and some of the early 1024-QAM and VHT80/160 link aggregation.
Would I buy it?
Yes, but I am a router snob – give met the V8 supercar any day. This is the V6 – the V8 will be the AX12, AC11000.
If you are planning on replacing your router soon then skip AC and go AX. You will not regret it.
Its our first Wi-Fi 6 AX router and we are learning more.
Positives
The first of the Wi-Fi 6 AX6000 routers does a great job
If you are buying a new router then this is it
Polarising design - I love it
Negatives
Speed improvements rely on having Wi-Fi 6 AX client devices