Modem routers need not be chunky things, and Netgear intends to prove it, letting us play with its Nighthawk X4S, a network device designed to keep the speeds up with the size down. Does it pull it off?
Features
Now that our households have so many wireless devices, we can't just rely on the same basic modem router anymore, and basically, the more device you have in your home, the more strength you'll need.
And it's not just a battle of devices either. No, this is more about concurrent connections.
If you have kids downloading or playing video games, you watching TV, and someone else listening to music, modern network devices need to work out how to balance all of this activity to provide a solid and comfortable network life.
Unfortunately, generic routers aren't designed with this in mind, at least not yet, and so if you have quite a few occupants all struggling to get online and make the most of the bandwidth in your home, you need something with just a touch more grunt.
Fortunately, that's what Netgear's Nighthawk range has been about in the past few years, with this range of devices all about the speed and often slightly more top-tiered tech you can find in this category.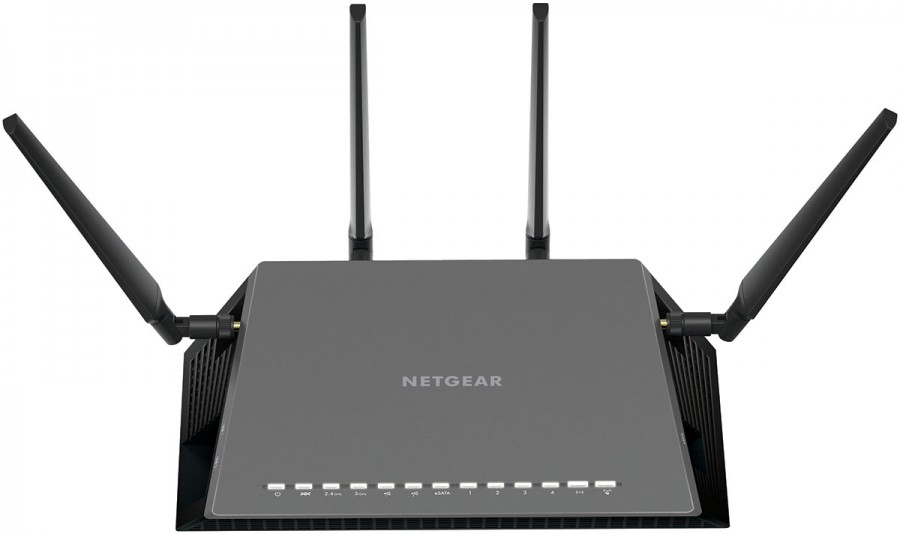 Inside Netgear's Nighthawk X4S, you'll find specs deserving of that high-speed sounding "Nighthawk" name, with a dual-core 1.4GHz processor to handle the activity passing through it and a chipset capable of working in the 802.11ac network technology, which is also backwards compatible with the 802.11a/b/g/n networks.
The chipset and the way this has been put together are super important, too, because while other router companies are delivering more than the two expected bands that high-end routers often feature, the X4S keeps to the two and tries to improve on the technology, utilising what it calls "Quad Stream" technology to separate its two bands over the 800Mbps maximum on its 2.4GHz and 1733Mbps maximum on its 5GHz bands.
This works in tandem with a second-generation Multi-User Multiple-In, Multiple Out technology more succinctly shortened to MU-MIMO. Specifically, the Wave 2 MU-MIMO Netgear relies on works with the quad-stream component to allow up to three devices to talk to the router at once.
In theory, this could allow for better and more stable quality of service (QoS) control, meaning the multitude of devices in your home may function better when they're all trying to connect as the router is deciding who gets the priority as and when they need it by balancing the streams.
Beamforming also plays into this, a technology that allows the modem router to communicate with antennas to localise on their specific needs and strength.
Regardless, as mentioned before, you get two sets of bands, with the 800Mbps and 1733Mbps coming together to equal 2533Mbps, or 2.53Gbps of wireless output for the home.

Wired output can also be found here, thanks to the inclusion of five Gigabit Ethernet ports on the back, a change from the usual arrival of only four.
Technically, one of these five ports is for the NBN or a cable modem, so you won't be using it for wired network devices like a computer or a server, but at least the option is there, and given firmware updates, it's also possible this could be put to use as a network device port later on.
As a modem, it can work for those National Broadband Network (NBN) connections or even with a cable modem, or you can just opt for what most Aussie have, and that's a phone-based technology, such as ADSL/ADSL2/ADSL2+ or VDSL/VDSL2, which this supports, making it an all-in-one product useful regardless of what sort of technology you're using.
Performance
Taking the Nighthawk X4S out of its box, the first thing we were struck with was just how small this modem router was in comparison to the D-Link Taipan we were replacing it with.
That's the life of a reviewer, mind you: we use and install what needs to be used and tested.
Still, there's something flatter and less bulky about this design, though there's a hint less power in this unit, with the 802.11ac technology scaled back to two bands for this model, not the three the larger modem routers have.
And yet Netgear is still pushing out a premium price for this model, highlighting that its Quad Stream Wave 2 WiFi could end up boasting similar performance to the three bands other routers are reliant on, while also keeping that footprint small.
Does it work? Can the smaller modem router keep up with the demands of a modern home without resorting to a massive box of a build and a couple more antennas?
First things first, take it out and set it up, and Netgear's typical attention to detail in router design is obvious, with the ports in the right place, and even going a little better than rivals with this one.
It's normal to put the ports on the back, so we're not shocked, but offering the USB ports on the left side already makes things easier, as does the knowledge that you're not shunted back to one USB 2.0 port next to a USB 3.0, which seems to be the way it goes these days.
No, Netgear is offering two USB 3.0 ports — yay! — and even an ESATA port on the right side, ideal for those six people who still use the portable SATA hard drive port.
Skip past that one for the moment and just plug your devices in, using the VDSL port if you happen to be installing ADSL, because unless you live in Canberra or New Zealand, you'll be using ADSL not the faster VDSL technology.
Alternatively, if you do happen to have the NBN, plug it right on in using the Internet Ethernet port, because that's for you.
In Sydney where this review is being done, it's ADSL2+ and only that, with none of that National Broadband Network rolled out just yet, so we'll plug the phone line in and get started with the wireless setup.
From here, you login as expected, using the default SSID and password, and that's where you begin to feel some of the strength — or lack thereof — with the dual-core processor found in the Nighthawk X4S.