Want to stay on top of any network woes happening at home from all the devices you bring home? You're going to need to look into a new router, and one of the world's fastest might just do the job.
Announced this week, Netgear has something that lays claim to that title, as the company takes its signature "Nighthawk" series and improves the formula with a bunch of innards aimed at enhancing the speed of your home and business WiFi, while also delivering a Nighthawk device with a modem inside.
That last part may not seem like such a big deal, especially when you consider that Netgear's Nighthawk products are generally built for speed and performance, and in the world of networking, this is usually an area handled by routers and routers alone. To hardcore computer people, this is an area they understand, and they're used to adding an extra router to a modem or modem router combination to increase speeds and network throughput.
But regular people — you, me, and anyone else who has ever needed to setup a home network — tend to prefer one device that does it all, with a modem and router combined device being preferred over a secondary router attached to another router, or even attached to a modem router.
This preference is why whenever a router comes out flashing some amazeballs technology, you can bet we're asking when a modem router variant will be arriving, with the answer usually being a good six to twelve months away.
First the router, then the modem router. That's how it goes.
Last year, when Netgear launched its six-antenna tri-band router, we asked exactly that. Only a couple of months ago, we saw the company push out a Nighthawk modem router, giving us a sign of what was coming.
Now, we know what Netgear was working on, with a proper flagship model that beats both of these two previous models and takes over as the flagship product.
This is the Nighthawk X4S, an AC2600 modem router capable of delivering two bands of network activity with 800Mbps over the 2.4GHz band and 1733Mbps (1.73Gbps) on the 5GHz band that high-speed devices demand with 802.11ac.
More than just upgraded bands, the X4S packs in a technology called "MU-MIMO", a concept that translates to "Multi-user multiple input, multiple output" which essentially manages lots of concurrent devices at once, or to put it simply a busy home where quite a few wireless devices are accessing the internet in a super-timely fashion.
Alongside this, the X4S will rely on a new generation of WiFi technology called "Wave 2" which we're told is an improvement to the wireless communication standards. Helping this will be "quad-stream" technology, which is a neat way of saying up to four data streams will be supported in each WiFi band, which in turn should result in stronger connections with smoother streaming.
In theory, this means if you have 800Mbps of bandwidth on the 2.4GHz band, it will break it up into four lots of 200Mbps. Likewise, if you have 1733Mbps to split up on the 5GHz band, you'll find 433Mbps per band if needed.
Meanwhile, Beamforming will be used to enhance wireless range as stronger amplifiers built into the unit work in conjunction with some equally high-end antennas.
"If multiple people in your household are streaming HD Internet content at the same time, it's very likely that the DSL modem router you get in your subscriber service package is not capable of supporting your bandwidth needs," said David Henry, Vice President of Product Marketing and Engineering at Netgear.
"With the Nighthawk X4S AC2600 WiFi VDSL/ADSL Modem Router, you'll take advantage of the fastest processor in a DSL modem router combined with the latest innovations in wireless technology for the best experience you can get today for streaming, gaming and file sharing."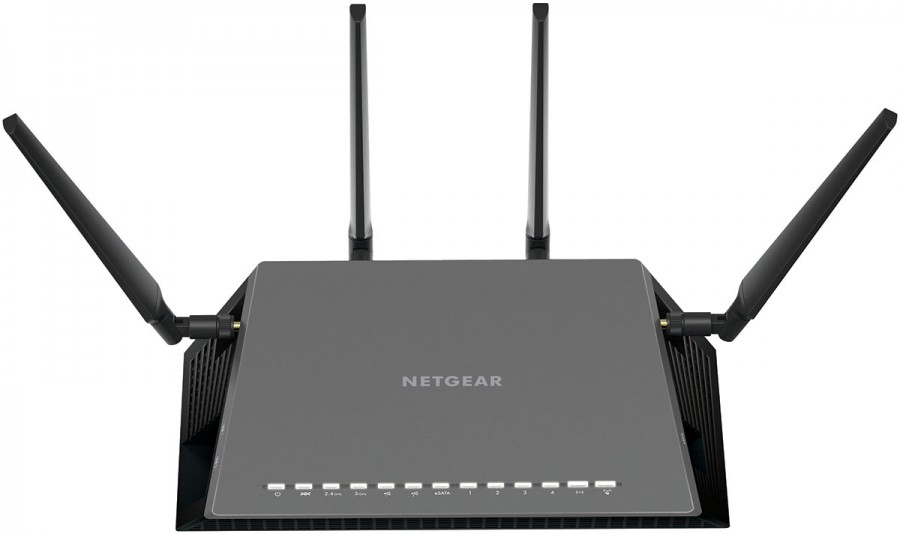 Aside for these technologies, Netgear is relying on a 1.4GHz dual-core processor to keep things moving along smoothly, with an intelligent quality-of-service (QoS) system to track what application or reason for accessing the web is going on, prioritising the connection accordingly. This should help networks constantly vying for attention, such as when your kids decide to play video games over the network while you watch Netflix.
Now you just need to have faster internet access, fortunately, Netgear's X4S will try to help there, too, ready for the National Broadband Network out of the box.
Other ports on this router include Gigabit Ethernet — four of them — while two USB 3.0 ports will let you share devices and drives, and a separate eSATA port on the opposite side will be handy for those sharing hard drives directly through the eSATA port.

Pricing is where this one gets a little tricky, and because this is flagship technology, it kind of arrives with an equally flagship price, setting store shelves on fire with a $549 recommended retail price.
Granted, that's not particularly cheap for a modem router, but then again the tech inside isn't remarkably budget tech, boasting speed and access for a home or business where the internet is a top need.
You'll find Netgear's Nighthawk X4S in stores shortly if you do decide to partake, where the model (also known as the D7800) will be found in electronics and computer retailers.