While the first generation iPad Mini made a splash with its smaller 7.9 inch display, thin bezels and squared-off design, the second-generation model sees an increase in screen resolution, moving up into 'Retina' display territory. With a resolution of 2048 x 1536, the new iPad Mini's screen packs an incredible number of pixels – the same found on the 9.7 inch iPad Air' display, into a smaller 7.9 inch screen.
Measuring just 326 pixels per inch, the new display offers the same super-sharp text, ultra-fine lines and detailed graphics found on Apple's other Retina-equipped devices.
Size-wise, the Mini keeps its svelte proportions, at just 7.5mm thin and and weighs 331 grams, which is up just 30 grams from the first generation Mini. Not bad considering the new Retina display.
To handle all the extra pixels of the Retina display, the Mini is equipped with Apple's latest A7 processor and M7 motion co-processor.
Compared to the first iPad Mini, there's up to 4 times more processing power and 8 times more graphics grunt, which is good considering all of the pixels the new model will need to push around. Like the iPad Air, there's an improved 5 megapixel rear facing and 1.2 megapixel 'FaceTime HD' front facing camera, and dual microphones for improved Siri chats and video conferencing.
When trying out the iPad Mini with Retina, it didn't feel any heavier, and impressed with the same high-quality edging and finishes as its predecessor.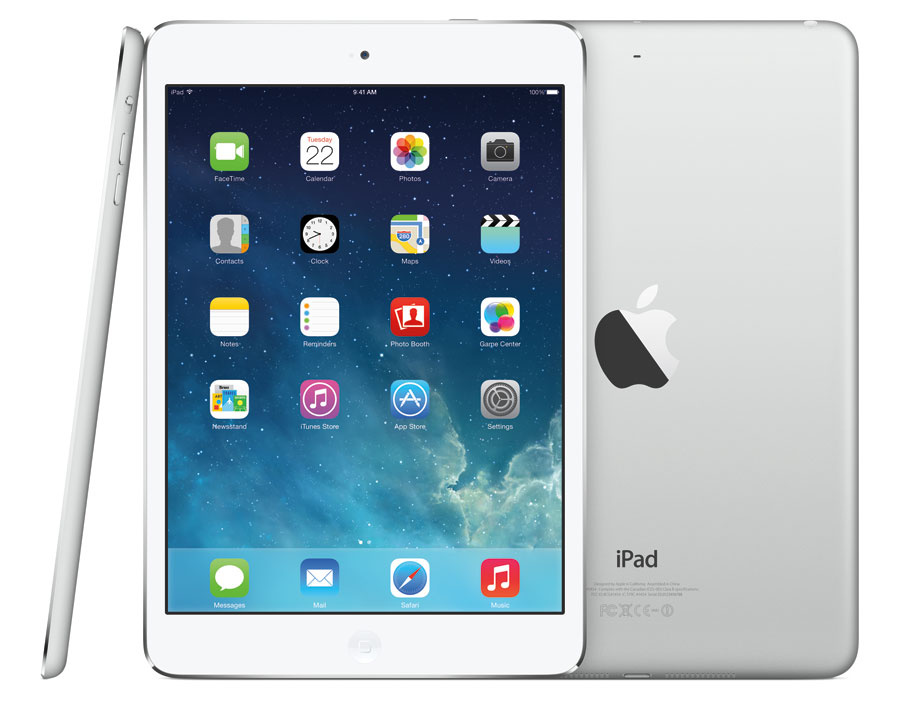 The real treat, however, was the screen, which just adds that extra clarity that was lacking on the first Mini. Text edges were razor sharp, even at very small sizes, and you could really zoom into images to see lots of detail. Brightness, contrast and colour vibrancy were also up to Apple's high standards.
And considering the extra processing load caused by the higher operating resolutions, it was good to see that the Mini remained responsive, with fast screen refreshes, smooth scrolling and no perceptible lag.
On the connectivity front, there's an updated WiFi system, which uses dual antennas and can support MIMO technology, and can deliver up to twice the transfer speeds (300mbps) of the first Mini. Shame, however that the latest WiFi standard – 802.11ac – is not supported. For those opting for the 4G model, there's wider support for more 4G LTE network types around the globe, which is good if you do a lot of travelling.
You can chose between two colour models – white and silver, or black and space grey.
The iPad Mini is expected to arrive at shops in late November, though no exact date has been set. Aussie prices range from $479 for the entry-level Wi-Fi only 16GB version, to $949 for the 64GB WiFi + 4G range topper.
For those who like to protect their iPads, Apple has come out with a new range of Smart Cases and Smart Covers, featuring a refreshed range of 6 colours. Both and wake and put the Mini to sleep when opened and closed, and the Smart Cases are made from genuine leather, while the Smart Covers are made from polyurethane.
Valens Quinn travelled to San Francisco as a guest of Apple.