Laundry can be a surprisingly mentally-taxing household chore, making you think about how to care for and wash different types of clothes, how much detergent to use, and what impact it'll have on your water and electricity bills. Modern washing machines help take away the guesswork and keep things efficient. Samsung is one of the big manufacturers in this space, having just released a new range of laundry appliances as part of its Bespoke range.
Using AI technology, Samsung's new front load washer, dryer, and AirDresser steam closet devices aim to keep your clothes clean and in good condition with minimal input from you. These were first seen at CES 2023 as part of the brand's focus on smart devices that are all compatible with the SmartThings ecosystem.
One of the biggest features coming to this year's Bespoke washer range is the Less Microfibre Cycle, said to reduce microplastic pollution.
Eco-friendly Samsung Bespoke washer and dryer
As with many modern devices, environmental impact is a big aspect of Samsung's new laundry devices. Across each of this year's 9kg, 12kg and 18kg washing machines is a five-star energy rating, along with a four-star water efficiency rating. Meanwhile, the 2023 Bespoke AI dryers have a nine-star energy rating across its 9kg, 10kg and 12kg models.
Through the SmartThings app, you can monitor energy usage and get recommendations via the SmartThings Energy feature. Plus, there's also a Clothing Care feature that helps pick the best wash and dry cycles based on various factors. This includes fabric type, how often you wear something, and even the season.
What's most interesting is the washers' Less Microfibre Cycle, designed to reduce the amount of microplastic entering water sources. Microplastics are tiny pieces of plastic, mainly too small to see ourselves, that pollute waterways and the environment. Some studies have even suggested we consume a credit card's worth of microplastic per week on average, which is a scary thought.
To combat this, Samsung teamed up with clothing brand Patagonia and global conservation organisation Ocean Wise, producing the Less Microfibre Cycle feature. Based on Samsung's existing BubbleWash technology that uses cold water for efficiency, the Less Microfibre Cycle was the result. In practice, Samsung claims that the Less Microfibre Cycle reduces released microplastics by up to 54 per cent when washing a load of polyester hoodies.
Aside from the eco-focused features, the Samsung Bespoke washer and dryer use various smart features to make laundry easier. Chief among them is the washer's AI Wash Cycle that automatically detects a load's weight and fabric softness to efficiently clean clothes. Plus you can put up to a month's worth of detergent in the machine and it will automatically use the amount required for each cycle. As for the dryer, it uses recycled warm air to avoid energy waste, in addition to using steam to eliminate bacteria.
AirDresser brings the drycleaner to you
Another update to the Bespoke range is a new Mirror AirDresser, a SmartThings-compatible steam closet that keeps your clothes fresh. It's geared towards people whose wardrobe can't be washed at home but need to wear items frequently, like suits and similar uniforms.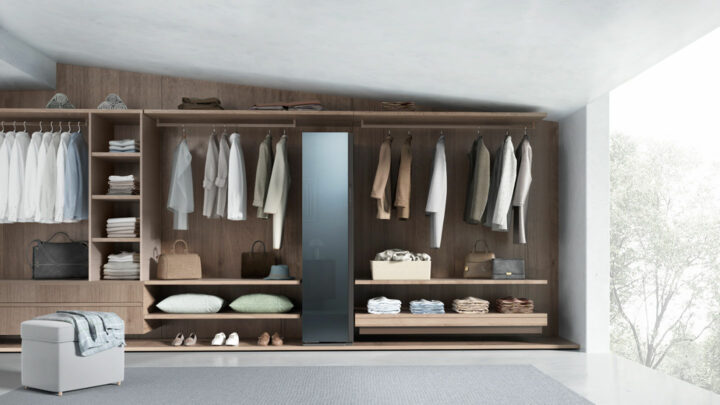 You can fit up to five pants or five jackets in the AirDresser, and there's space to spruce up a long dress too. According to Samsung, the Wi-Fi-enabled dresser uses air and steam to eliminate up to 99.9 per cent of dust mites and particular bacteria.
It's got a comprehensive list of settings, too. You can set clothes to refresh in a brief 20-minute session or use one of 24 different settings designed for specific fabric types. This includes woollens, linens, delicates and more. In some space age-sounding stuff, the AirDresser also uses AI technology to detect specific clothing items and automatically choose your favourite cycles over time.
2023 Samsung Bespoke laundry range price and availability
Out now, Samsung's latest smart laundry lineup comes in various white and black finishes via the company's website and retailers. Some appliances, like the largest-size washer and dryer, are exclusive to Harvey Norman.
If you need to completely upgrade your laundry tech, Samsung has a promotion running now on its website, where you can save up to $1,000 when buying a washer, dryer and AirDresser together. This promo runs until 31 August 2023.
They all look pretty sleek, and show that laundry appliances have come a long way in recent years. As we mentioned in a review of a similar LG washing machine, the ability to remotely set a cycle to finish when you get home, and receive notifications, is one you'll don't know how you lived without.